Westminster Abbey's Newest Window Was Designed by David Hockney—on an iPad
It was commissioned in celebration of Elizabeth II's reign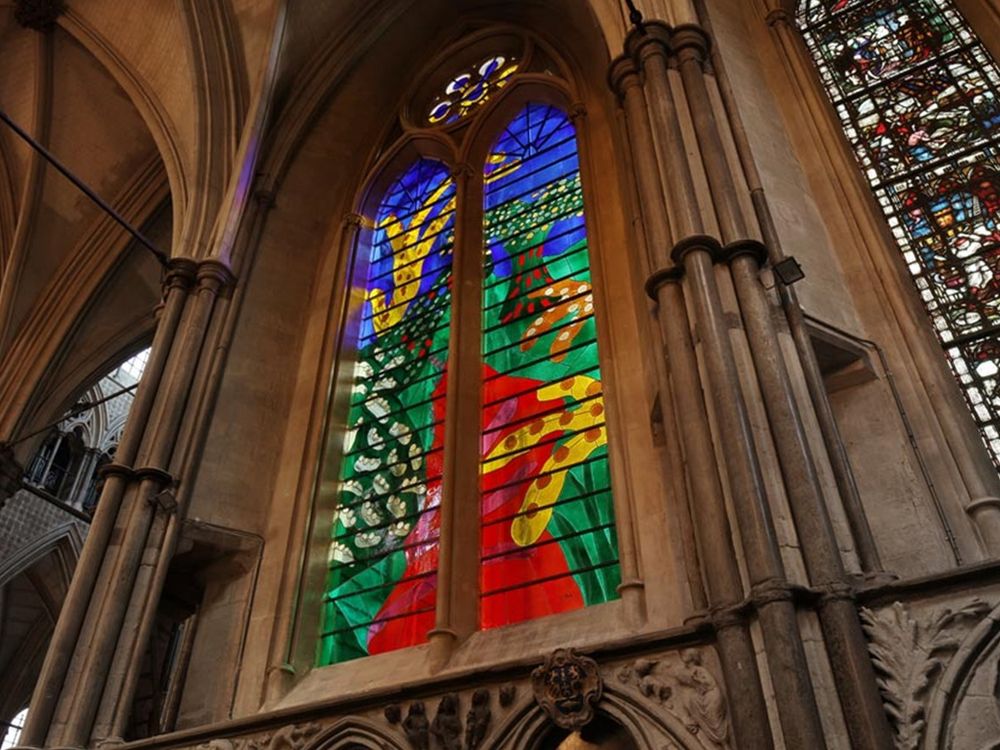 Westminster Abbey in London is resplendent with stained-glass windows, many of which are deeply rooted in England's rich history. There are, for instance, depictions of Sir Walter Raleigh and Elizabeth I in St. Margaret's Church, the towering memorial to the Battle of Britain in the RAF Chapel, and a homage to poets George Herbert and William Cowper in St. George's chapel. But the latest addition to the collection of windows has a decidedly modern twist. As Mark Brown reports for the Guardian, the Abbey recently unveiled a colorful stained-glass window designed by pop art icon David Hockney—on his iPad.
The window depicts blossoming hawthorn trees of Hockney's native Yorkshire, rendered in bright blues, pinks, oranges and yellows. The piece was commissioned in honor of Elizabeth II's lengthy reign (she has ruled longer than any other U.K. monarch), and according to a Westminster Abbey statement, it "reflects the Queen as a countrywoman and her widespread delight in, and yearning for, the countryside."
"It's celebratory," Hockney said of the newly revealed window in a video interview posted by the Abbey, revealing that he crafted the trees to look as though "champagne has been poured out over the bushes."
Hockney was chosen for the commission because he is "one of the most influential artists of the Queen's reign," according to the Abbey. He is among the few people who have received both an Order of Merit and a Companion of Honor, prestigious awards established by the royal family.
When John Hall, the Dean of Westminster, asked Hockney to design the aptly named "Queen's Window," the artist got to work on his iPad, which has become a favorite tool of his in recent years. Throughout Hockney's career, he has been known to experiment with new technologies—past projects have featured cameras, photocopiers and fax machines.
Hockney has previously described the iPad, which he began incorporating into his work in 2010, as a "terrific medium."
"Everything is at your finger-tips, there is no cleaning up," he told Australia's ABC in 2016. "I realized I could just reach for my iPhone and draw, even in the dark, which you couldn't do with watercolor or something."
But despite the artist's adventurous repertoire, the Westminster project marks the first time that Hockney has worked in stained glass. He collaborated on the new window with stained glass experts at Barley Studio in northern England, reports the Associated Press.
The artist is quite pleased with how his latest work turned out. "I think it's looking marvelous," he said in the video interview.
Elizabeth's review, perhaps unsurprisingly, was a little more muted. Hall told the Guardian's Brown that the queen has seen a sketch of the window, but her response was difficult to determine as she "very often doesn't given you a very strong reaction."