Wes Anderson's Curatorial Debut With Juman Malouf Transforms Vienna Museum Into One of Filmmaker's Dollhouses
The filmmaker and Malouf, an illustrator, designer and novelist, co-curated the new exhibition, which pulls from the Kunsthistorisches' vast collection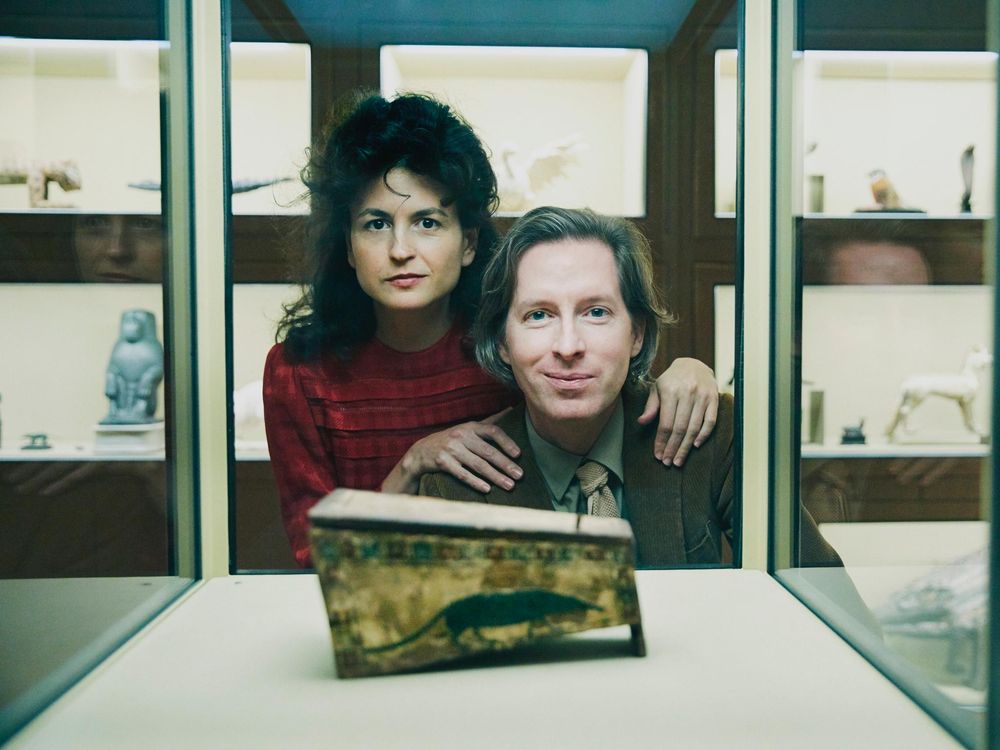 Unlike most exhibitions, the Kunsthistorisches Museum's latest show eschews curatorial scholarship and historical connections in favor of purely visual characteristics. Spitzmaus Mummy in a Coffin and Other Treasures, as the exhibition is called, presents eight rooms filled with disparate curiosities linked largely by subject matter, color, medium or size. Perhaps unsurprisingly, this visually pleasing, idiosyncratic dollhouse of sorts was dreamed up by filmmaker Wes Anderson, who makes his curatorial debut at the Vienna institution in conjunction with illustrator, costume designer and novelist Juman Malouf.
As Cody Delistraty reports for the New York Times, Spitzmaus Mummy brings together 423 objects, many of which have been languishing in storage for decades, hand-picked from the museum's collection of some 4.5 million works.
The coffin that gives the exhibit its name sits at the center of room five, lording its newfound prominence over an array of animal-themed artifacts, including a marble Roman lion dating to the 2nd century A.D., a bronze Japanese tortoise from the Edo Period and a clay hedgehog crafted by Greek artisans between 600 and 580 B.C.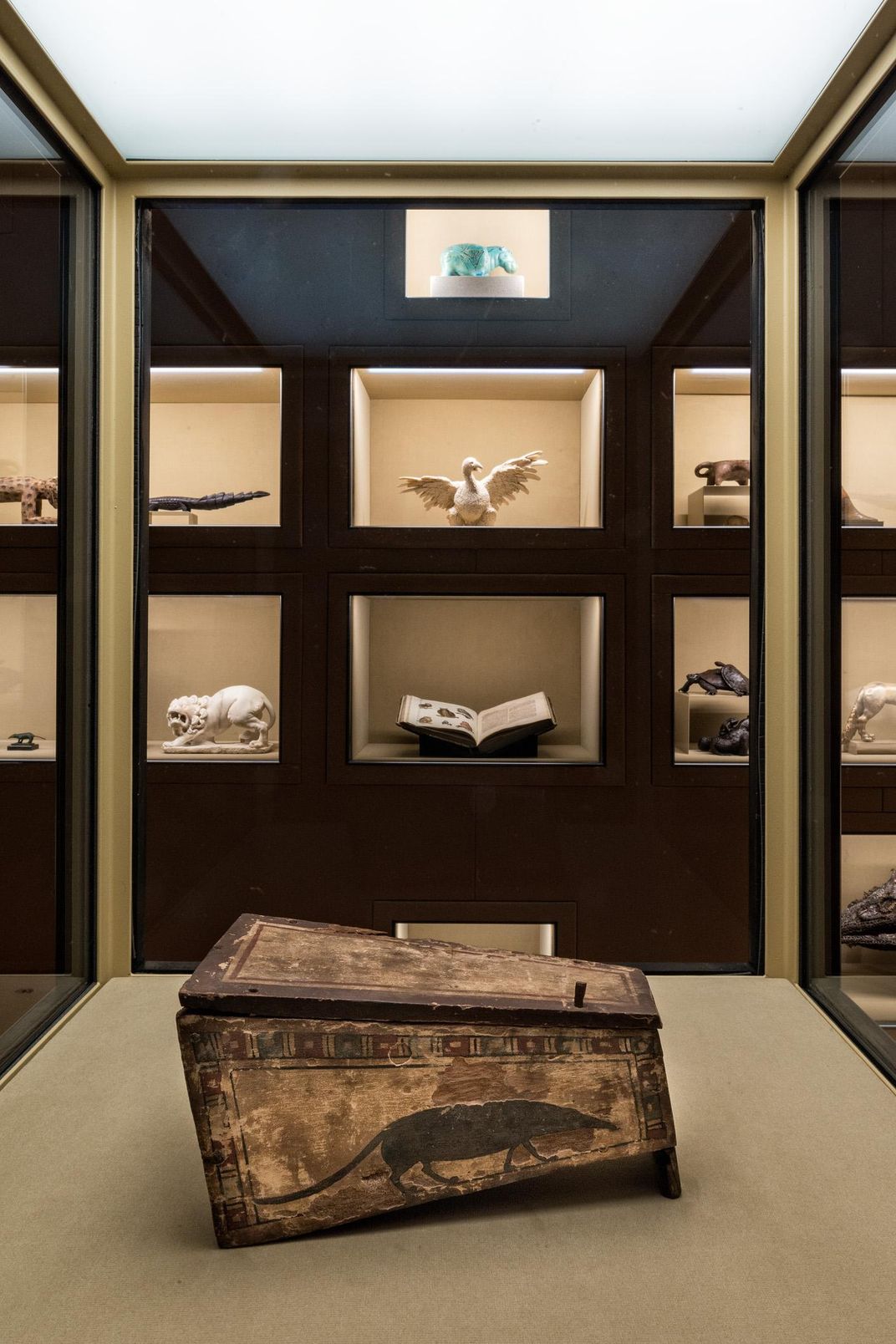 Jasper Sharp—an adjunct curator of modern and contemporary art who in 2015 recruited Anderson and Malouf to lead the Kunsthistorisches' third artist-curated exhibition—tells artnet News' Kate Brown that the Spitzmaus, or shrew, mummy normally stands obscured in a row of similar tombs in the museum's Egyptian wing. Now, the critter, which has been waiting for its turn in the spotlight since the 4th century B.C., is finally "having [its] one night as the white swan."
In room two, color is clearly the common factor, with lush shades of green represented by a 17th-century emerald vessel, a dress worn in a 1970s staging of Henrik Ibsen's Hedda Gabler, slabs of malachite, a 19th-century Peruvian skirt adorned with green feathers and an Indonesian lute.
Other galleries place material and usage at the forefront. One wood-paneled room features a roughly million-year-old piece of petrified wood, a rather literal depiction of wood painted onto maple panel and a wooden sculpture. "A material becomes a lens on the evolution of art," the Times' Delistraty writes, "from the functional and artless, to the artful pretending toward authenticity, to the decadently useless."
Room six finds itself embroiled in a puzzle of sorts: An empty display case sits alongside Austrian military chests, a German flute case and several crucifix holders. The conceit, Sharp tells Delistraty, is that the glass case is an object of its own merit, a "conceptual vitrine."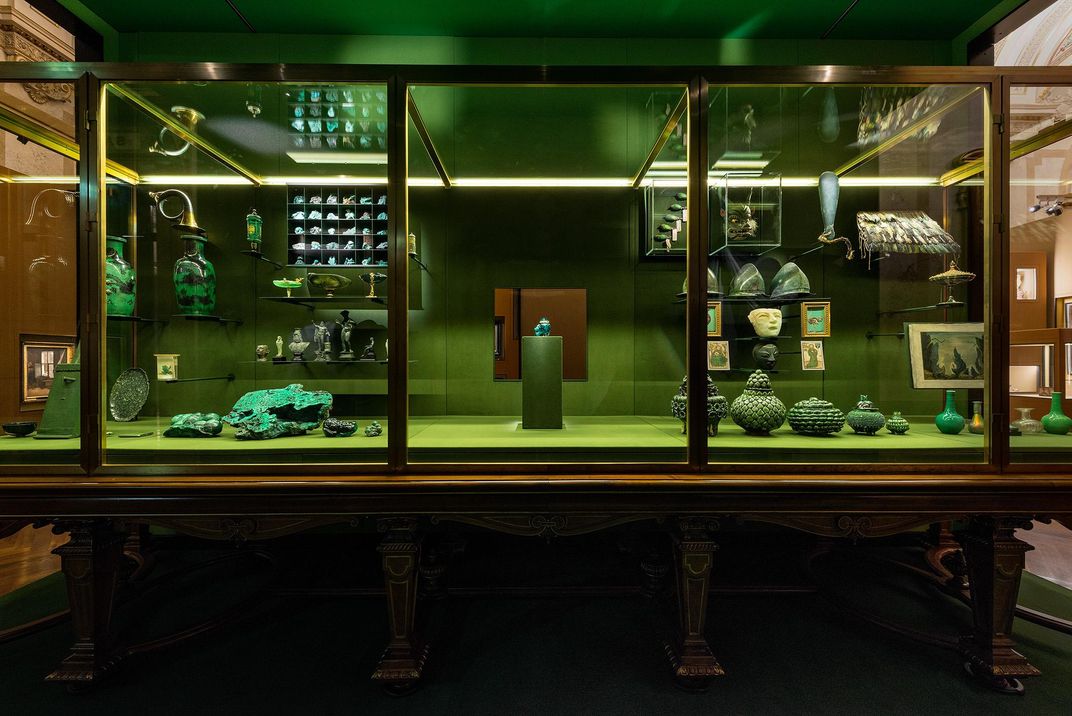 Artsy's Kimberly Bradley observes that the show offers clear hints of its curators' distinctive artistic styles. The attention to symmetry and color, as well as the overstuffed nature of the displays and emphasis on perceived misfits, is typical of Anderson, whose work on films including The Royal Tenenbaums, The Grand Budapest Hotel and Moonrise Kingdom has earned him six Oscar nominations. Malouf's touch is apparent in what Bradley terms "her eye for representational detail and poetic sensibility."
Spitzmaus Mummy is undoubtedly eclectic—but Delistraty argues that it tends to equate this eclecticism with an emotional charge. The result is an exhibition, he says, with "Anderson's surface-level aesthetic, but none of the underlying narrative or emotion of his movies."
In a museum statement, Anderson explains that he and Malouf, who are partners, learned through a "process of trial-and-error," noting, in rueful parentheticals, "in this case, error." Although the underlying connections between artifacts were apparent to the pair, the museum's curators sometimes had trouble connecting the dots in the story they were telling through the exhibition.
But traditional curation was never Anderson and Malouf's goal: Instead, the duo hoped to spotlight forgotten treasures of the Kunsthistorisches' collection in a contemporary iteration of Renaissance cabinets of curiosities. And their selections—from Frans Luycx's 1651 painting, "Archduke Karl Joseph Aged About One-and-a-Half With a Pet Dog and a Cockatoo," to the lone finger of a bronze Roman statue and a 19th-century hatbox for "the bicorne of a general of the Austrian imperial army"—more than do the job, providing visitors with a singular, decidedly non-art historical glimpse into the past.
Spitzmaus Mummy in a Coffin and Other Treasures is on view at Vienna's Kunsthistorisches Museum through April 28, 2019.