We Might Soon Know What Ancient Greek Music Actually Sounded Like
Music has been with humans for a very, very long time. But as time marches on, history can lose the records of what that music sounded like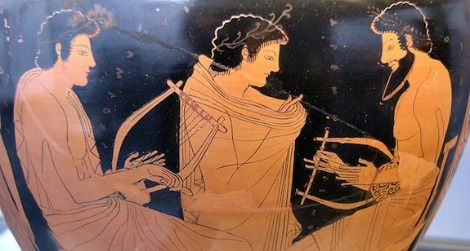 Music has been with humans for a very, very long time. But as time marches on, history can lose the records of what that music sounded like. Take the Greeks for example. We can see the stadiums and buildings they played music in. But we don't really know what it sounded like.
Armand D'Angour, a musician and classicist at Oxford, is trying to reproduce ancient Greek music. He writes:
Suppose that 2,500 years from now all that survived of the Beatles songs were a few of the lyrics, and all that remained of Mozart and Verdi's operas were the words and not the music.

Imagine if we could then reconstruct the music, rediscover the instruments that played them, and hear the words once again in their proper setting, how exciting that would be.
He has a few tools that he thinks will help him with this project—ancient documents that include song lyrics, a musical notation, and paintings and descriptions of the instruments used to play the tunes. Another scholar, David Creese, has built an ancient Greek musical instrument, and, at the BBC, you can hear him play a centuries-old song on it. These songs, D'Angour warns, probably won't sound like the music we prefer in the modern world. But there are signs there for modern musicians to follow: in one song, from 200 A.D., he says, 'The notation is unequivocal. It marks a regular rhythmic beat, and indicates a very important principle of ancient composition."
More from Smithsonian.com:
How Ancient Greeks Named Their Puppies
Greek Subway Dig Uncovers Marble Road from Roman Empire