Volcanic Eruption Spews Ash 12 Miles Into the Air in Russia
The volcano Shiveluch coated villages in dust and prompted flight warnings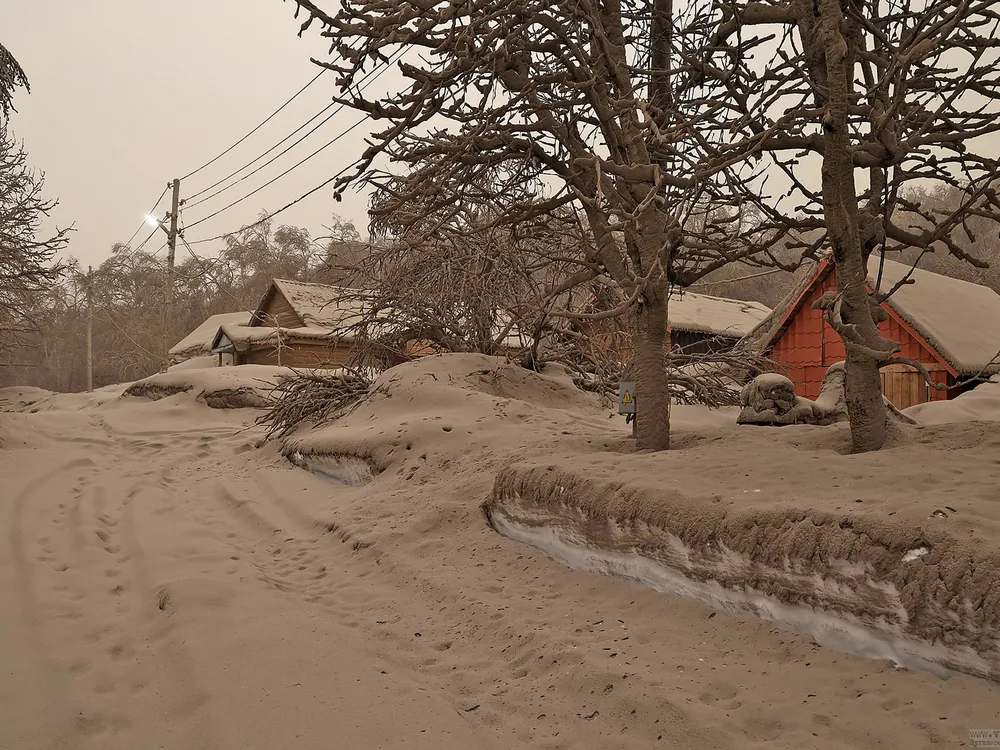 One of Russia's most active volcanos erupted early Tuesday morning, launching a massive gray cloud into the air and coating nearby villages in a thick layer of ash.
The eruption of Shiveluch, a volcano on Russia's Kamchatka Peninsula, was not immediately reported to cause any deaths. But scientists say the fallout covered 41,700 square miles and prompted a code red warning for flights.
"The ash reached 20 kilometers [12.5 miles] high," says Danila Chebrov, director of the Kamchatka branch of the Russian Academy of Sciences' Geophysical Survey, per Reuters. "The ash cloud moved westwards, and there was a very strong fall of ash on nearby villages." 
The Kamchatka Peninsula, a 140,000-square-mile area with a population of about 300,000 in Russia's far east, has more than 300 volcanoes—including 29 that are active. The Volcanoes of Kamchatka, which are located along the Ring of Fire, are considered "one of the most outstanding volcanic regions in the world" and listed as a World Heritage site, per UNESCO.
With at least 60 eruptions during the past 11,700 years, Shiveluch is one of Kamchatka's largest and most active volcanoes. Michigan Technological University volcanologist Simon Carn tweeted that the latest eruption was likely Shiveluch's largest since the dawn of satellites. 
Shiveluch began erupting just after midnight on Tuesday, dumping about three inches of ash on Klyuchi, the closest village, located about 30 miles away.
"The roads are completely terrible," local resident Vera Mayorova tells Reuters. "It's very difficult to take the kids to kindergarten. Pupils at schools are studying from home. It's impossible to walk outside because of the ashfall." 
Residents also reported their tap water had turned ash gray in color, prompting authorities to deliver bottled water. The eruption was likely powerful enough to shoot volcanic material into the stratosphere, which could have a temporary cooling effect, writes New Scientist's Madeleine Cuff.
Shiveluch's eruption is far from the only natural disaster to strike the eastern Russian region in recent weeks. Just days ago, Bezymianny, another volcano about 60 miles from Shiveluch, spewed ash some 6 to 7.5 miles into the air in a smaller eruption that also prompted a code red flight warning. And about 24 hours after the start of the more recent eruption, a 5.8-magnitude earthquake shook the peninsula's coast, which Russian scientists say was an aftershock from a quake that struck last week, according to Reuters.
The governor of Kamchatka, Vladimir Solodov, said mass evacuation was not necessary but explained on the messaging app Telegram that schools would switch to remote classes for the "duration of the aftermath of the disaster," per Al Jazeera. 
"As much as possible, stay at home," he said, per the publication. "We are waiting for the forecasts of volcanologists monitoring the eruption to assess how long the ashfall will last."