Visit Richard III's Gravesite With This Bone Chilling 3D Model
The ruler's final resting spot is now publicly available for exploration online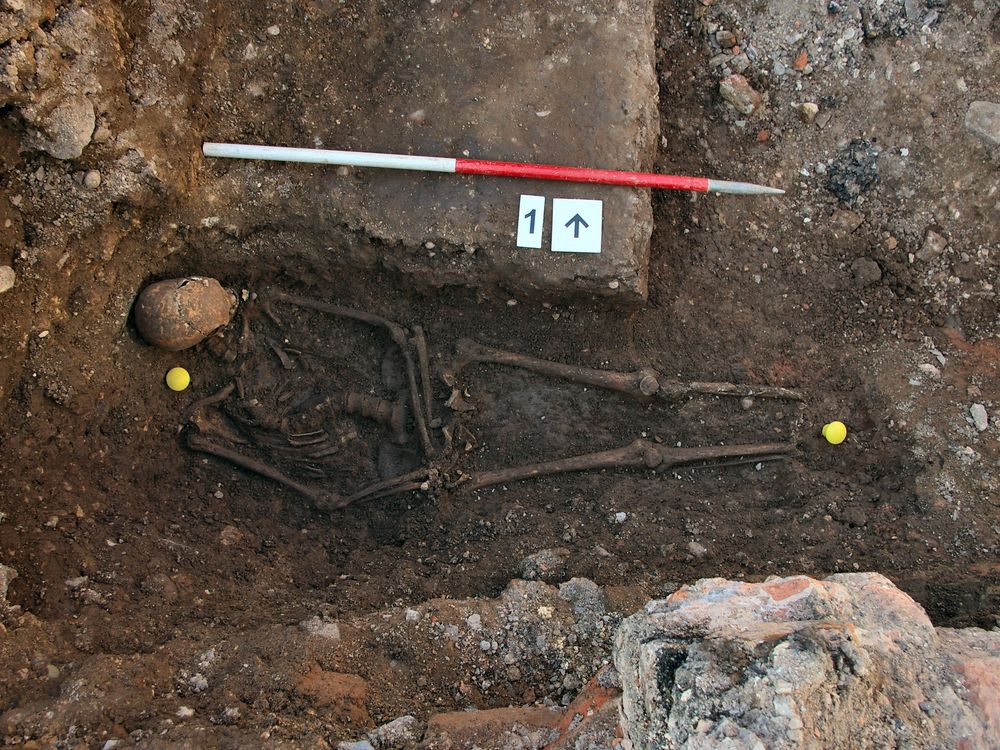 A year ago this week, archeologists turned over the remains of King Richard III to Leicester Cathedral with a procession through the city and a royal funeral. The king's skeleton, found under a municipal parking lot in Leicester in 2012, is one of the great archeological finds of the last decade. Now history buffs can examine the original burial site of the "King in the Carpark" with a new 3-D reconstruction created by the original archeologists on the online modeling platform SketchFab.
The model shows the king's skeleton as it looked when archeologists unearthed it in 2012. Users can rotate the gravesite and look at it from any angle—even the underside. The Sketchfab rendering also includes notes explaining key insights about Richard's life and death that scientists learned from studying the skeleton.
"During the excavation in 2012 we took photographs of the skeleton from multiple angles to create a lasting record of how the king's bones were positioned in the grave before we exhumed them," Mathew Morris, the University of Leicester archeologist who discovered the king, says in a press release. "These photos were not taken with photogrammetry [3-D modeling] in mind but the software is incredibly versatile and can be applied retrospectively to create this superb model."
King Richard III's grave by Archaeological Services (ULAS) on Sketchfab
Morris says that the model, while interesting for the public, also allows researchers to continue searching the gravesite even after its closure. "Photogrammetry provides a fantastic analytical tool that allows us to examine the grave from angles that would have been physically difficult or impossible to achieve during the excavation, and gives us the ability to continue to examine the king's grave long after the excavation has finished."
Richard III was the last Plantagenet ruler of England who died during the Battle of Bosworth while fighting the forces of Henry Tudor in 1485. While history—and Shakespeare—vilified Richard as an evil, hunchbacked king, the site and skeleton have shed new light on the 32-year-old monarch, who ruled from 1483 to 1485.
Research on the body revealed that he was not a hunchback, but did suffer from a curved spine caused by idiopathic onset scoliosis. Analysis of Richard's wounds show that he lost his helmet during battle, suffering nine wounds to the head and two to his body, most likely after his horse got stuck in a marsh. The uneven grave, which is too short for the king's height, indicates that his enemies quickly dug the pit, which at the time was inside the Grey Friars church, and that Richard was probably tossed in with no coffin, shroud, or ceremony.
"I have rarely seen such a poorly dug grave," Morris tells Léa Surugue at The International Business Times UK. "Those who put Richard III to rest could have taken just a little bit more time to make the grave neater…his opponents buried him hastily."
As to who exactly those opponents were, Morris says it will take more than 3-D modeling to figure that out. "Archaeology and photogrammetry can be really useful in piercing secrets of the past, but we will never know the real identity of those who buried Richard III, apart from the fact it wasn't his supporters," he tells Surugue. "Was it religious figures or the Tudors? We won't be able to say for sure, unless we find more written accounts."