Vigilantes in Quito Have A Mission to Correct Graffiti Artists' Spelling and Grammar
Meaning is important, the group says to explain their illicit copyediting duties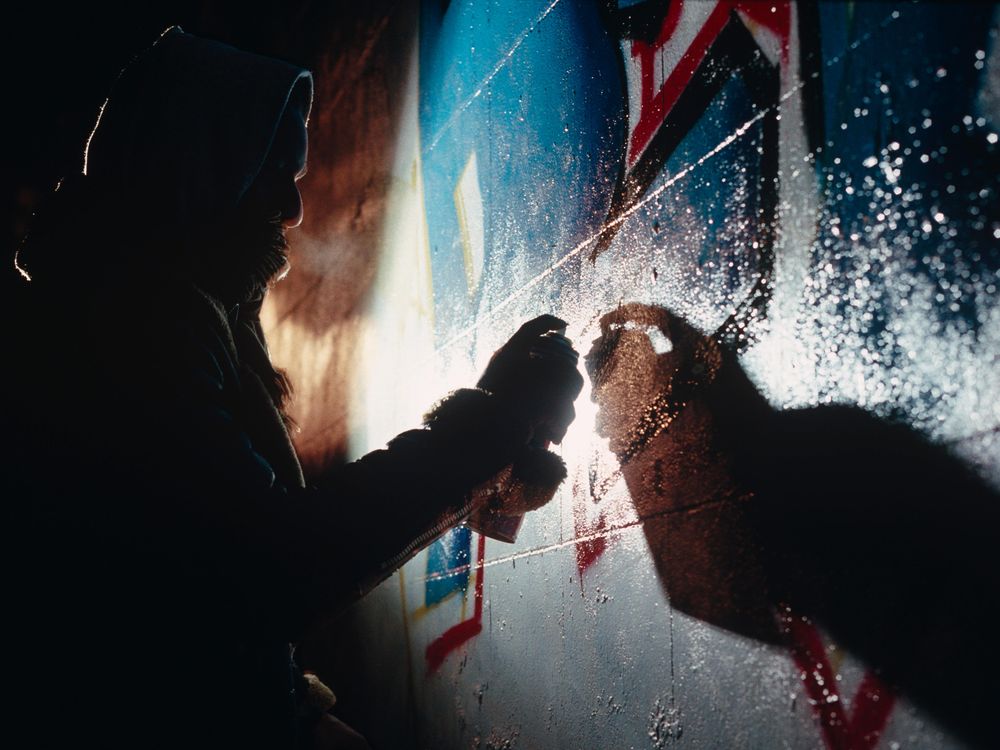 The city of Tijuana, Mexico has some messages for you, painted on underpasses, walls and fences in bold black words: "Respiro tu nombre"—I breathe your name; "Siempre es hoy"—it's always today; "Dilo sin decirclo"—say it without saying it. 
These short poetic phrases, cataloged in a video by Alejandra Lopez, are different from the typical graffiti. The phrases are part of a movement called Acción poética (Poetic Action), started by Mexican poet Armando Alanís in 1996, Lopez explains. 
The movement has spread throughout Spanish-speaking countries, but now some people are objecting — not to the sentiment, but to the spelling and grammar of the poets. In Quito, Ecuador, a group of young men have taken matters into their own hands, to the joy of copy editors and grammarians everywhere. 
The Quito grammar vigilantes call themselves Acción Ortografica Quito, and they explain their mission in an anonymous interview with Colors Magazine. (Even those who correct mistakes in graffiti are participating in activity that police frown upon.) "There's a big difference in saying: 'No quiero verte' (I don't want to see you) and 'No, quiero verte' (No, I want to see you)," one of the group members told the magazine. "Many times, someone does not realize how a comma or an oversight can completely change the meaning of a sentence. It can change your life." 
Colors Magazine reports that group is made up of three young men in their thirties. Their strategy includes driving around take pictures of graffiti mistakes, talking over the corrections with a beer in hand and then sneaking back to make the edits. They also maintain a social media presence.
"The goal is also to bring more fun in the streets," they say. "It makes the city less serious and more pleasant and cosmopolitan. It shows that there are alternatives." Like a school teacher or an editor, red appears to be their color of choice for the corrections. Perhaps the marks seem too much like grading to be "fun," but meaning is important, even in graffiti. In a way, the group is doing a public service—or at least incentivizing graffiti poets to check their work and avoid earning public editing.  
Colors Magazine writes that the group has even brought its editors' eyes to bear on the tweets of Ecuador's president, Rafael Correa. So far, they've been operating in the physical world in just one neighborhood in Quito, but they plan to expand their activities. 
They also plan to open a hot line for citizens who want to inform on existing mistakes. "We recently received a complaint about a nice graffiti that talks about how unbelievable a mom's love is. We think it's important that the message get through."
Two other splinter groups of Acción Ortografica have sprung up in Madrid, Spain, and in Colombia, reports Colors Magazine. 
The Madrid group told BBC Brasil that while their numbers are few, any person can join simply by correcting the graffitied grammar and spelling mistakes they see around the city and signing as "AOM, ACOMA or Acción Ortográfica de Madrid."