Unvaccinated Individuals Are 11 Times More Likely to Die From Covid-19
Multiple CDC studies suggest that vaccines against Covid-19 remain highly effective against severe complications from the virus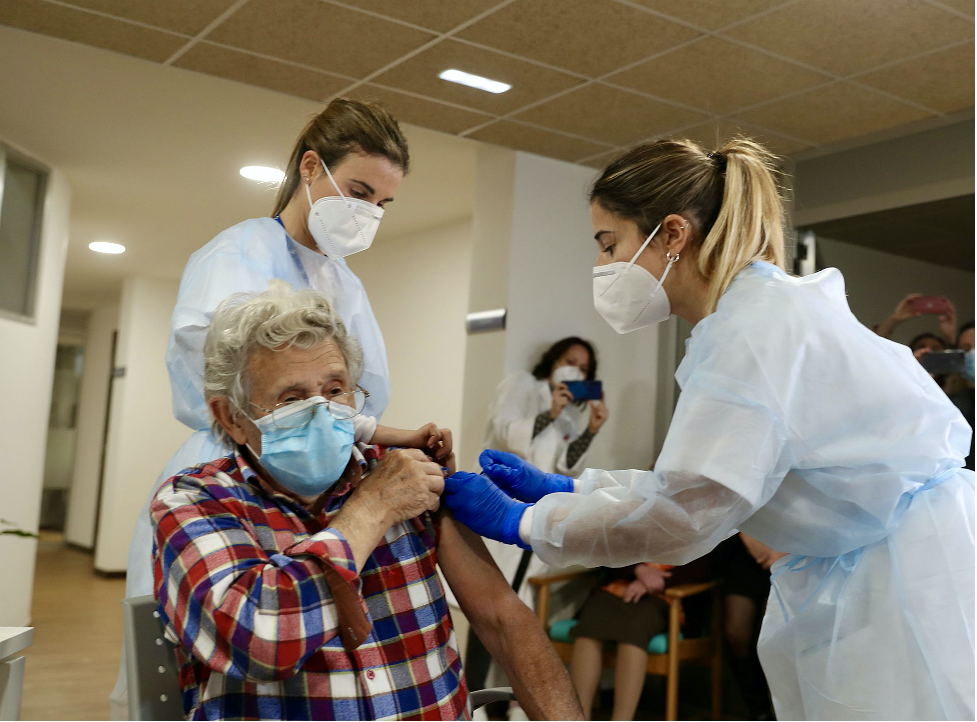 According to a report released by the Centers for Disease Control and Prevention (CDC), unvaccinated individuals are 11 times more likely to die from Covid-19 than those who are fully inoculated, reports NPR's Vanessa Romo. The study, published in the CDC's Morbidity and Mortality Weekly Report (MMWR) on September 10, also found vaccinated individuals were almost five times less likely to get infected with the virus and ten times less likely to end up hospitalized due to complications from the virus.
The findings released by the CDC are from an early release study, and there could be some changes to the final version. Still, the study clarifies how the Delta variant affects communities, reports Ellen Loanes for Vox.
The study examined cases of hospitalizations and deaths from Covid-19 over four months from April through July 2021. Over 600,0000 Covid-19 cases were evaluated based on vaccination status, CDC director Rochelle Walensky explained during a White House Covid-19 briefing. Between April 4 to June 19, unvaccinated individuals accounted for 95 percent of cases, 93 percent of hospitalizations, and 92 percent of deaths, reports Hilary Brueck and Natalie Musumeci for Insider. When looking at cases between June 20 and July 17 when the Delta variant became mainstream, unvaccinated people still accounted for 82 percent of cases, 86 percent of hospitalizations, and 84 percent of deaths. 
After analyzing the cases, the findings also suggested that as the Delta variant spread throughout the United States over the summer, protection against initial infections slightly fell, per Vox. Protection against the virus dropped from 91 percent in the spring to 78 percent in June and July, reports Lauran Neergaard for the Associated Press.
Breakthrough cases in fully vaccinated individuals made up 14 percent of hospitalizations and 16 percent of deaths in June and July, which is double the rate of breakthrough cases resulting in hospitalizations or deaths from April and May. NPR reports this change may have occurred because of waning immunity in people who were vaccinated early this year and because the Delta variant is more efficient at invading the immune system. While it is unclear why immunity decreased, it could be partially attributed to declines in mask use and other precautions that coincided with the Delta variant surge, per the Associated Press. However, the vaccine's effectiveness against death and hospitalization hardly showed any decline, Vox reports. 
 "The bottom line is this: We have the scientific tools we need to turn the corner on this pandemic," Walensky said during the briefing. "Vaccination works and will protect us from the severe complications of Covid-19. It will protect our children and allow them to stay in school for safe in-person learning."
This past week the CDC released another study in the MMWR showing that Moderna's Covid-19 vaccine was more effective at preventing hospitalizations than Pfizer-BioNTech and Johnson & Johnson's vaccines, reports Helen Elfer for the Independent. The study evaluated data taken from nine states from June through August and found that across all ages, the Moderna vaccine's effectiveness was at 95 percent, per NPR. Pfizer-BioNTech had 80 percent effectiveness, and Johnson and Johnson was 60 percent effective. On average, the three vaccines were 86 percent effective at preventing hospitalization and 82 percent effective at preventing emergency room or urgent care visits, Vox reports. 
Overall, the studies from the CDC and other real-world data will be used to determine if a Covid-19 vaccine booster is needed and how soon after the last dose, per the Associated Press.