An Unknown Ancient Civilization in India Carved This Rock Art
Hikers are cataloging the petroglyphs in the western part of Maharashtra state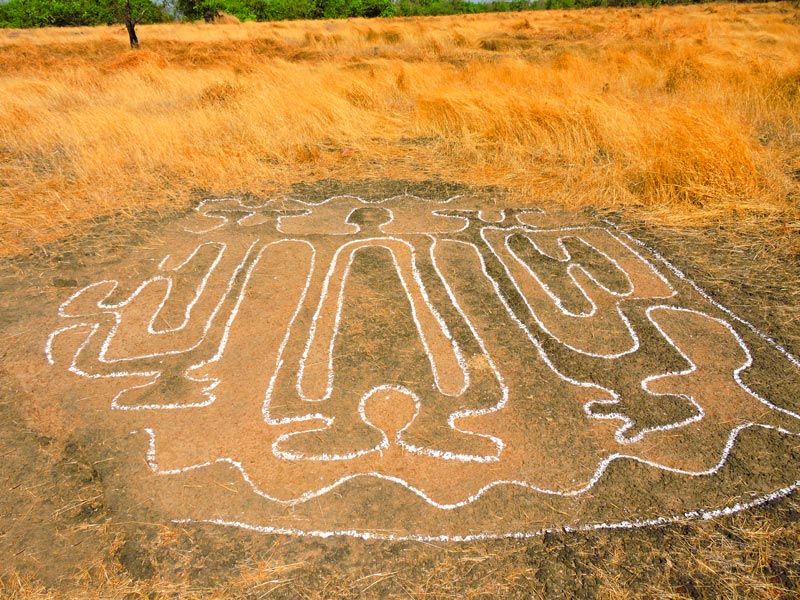 A passion for hiking first brought two engineers into the hills and plateaus of India's picturesque Konkan coast. But now they return for clues to the identify of a lost civilization.
As BBC Marathi's Mayureesh Konnur reports, the duo, Sudhir Risbood and Manoj Marathe, have helped catalog hundreds of rock carvings etched into the stone of hilltops in the western part of India's Maharashtra state. The depictions include a crocodile, elephant, birds, fishes and human figures. They may date back to 10,000 B.C., and they come from the hands of people who belonged to an as-yet-unknown civilization. Some of the petroglyphs were hidden beneath soil and mud deposited during the intervening millennia. Others were well-known by locals and considered holy.
Risbood and Marathe have been hiking for years, leading a small group of enthusiastic explorers to interview locals and rediscover this lost art. "We walked thousands of kilometers," Risbood tells BBC Marathi. "People started sending photographs to us and we even enlisted schools in our efforts to find them. We made students ask their grandparents and other village elders if they knew about any other engravings."
The region had three documented petroglyph sites before the hikers started their search, reported Mayuri Phadnis for the Pune Mirror in 2015. The duo initially identified 10 new sites home to 86 petroglyphs. "Judging by the crudity, they seem to have been made in the Neolithic era," Sachin Joshi, a researcher with Pune's Deccan College of Archeology said. Just a few months later, in a follow up story for the Pune Mirror, Phadnis reported that thanks to support from the district administration, the hiking group identified 17 more sites, and its petroglyph count had reached above 200.
"We have long feared that these sites would be destroyed before more research could be done on them," Risbood told Phadnis of the Pune Mirror. "With the administration stepping in, we believe this heritage can be saved."
The petroglyphs are featured on the Ratnagiri district's tourism website, and researchers are working to decipher their meanings and figure out who may have carved them.
The director of the Maharashtra state archaeology department, Tejas Gage, tells BBC Marathi that since the petroglyphs primarily show animals and people, he suspects the original artists may have come from a hunter-gatherer society. "We have not found any pictures of farming activities," he says. "This man knew about animals and sea creatures. That indicates he was dependent on hunting for food."
BBC Marathi notes that the state government has allocated 240 million rupees (about $3.3 million) for further study of 400 of the identified petroglyphs.