Arthur Miller's Vast Archive Comes to the University of Texas at Austin
The collection includes a wealth of material, from theatrical manuscripts to personal memorabilia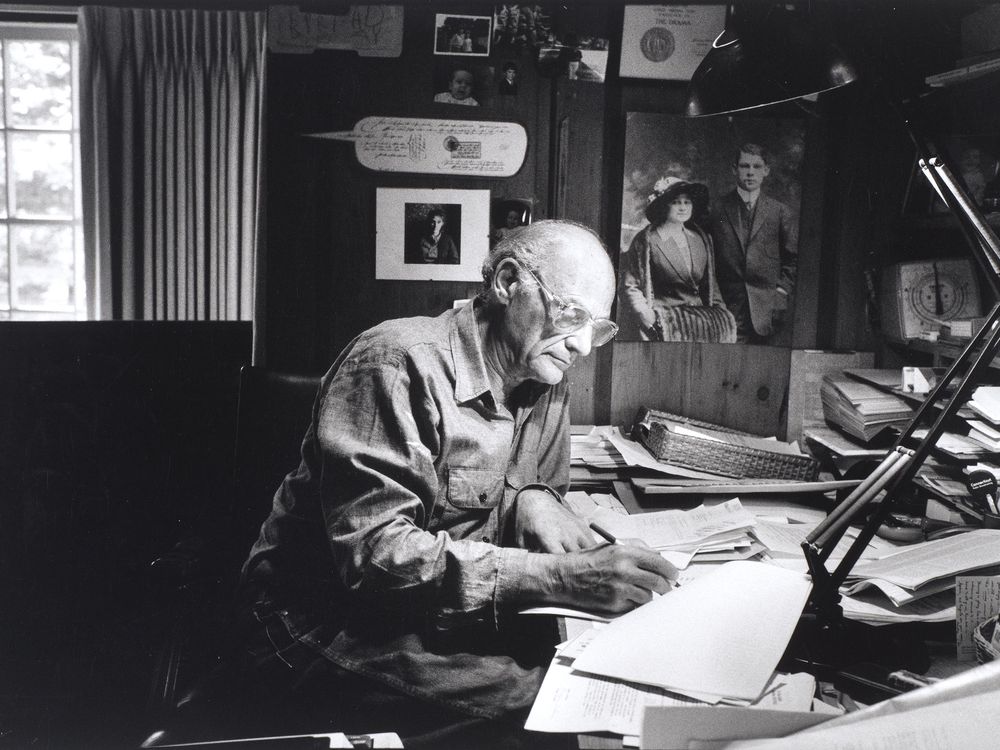 Anticipating that his work would be of keen interest to scholars for many years to come, Arthur Miller kept extensive records of his plays and other writing. Now the University of Texas at Austin has acquired the entirety of Miller's papers—a collection that includes more than 200 boxes of manuscripts, correspondences and photographs that offer an intimate perspective on a giant of American theater.
As Matthew Ormseth of the Hartford Courant reports, the Harry Ransom Center, a research library and museum at the university, acquired the papers for $2.7 million. Miller had donated a group of early manuscripts and notebooks to the institution in the 1960s, but the new purchase significantly bolsters the center's collection of Miller documents.
Amid the vast archive of the playwright's papers are drafts of his most famous works— including Death of a Salesman, All My Sons and The Crucible—along with screenplays, essays and short stories, some of which were never published. There are also more than 50 journals, spanning from the 1940s to the early aughts, where Miller jotted down "ideas, drafts, bits of dialogue" and "diary-like reflections on his personal life," according to a Ransom Center press release.
These documents provide unparalleled insight into Miller's creative process. "Miller has key scenes that he wants to depict, and he fits them together in handwritten drafts during the production process," Eric Colleary, the Ransom Center's curator of theater and performing arts, tells Ormseth. "And then, once he hears what works and what doesn't quite work, he goes back in typewritten drafts to tighten the dialogue. He's masterful with language."
Other materials reveal a more personal side of the famous playwright: his aspirations, his tenderness, his wit. In a 1935 letter, a young Miller excitedly informs his brother Kermit that he had secured a job as a traveling salesman—a job that would later inform his most iconic play. A 1962 photo depicts Miller cradling his infant daughter, Rebecca, while he works at his writing desk. Another shows him in conversation with Marilyn Monroe, his wife between 1956 and 1961.
Among the unpublished works is an acerbic essay that Miller penned in the wake of Monroe's death. He derides the "public mourners" who "stand there weeping and gawking, glad that it is not you going into the earth, glad that it is this lovely girl who at last you killed," according to Alison Flood of the Guardian. A more humorous letter comes in the form of Miller's 1953 response to the American Bar Association, which had complained that The Crucible depicted lawyers in a negative light.
"I wrote a play about a man who happened to be a salesman, and several organizations of sales people flew to arms," Miller replied. "Now it is the lawyers. If I am to back away from these objections you must surely see that I shall be forced to write about people with no occupation whatever. But then café society will probably feel put-upon … I cannot end this letter without saying that the growing sensitivity of people to any sort of open and frank discussion of important issues is no service to civilization, let alone law and order."
Miller was contemptuous of the political climate of post-war America, famously drawing parallels between the era's anti-Communist panic and 17th-century witch hunts in The Crucible. A number of documents in the archive relate to the playwright's investigation by the House Un-American Activities Committee, which was suspicious of Miller's political leanings. In a letter to the wife of director Elia Kazan, Miller explains why he refused to name suspected Communists before the committee, writing that its "mentality, and the atmosphere which it has engendered after almost 15 years of ceaseless propaganda, are such as to throw perfectly honest people into a kind of nameless fear which is utterly destructive of a sane order of life." 
Once the Ransom Center catalogues its wealth of new Miller materials, a process that is expected to take two years, the collection will be made available to scholars, students and the general public.
"Arthur Miller is one of our country's finest playwrights, one who gave dramatic form to themes that are central to our still-evolving American story," Ransom Center director Stephen Enniss says in the press release. "For years to come, all primary source research into this major American playwright's life and work will begin here."