Ukraine Releases Banksy Postage Stamp on War's One-Year Anniversary
The street artist painted the image on a demolished wall during his secret trip to the country last fall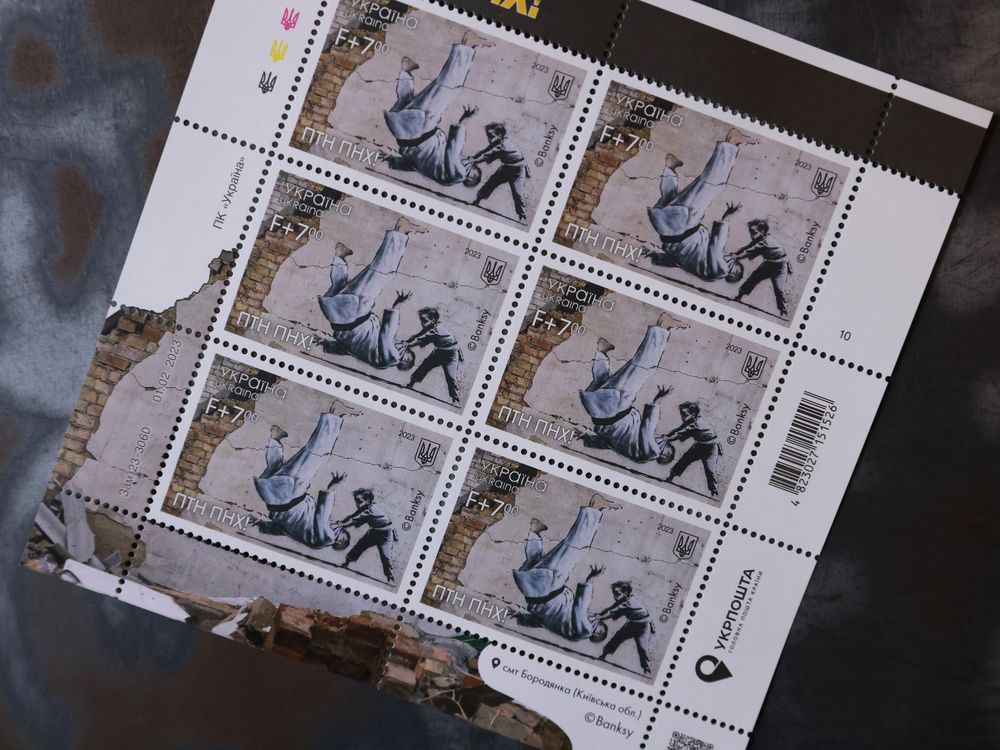 On a mural in the Ukrainian town of Borodyanka, a judo match takes place. In it, a young boy slams an older man to the ground. The man's black belt expertise has posed no obstacle to the boy's strength and tenacity.
This scene, presumed to symbolize the defeat of Russian President Vladimir Putin, who is a black belt in judo, is one of several murals by the British artist Banksy in the war-torn country.
Now, the Ukrainian postal service has announced a new stamp featuring the image, as well as text in Cyrillic that reads "FCK PTN." The release commemorates the one-year anniversary of the Russian invasion of Ukraine.
"I think the boy is a symbol of a small Ukraine which defeats the big man, Russia," Kyiv resident Nataliia Hrebeniuk tells Reuters' Yurii Kovalenko and Stefaniia Bern. "It's very representative of the situation."
Per a statement from the Ukrainian postal service, proceeds from selling the stamps will go toward humanitarian needs, such as schools that were damaged by Russian forces.
In the fall of 2022, Banksy made a secret visit to Ukraine. During that time, he completed seven murals, many of which incorporated damaged buildings and rubble from Russian airstrikes.
The judo mural appeared on a mostly demolished wall in Borodyanka, located 35 miles northwest of Kyiv, which was occupied by Russian forces during the early days of the war. In that time, the town sustained heavy damages; many homes and buildings were destroyed.
Banksy's Ukraine murals share thematic similarities: One depicts a gymnast doing a handstand atop rubble, while another imagines children using a tank trap as a seesaw, among other scenes. Ukrainians have voiced their appreciation for these works, which raise awareness of the damage Russian forces have wrought in their country.
"It's a very cool gesture for the world to understand Ukraine, that we remain in the spotlight," Maxime, a 26-year-old Kyiv resident, tells Agence France-Presse. She says she is excited to see a stamp featuring Banksy's work.
Indeed, many Ukrainians were eager to purchase the new stamps. Lines formed at Kyiv's main post office when they were released on Friday.
"We believe that the Ukrainian postage stamp 'FCK PTN!' will also become prophetic," says Igor Smelyansky, the head of the postal service, in the statement. "And in 2023, Ukraine, which is smaller in terms of territory but hundreds of times more motivated, will finally 'pin Russia to the mat.'"
Ukraine has used postage stamps as rallying cries in the past. Last spring, the postal service issued a stamp in honor of the Ukrainian soldiers defending Snake Island. Kyiv residents lined up at the main post office to purchase them. In just about a week, 700,000 were sold.
"Like wartime posters," writes Hyperallergic's Taylor Michael, "[the stamps] inspire patriotism and resilience in citizens."