Here's How Ukraine's Political Crisis Is Affecting the Olympics
One Olympic athlete has withdrawn from competition; Russia may be holding back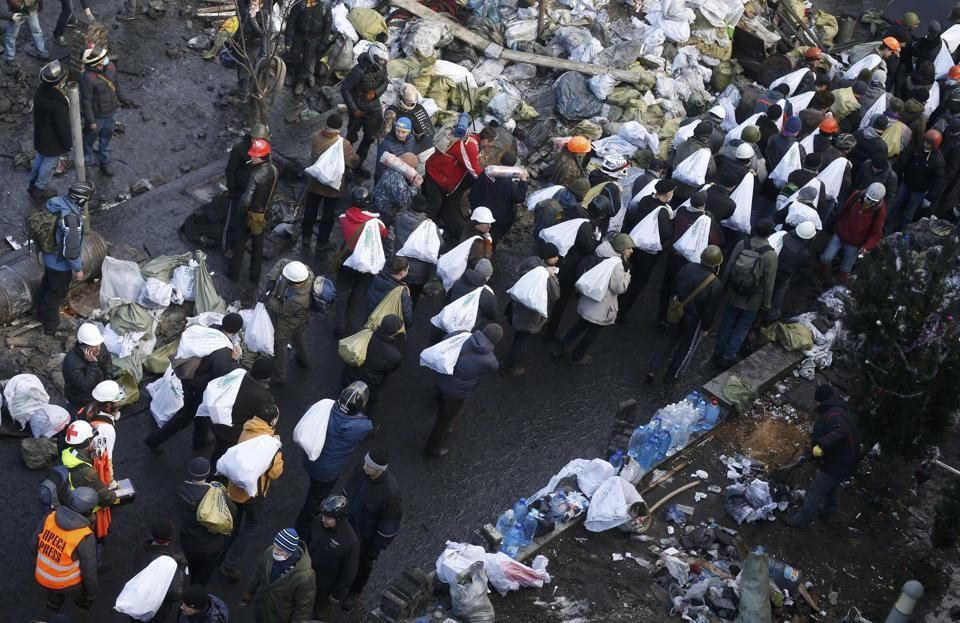 While riot police and protesters continue to fight in Ukraine and the E.U. struggles to respond, the Winter Olympics enter their last few days in Sochi, Russia. Russia is a key player in the conflict in Ukraine: the Kremlin has said it's sending a mediator to work to calm the violence, but even before the current outbreak, diplomats were speculating that, after the Olympics, Russia would act more aggressively than it is now.
The conflict is already affecting the Olympics, though. The IOC refused to allow Ukrainian athletes to wear black armbands during the remainder of the competition. The head of the Ukrainian Olympic committee, Sergey Bubka asked for an end to the violence, and said that the Ukrainian team would continue to compete. And today, Ukrainian Olympic skier Bogdana Matsotska, along with her coach, pulled out of the games, before she competed. (Other athletes, says the New York Times, have returned to Ukraine, but after finishing their events.)
Matsotska cited the increasing violence in her home country as her reason for leaving. "I don't want to participate when in my country people die," she told the Associated Press. Matsotska is the only Ukrainian athlete to formally announce that she would not compete, though on Wednesday, two Ukrainian skiers, Marina Lisogor and Kateryna Serdyuk did not start in the Women's Team Sprint Classic Semi-Finals, creating speculation that their absence might be due to the situation back home. The IOC later said that Serdyuk had a back injury, but gave no reason for Lisogor's absence. 
Though the Olympics are intended to be a friendly, non-political sports competition, these Olympic games have been overshadowed at times by politics, from the furor over anti-LGBT legislation in Russia to fears of a terrorist attack by separatist groups. Ukraine is currently on a short list of countries being considered as hosts for the 2022 Winter Olympics; the bid's organizers have been saying that they won't drop it yet.