Two Women Make History by Entering One of India's Holiest Sites
This is the first time that women have been able to enter the Sabarimala temple since India's Supreme Court overturned a ban that denied them access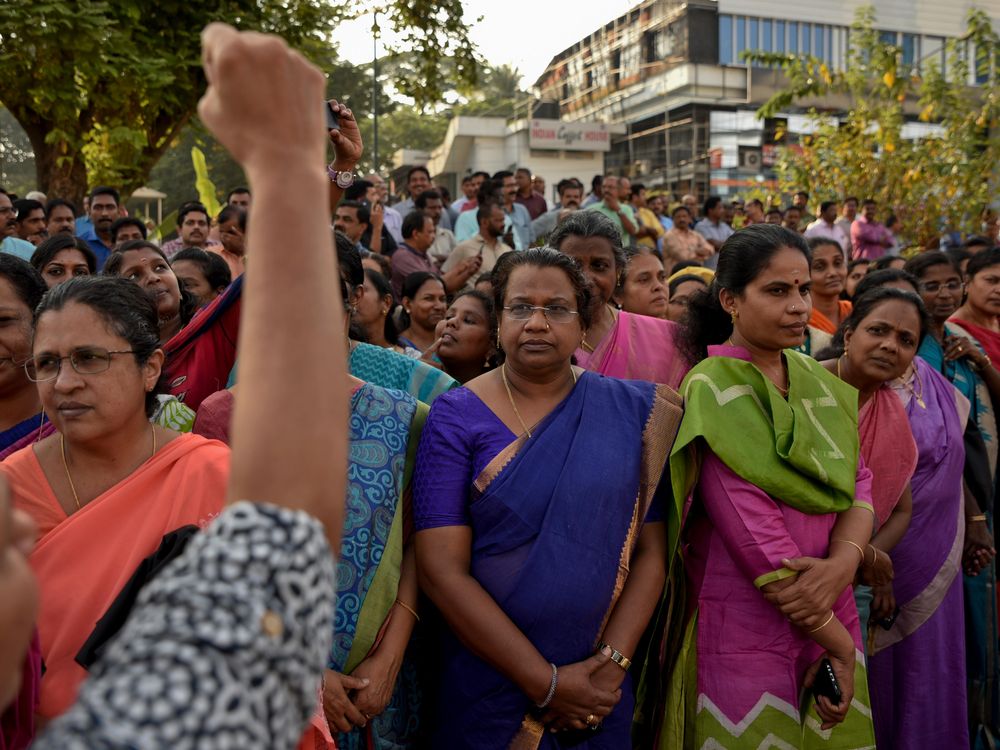 On a steep hill in India's Kerala state sits the centuries-old Sabarimala temple, one of Hinduism's holiest sites. Each year, millions of men visit the temple, but women between the ages of 10 and 50 have long been barred from entering. In the early hours of Wednesday morning, however, two women slipped inside the temple, cloaked in black and flanked by plainclothes policeman—a history-making moment that has sparked both jubilation and fury in Kerala.
The two women—identified by the BBC as Bindu Ammini, 40, and Kanaka Durga, 39—are the first to access Sabarimala shrine since India's Supreme Court overturned a ban on women's entry in September. Others have tried, but were rebuffed by angry mobs.
Under the cover of darkness, the two hour-trek up the hillside to Sabarimala went smoothly for Ammini and Durga, who made it to the temple at around 3:30 a.m. local time. "We had no trouble trekking to the shrine and the officials were co-operative," Ammini tells the BBC. "We left before the protesters spotted us."
But when word got out that women had entered the temple, Kerala was beset by protests. According to the New York Times' Kai Schultz and Ayesha Venkataraman, demonstrators blocked traffic, forced stores to close, vandalized a government office and pelted stones at police, who responded by firing tear gas canisters. Relatives of one of the women had to be moved to a safe house. A Hindu priest temporarily shut down the temple to perform "purification rituals."
The Sabarimala temple is a shrine to Lord Ayyappa, the Hindu god of growth. Because the deity is said to have taken a vow of celibacy, a camp of worshipers believe it is disrespectful to allow women of menstruating age to access the site, explain CNN's Joshua Berlinger, Sugam Pokharel and Manveena Suri.
In 1991, a Kerala High Court legalized this interpretation when it ruled that only a priest could decide whether or not women were permitted to enter the temple. Opponents have continued to pushed back against the verdict since. In a historic ruling this past September, the Indian Supreme Court agreed with the protestors that it was unconstitutional to prevent women from worshiping at the temple: "[T]o treat women as children of lesser God is to blink at constitutional morality," Justice DY Chandrachud said at the time of the judgement.
The Communist Party of India, which runs the state government in Kerala, welcomed the decision. Others were enraged by the ruling, particularly supporters of India's governing Bharatiya Janata Party (BJP), known for espousing Hindu nationalist ideals. In the wake of the court's verdict, hardliners attacked both police and female pilgrims who tried to enter the temple, according to Zeenat Saberin of Al Jazeera.
On Tuesday, supporters of women's right to access the temple formed a huge human chain that stretched some 385 miles across Kerala. Local police estimated that more than 3 million people came out to form the "women's wall," with the protestors espousing a breadth of causes.
"Women came in saris, burqas, nuns' habits and jeans. Men joined as well," write Schultz and Venkataraman of the Times. "Participants raised their arms with clenched fists. Some talked about increasing quotas for women in government posts and improving access for Dalits, low-caste Indians once known as untouchables."
While Ammini and Durga's historic entry to Sabarimala was denounced as a "black day" by an umbrella organization of Hindu nationalist groups, those in support of women's entry to the temple were galvanized by their determination and courage.
"This is a massive victory for the women of India," Manithi Selvi, who tried unsuccessfully to access the shrine last month, tells Al Jazeera's Saberin. "These two women have protected India's constitutional rights and smashed the walls of patriarchy. But this is only the first step, we need to guard our rights in the family, in the home, in the workplace."