Two 'Lost' Alberto Giacometti Drawings Found in Antique Dealer's Collection
The works were "buried under piles of dust-covered antiques, paintings and drawings"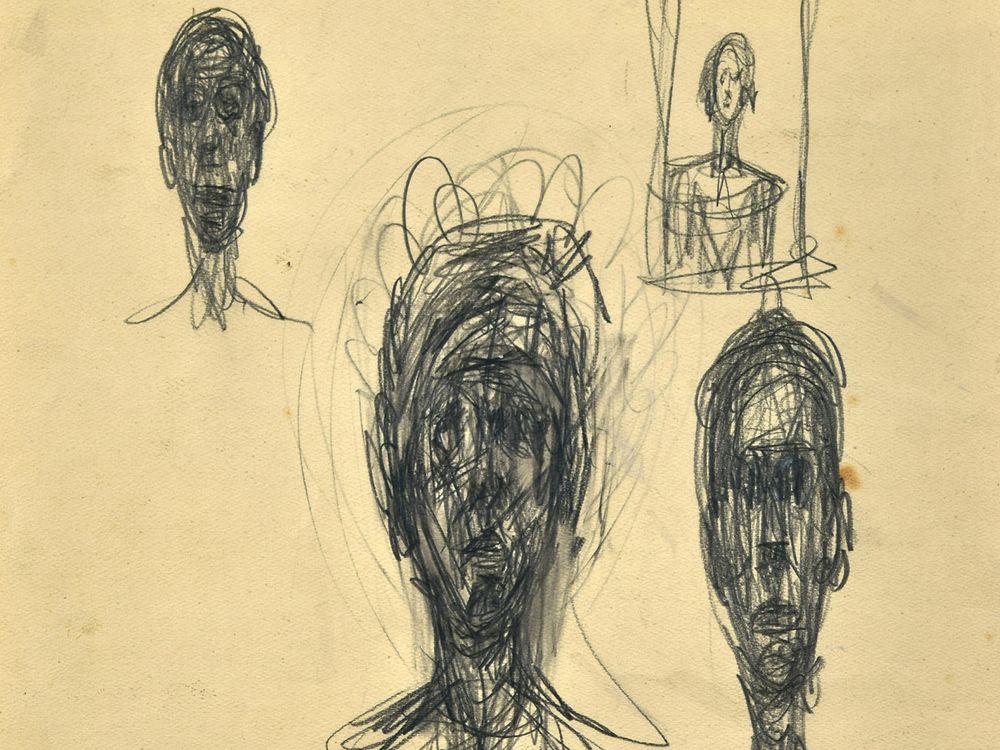 One sketch is stamped with eerily slender faces, their features obscured by dramatic swirls of dark pencil. The other depicts a nude woman, her arms held tightly at her side. Both works are etched with the signature of Alberto Giacometti, the revered 20th-century sculptor and painter. As Hadley Keller reports for Architectural Digest, these important pencil drawings—which experts believed had been sold or lost—were recently discovered in the collection of an iconic British antiques dealer.
Officials from Cheffins, an auction house based in Cambridge, uncovered the works while sorting through the effects of Eila Grahame, who owned a London antiques shop. According to Mark Brown of the Guardian, Cheffins had been tasked with clearing out and selling the items in Grahame's store after she died in 2010. Two Giacometti works had been mentioned in an earlier valuation of Grahame's assets, but Cheffins employees were unable to find them during a preliminary inspection.
A second sweep through the collection revealed that the drawings had been "buried under piles of dust-covered antiques, paintings and drawings," as Martin Millard, a director at Cheffins, said in a statement. The sketches, which had been signed "Alberto Giacometti 1947," were then sent off to Paris for authentication. The Comite Giacometti confirmed that they are, in fact, the artist's work.
The discovery comes at a timely moment in the appreciation of Giacometti's oeuvre, which sees the artist's evolution from an influential Surrealist to a haunted Existentialist. Giacometti is currently the subject of a major retrospective at the Tate Modern, and a film about his life will be released later this month.
The newly uncovered drawings, which are labeled Têtes (recto) and Nu debout (verso), are both explorations of the human form. They fall in line with the style that defined Giacometti's work during the post-War years; the artist is arguably best known for his sculptures of spindly, dark figures, which reflected the sense of isolation and anxiety that hung over Europe. As Jonathan Jones writes in another Guardian piece, "European art itself appeared to have faded in the continent's ruins. Only Giacometti rose to the moment with stark, severe sculptures of people who seem to have lost everything – and yet who keep walking, pointing, speaking."
Martin Millard, the Cheffins director, said in a statement that he was surprised to find the Giacomettis hidden within Grahame's assets. But he also "knew that anything from her collection was likely to hold some significant value." Grahame was a revered and indomitable figure on the collectors' scene; according to Nicolas Barker of the Independent, she was known to quip "You couldn't afford it" if customers made hasty enquiries about her items' prices.
Cheffins plans to auction the two Giacometti sketches, which are expected to fetch between £40,000 - £60,000 (roughly $52,000 - $78,000 USD). All proceeds will be donated to the Art Fund, which helps museums acquire and display great works of art.