Two Buildings Collapse, Others Damaged in Record-Setting Glacial Floods in Alaska
Floodwaters discharged from a basin behind Mendenhall Glacier at about 25,000 cubic feet per second, shocking meteorologists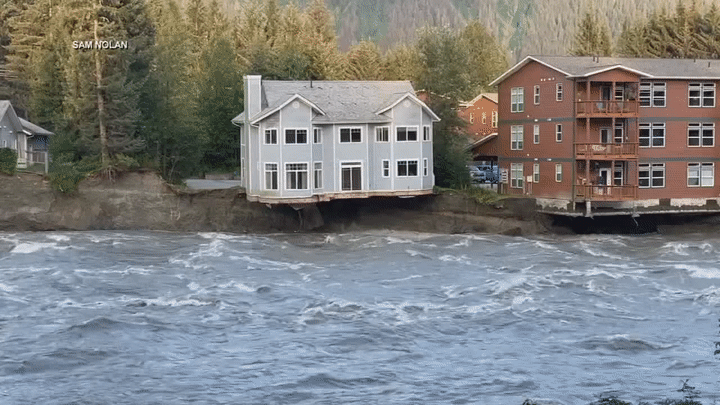 At least two homes in Juneau, Alaska, collapsed into a river and were swept away over the weekend as fast-moving flash flood waters from a melting glacier cascaded through the city.
Water rushed down the river so quickly that it eroded the bank, leaving additional homes and condo buildings condemned and displacing dozens of people, reports Anna Canny for KTOO. The city issued a state of emergency in response to the disaster, the scale of which, experts say, was incredibly unlikely.
"We didn't even think that this was possible," Aaron Jacobs, a senior service hydrologist for the National Weather Service, tells ABC News' Julia Jacobo.
This is from the Mendenhall River Floods in Alaska.

This happened over a span of six hours.

Can you imagine watching that happen to your home knowing there's nothing that can save it? pic.twitter.com/VGxXMFlWqI

— Ryan Shead (@RyanShead) August 6, 2023
Mendenhall Glacier, located about 13 miles from Juneau, is one of the city's most popular attractions. The awe-inspiring, 3,000-year-old mass is moving slowly downhill toward Mendenhall Lake, the headwaters of the Mendenhall River, which runs through Juneau. But climate change is causing the glacier to recede, reports Becky Bohrer for the Associated Press.
As Mendenhall and another nearby glacier melt, the water collects in a lake called Suicide Basin. Since 2011, this side basin has been periodically releasing surges of water called glacial lake outburst floods. Usually, Mendenhall Glacier traps water in the basin, like a dam. But eventually, the dam breaks, and water surges out from underneath the glacier and toward the city.
"These glacial dams are no different to constructed dams," Tom Robinson, a disaster risk researcher at the University of Canterbury in New Zealand, told CNN's Rachel Ramirez in February. "If you take the Hoover Dam, for instance, you've got a massive lake behind it, but if you suddenly remove the Hoover Dam, that water has to go somewhere, and it's going to come cascading down a valley in massive flood waves."
Over the years, the floods from Mendenhall Glacier have become more frequent and more destructive, reported Paige Blankenbuehler for High Country News in 2016. The flooding last weekend was a result of water discharging at about 25,000 cubic feet per second, a staggeringly high rate of flow that the Federal Emergency Management Agency had previously predicted had less than a 1 percent chance of happening, per ABC News.
That racing water inundated Mendenhall Lake, causing its levels to rise dramatically. Around 11:15 p.m. on Saturday, the lake reached a depth of 14.97 feet, breaking the previous record of 11.99 feet set in July 2016.
"This is uncharted territory," Jacobs tells the Juneau Empire's Clarise Larson and Mark Sabbatini. "We've never had it this high before."
From there, all that extra water crashed through the Mendenhall River. Videos on social media show water rushing through the city and a house crumbling into the river as the bank erodes out from underneath it. No injuries or deaths were reported.
Emptying of Suicide Basin which caused the #Mendenhall Glacier #GLOF downstream, Juneau, Alaska
https://t.co/rmDaenHwou pic.twitter.com/nhrx46JEyk

— Melaine Le Roy (@subfossilguy) August 8, 2023
The flooding "really exceeded our expectations," National Weather Service meteorologist Andrew Park tells the Washington Post's Ben Brasch, adding that it is "pretty devastating for the community."
While it's unclear exactly how much climate change contributed to this particular event, flooding from receding glaciers is becoming more prevalent worldwide as temperatures rise. A study from earlier this year estimated that 15 million people around the globe are at risk from glacial lake outburst floods—half of whom live in India, Pakistan, Peru and China. 
By the beginning of this week, water in the Mendenhall River had returned to its normal levels of between 5.5 and 6 feet, and cleanup operations were underway to remove debris, per ABC News.