Two Artists Lived on a Giant Hamster Wheel for Ten Days
The exhibit, In Orbit, is on display at a Williamsburg gallery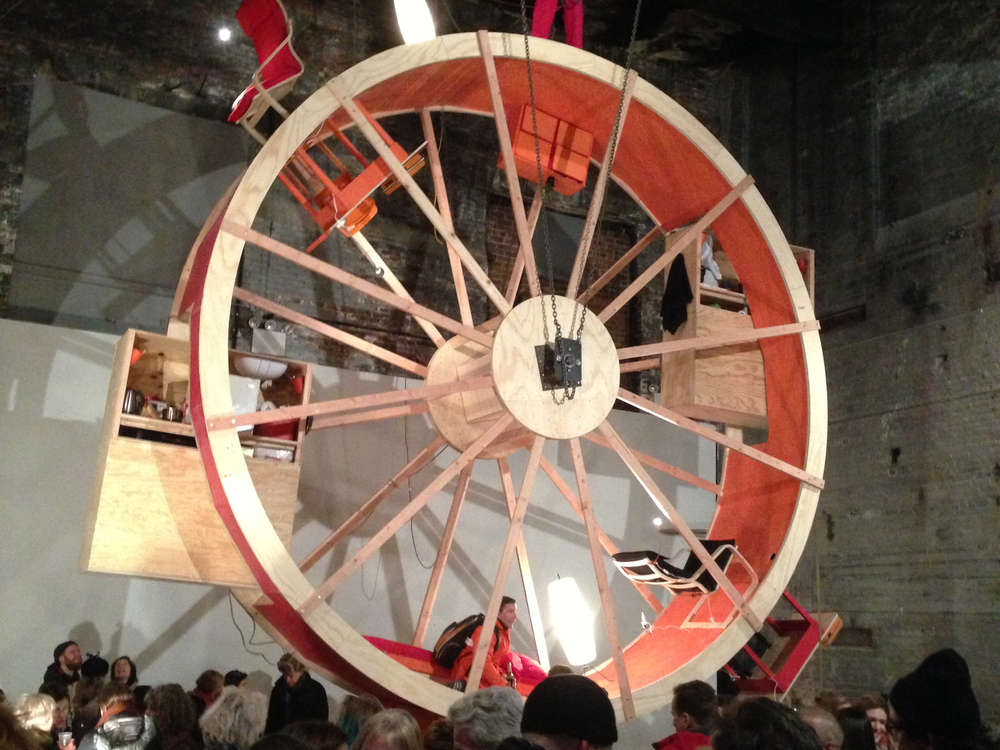 On Sunday, Ward Shelley and Alex Schweder completed ten days of living in a giant hamster wheel, as part of an art project called In Orbit. While Shelley spent his time on the outside of the wheel, Schweder was on the inside.
Their furniture and living spaces were spread evenly around the wheel's inner and outer portions, so both men had access to a bed, chair, kitchen and bathroom while they balanced on the wheel. But in order to turn the wheel and get to any of those areas, they had to communicate with the other. It was, ultimately, an exercise in connectedness. 
From the AP:
"We're living on a big wheel that is essentially a two-bedroom apartment," Schweder said.

"Sleeping is a kind of refuge," Shelley added. "There's psychological pressure here being in this thing so when you get to sleep it's easy to stay there."
The two artists have worked on similar projects before, including 2011's Counterweight Roommate, which saw the two balanced at opposite ends of a long tether, trying to live in a vertical home, 2009's Stability, in which the two lived on a see-saw home, and 2007's Flatland, which saw the two artists joined by other collaborators to live in a two-foot-wide home for three weeks. 
Although Shelley and Schweder got off the hamster wheel on March 9, the wheel itself will be on display through April 5, at Pierogi Gallery's The Boiler.