The True Story of the German-Jewish High Jumper Who Was Barred From the Berlin Olympics
A new Olympic Channel documentary explores Margaret Lambert's stunted path to Olympic glory—and her resilience in the face of persecution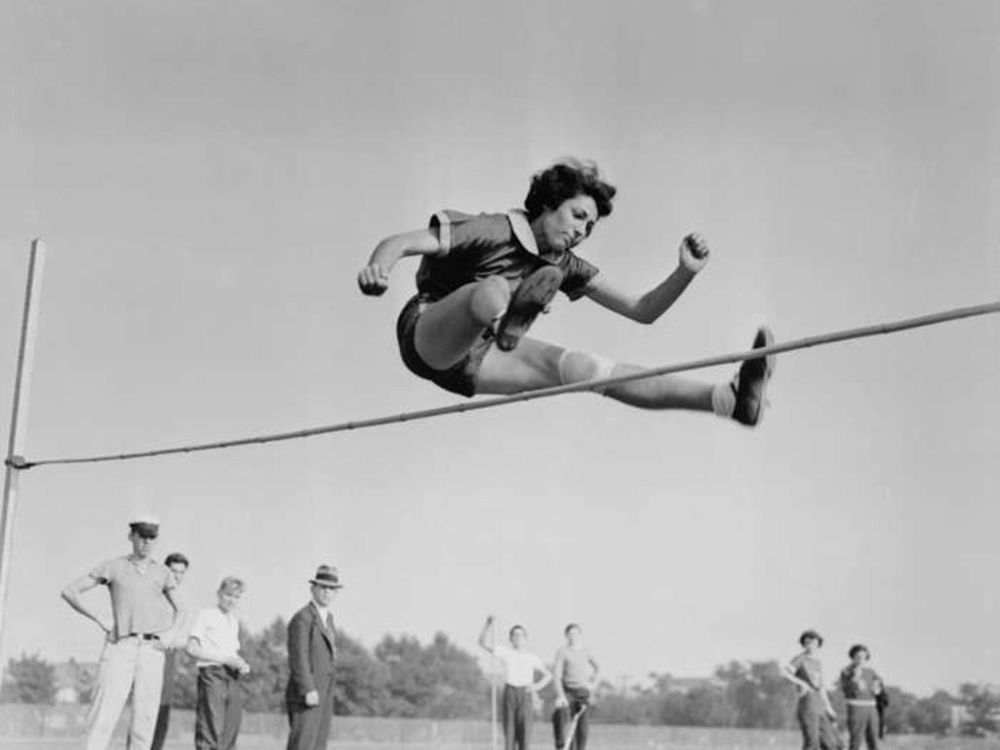 During trials for the Berlin Olympics of 1936, the German high jumper Margaret Bergmann Lambert​ leapt to a height of 5 feet 3 inches. The feat—which tied the official German record—should have made her a shoo-in for the Olympic team. But this was Germany in 1936. And Lambert was Jewish.
Just two weeks before the opening ceremony, Lambert received a letter from Nazi officials deriding the quality of her performance and telling her that she was disqualified from the upcoming games. The letter concluded with a perfunctory "Heil Hitler!"
A new Olympic Channel documentary premiering on November 9 retraces Lambert's stunted path to Olympic glory—and highlights her resilience in the face of persecution. Titled The Margaret Lambert Story, the film marks the first installment of the channel's "Foul Play" series, which explores controversial incidents in sporting history. The documentary reconstructs the events of Lambert's life before and after she fled Nazi Germany, relying on input from historians, sports officials, Lambert's son and—most delightfully—input from Lambert herself (who died in July of this year at the age of 103).
Margarethe Bergmann, as she was known before her marriage, or "Gretel" for short, was born in 1914 in the town of Laupheim, Germany. "Athletic things always came naturally to her," her son, Gary Lambert, tells Smithsonian.com. "She could not remember a time when she wasn't running, or jumping or doing something very active physically. One thing she liked to say about herself is she always thought, 'Why go into the house by walking through the door when she could climb in through the window?'"
But Lambert came of age at a fraught time for German Jews. In 1933, when she was 19 years old, the Nazis passed the Nuremberg Laws, which institutionalized the party's anti-Semitic ideology. As part of the government's campaign of persecution, German-Jewish athletes were suddenly and systematically barred from competing in sports. So Lambert swiftly departed for England, where she won the British high jump championship of 1935. "Got to be a big shot there," Lambert recalls with a grin during the documentary. "But we knew it couldn't last."
Not long after her victory, Lambert became an unwilling pawn in a Nazi campaign to obscure the true extent of Germany's anti-Semitism. For Hitler and his followers, the 1936 Berlin Olympics offered a vital opportunity to promote theories of a superior Aryan race and bolster Germany's esteem in the eyes of the international community. But the government had a problem: athletic organizations across Europe, and particularly in the United States, were calling for a boycott of the Olympics in protest over Germany's exclusion of non-Aryan athletes from its sporting teams.
Hoping to entice international participants to the upcoming games, the Nazis launched a "rather elaborate charade of inclusion of Jewish athletes," Gary explains in the documentary. Lambert was called back to Germany for the Olympic trials. She did not particularly want to go, but felt she had no choice; threats had been made against her family. Lambert trained with other German high-jumpers and excelled at the trials. But as Susan Bachrach of the U.S. Holocaust Memorial Museum notes in the documentary, the Nazis "never, ever intended that she would be on that team."
A Jewish athlete winning a gold medal for the country would have "decimated" the Nazis' racial ideology, Gary adds. So although Lambert was one of the best female high jumpers in the world at that time, she was barred from participating in the Olympic games. 
While The Margaret Lambert Story is, in many ways, a chronicle of injustice, it is also a tribute to its subject's indomitable spirit. The documentary follows Lambert on her journey to the United States, to which she fled in 1937. When she settled in New York, Lambert had just 10 dollars to her name and did not speak fluent English. But she continued to pursue her athletic ambitions, winning the national women's championship for high jumping in 1937 and 1938.
Lambert had set her sights on the 1940 Olympic Games, which were scheduled to take place in Tokyo. Upon the outbreak of World War II, however, the Games were cancelled, dashing Lambert's hopes of competing at the Olympic level.
Gary says that his mother was "never the slightest bit self-pitying," but painful feelings over the opportunity that had been stolen from her lingered for many years. In 1996, Lambert told Ira Berkow of the New York Times that she had recently watched a broadcast of a pre-Olympic track and field meet with tears streaming down her face.
"I'm not a crier," she said at the time. "But now I just couldn't help it. I remember watching those athletes, and remembering what it was like for me in 1936, how I could very well have won an Olympic medal. And through the tears, I said, 'Damn it!'"
When she escaped Nazi Germany, Lambert vowed that she would never return to her native country. And for many years, she harbored hatred toward the German people. But Gary says that his mother's opinion softened over time. In 1996, she received a letter from the German Olympic Committee inviting her to attend the 1996 Atlanta Olympics as its guest. She decided to accept. 
"[S]he had … begun to take the view that collective guilt really should not fall on those who were not involved," Gary says.
And while she harbored resentment for the way in which she had been exploited by the Nazis, Lambert was never overcome by bitterness. "It didn't affect my life," she says toward the end of The Margaret Lambert Story. "I did all the physical stuff that I was able to do. Not bad for an old lady."
Gary hopes that viewers of new documentary will "see what a truly courageous and heroic figure" his mother was. He is especially proud that she became "a voice of tolerance" after settling in America.
"She hated injustice against anyone," Gary says. "When out neighborhood began to integrate, she was among the first to extend her arms in welcome to my schoolmates and to new families who had moved into the neighborhood … She will always be a source of limitless inspiration to me."