Traditional Polynesian Vessel to Complete Round-the-World Journey
The Hōkūleʻa's crew did not use any modern navigational devices, instead relying on the stars, waves, and clouds to guide them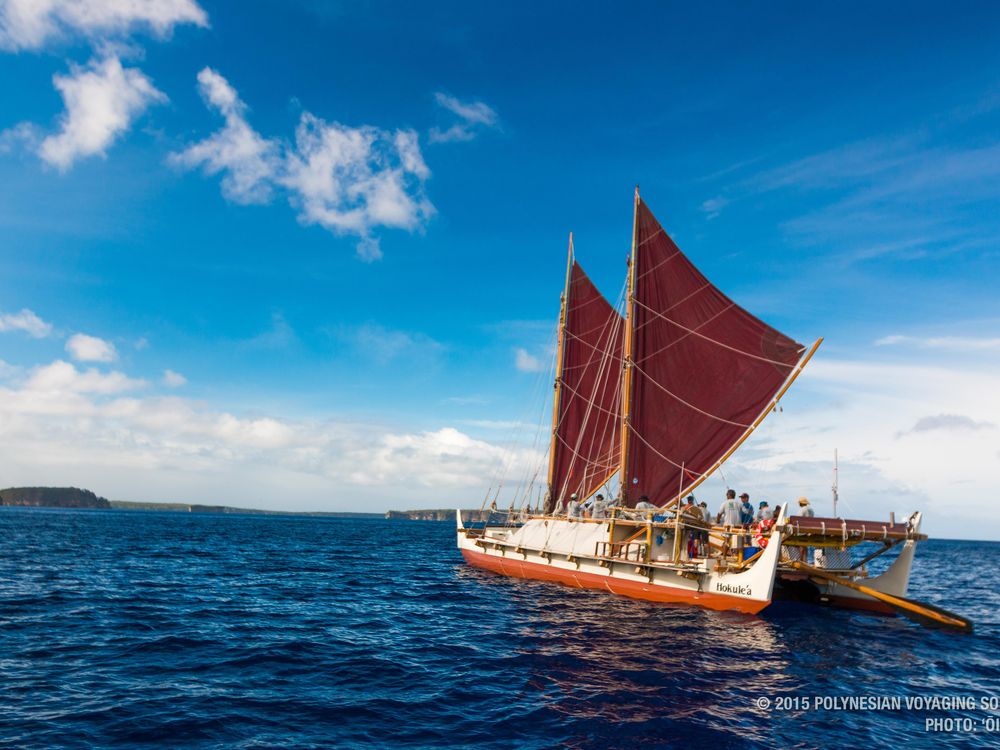 Many centuries ago, Polynesian voyagers sailed thousands of miles across the sea, traveling from the shores of New Guinea to far-flung locations like Hawaii and New Zealand. These ancient sailors relied on an intimate knowledge of the position of the stars, the flight patterns of birds, and the subtle resonance of ocean swells to guide them to safety. Sophisticated seafaring culture has diminished among modern Polynesians, but a recent initiative has resurrected the practice in a big way.
As Richard Schiffman reports for Scientific American, a traditional Polynesian vessel is about to complete a round-the-world journey. It is the first time such an ambitious voyage has been undertaken in a waʻa kaulua, the double-hulled canoe used by Polynesians of yesteryear.
The Hōkūleʻa, as the vessel is called, first left Hawaii in 2014. Over the course of three years, it has traveled 40,000 nautical miles. (A Smithsonian curator spent nine days onboard when it made its way to Washington, D.C., in 2016.) The journey will now conclude on June 17 with a welcome ceremony on Hawaii's Magic Island, according to the Polynesian Voyaging Society.
The organization, which seeks to "perpetuate the art and science of traditional Polynesian voyaging," spent six years preparing for the Hōkūleʻa's worldwide trip. Experts seafarers who had been trained in traditional Polynesian sailing turned their attention to a new generation of travelers, teaching them the nuanced methods that allowed their ancestors to traverse long distances over fickle waters.
The Hōkūleʻa's crew—which consisted of some 245 members, with 12 to 13 crew in the boat at a time—did not rely on any modern navigational devices, like compasses or GPS. Instead, they observed the position of the celestial bodies, the movement of waves, the behavior of seabirds, the colors of the sunset. To successfully navigate at night, Schiffman writes, the crew had to memorize the courses of more than 200 stars.
It wasn't always smooth sailing. Marcel Honoré of the Honolulu Star Adviser reports that in 2015, the Hōkūleʻa was caught up in a violent storm off the coast of Mozambique. Gale-force winds and vacillating currents drove the Hōkūleʻa into its escort boat, leaving a gaping hole in the vessel's starboard.
Fortunately, the crew was able to improvise repairs and continue on its journey, "pushing the canoe past its Pacific boundaries and into distant communities that had never seen such a curious sea vessel," Honoré writes. The crew also met world leaders, participated in welcome ceremonies, and toured national parks.
Visibility was important. The purpose of the Hōkūleʻa's round-the-world journey was not only to revive an ancient cultural practice, but also to raise awareness about sustainable ways to engage with threatened bodies of water. "Living on an island chain teaches us that our natural world is a gift with limits and that we must carefully steward this gift if we are to survive together," the Polynesian Voyaging Society writes on its website. "As we work to protect cultural and environmental resources for our children's future, our Pacific voyaging traditions teach us to venture beyond the horizon to connect and learn with others."
With that mission in mind, the Hōkūleʻa's worldwide voyage was given a fitting name: Mālama Honua, which means "to care for our Island Earth."