A Toxic Algal Bloom Is Spreading in Florida's Waterways
The bloom started last month in Lake Okeechobee, but has quickly spread to waterways on both coasts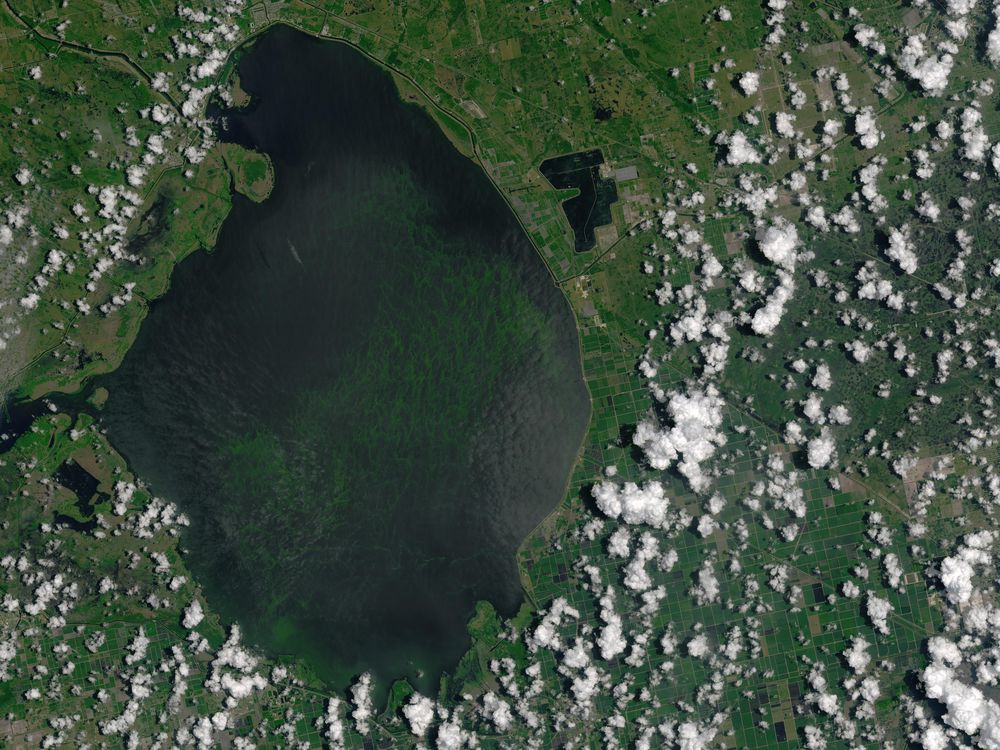 In June, sludgy, toxic blue-green algae began to creep across Lake Okeechobee in Florida. The foul bloom has since spread to the St. Lucie River on the east coast and to the Caloosahatchee River near Fort Myers, prompting Governor Rick Scott to declare a state of emergency for seven Florida counties, as Victoria Ballard of the Sun-Sentinel reports.
The governor's office says that the bloom has spread to both of Florida's coasts because the Army Corps of Engineers has been discharging algae-containing water from Lake Okeechobee to various rivers and estuaries. Heavy rainfalls prompted the Corps to release millions of gallons of water from the lake in order to relieve pressure on an old dam, according to Manuel Bojorquez of CBS News. But Okeechobee is rife with chemicals and nutrients from agricultural and development runoff—and the combination of nutrient-rich waters and warm temperatures create ideal conditions for algal blooms.
The emergency order allows the Department of Environmental Protection (DEP) and the South Florida Water Management District to bypass various restrictions and store excess water in additional areas south of the lake. Scott has also ordered the DEP to spend more time on water testing, and to establish a grant program that will help with cleaning up algae-clogged waters.
Blue-green algae are in fact a type of bacteria known as cyanobacteria. Relying on sunlight to survive, cyanobacteria grow in all types of water and typically cannot be seen by the naked eye. But populations proliferate rapidly in warm, slow-moving, nutrient rich waters, leading to thick blankets of algae that can spread across waterways. Melissa Gomez of the New York Times reports that Lake Okeechobee experiences algal blooms annually, but this year's covers 90 percent of the 730-square-mile lake, an extent greater than what officials have seen in the past.
Most blue-green algae blooms are not toxic, according to the Washington State Department of Health. But some blooms, like the ones in Florida, produce toxins that can cause a range of adverse symptoms, from skin irritation, to respiratory issues, to nerve and liver poisoning. Animals that come into contact with algae-filled water can die. Signs have been posted at various Florida waterways, warning people not to swim in or eat fish from the affected bodies of water. Even just the smell of the algae is making Floridians queasy.
"I almost threw up," John Cassani of the environmental group Calusa Waterkeeper tells Amy Bennett Williams of the Fort Myers News-Press, describing a visit he made to the W.P. Franklin Lock on the Caloosahatchee River. "Where you walk down to the lock on the south side, and it's all blue, and the smell is ... man, I can't even."
The algae blooms are also hurting Florida's tourism economy. Fishing and boating guides have had little choice but to cancel planned trips—Florida resident Sebastian Lahara tells Bojorquez of CBS News that he held a mock funeral for his kayak rental business.
The National Oceanic and Atmospheric Administration has suggested that harmful algal blooms may become more common as temperatures increase due to climate change, but Gomez of the Times reports that federal agencies, including the NOAA, are still conducting research to determine whether algal blooms are in fact becoming more frequent and more potent. For Floridians confronting fast-spreading mats of putrid algae, however, it is hard not to feel concerned.
"I'm not just worried about the fishing any more," Mike Connor, a charter fishing guide, tells Craig Pittman of the Tampa Bay Times. "I'm worried about the human health side of it now."