Tomb of 5th Dynasty Priestess Found in Egypt
The 4,400-year-old burial chamber includes well-preserved wall paintings, including an image of a monkey dancing in front of an orchestra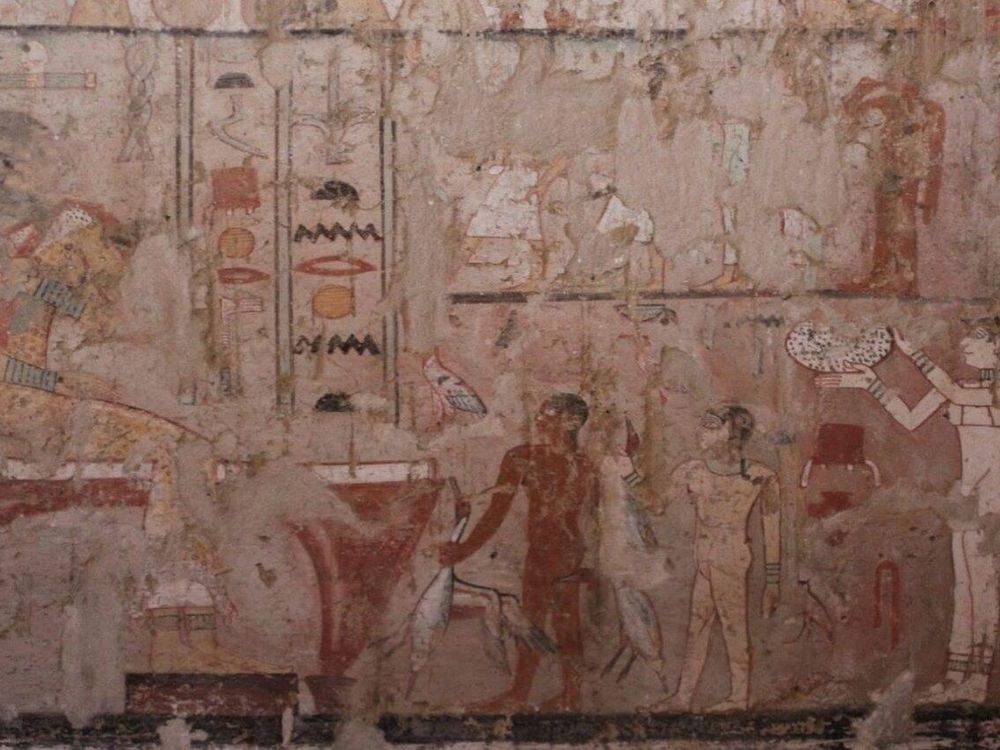 Last Saturday, archaeologists in Egypt unveiled their latest find, the tomb of an Old Kingdom priestess covered in remarkably well-preserved wall paintings.
As Agence-France Presse reports, the tomb was uncovered in a cemetery to the west of the Great Pyramid in October of 2017. It appears to have been built for a Priestess of Hathor identified as Hetpet. The paintings inside the tomb imagine the high-ranking priestess in various scenarios—receiving offerings from her children, hunting and fishing. There are scenes of people smelting metal and building papyrus boats on display as well as images of domesticated monkeys picking fruit and dancing in front of an orchestra.
"Such scenes are rare... and have only been found previously in the [Old Kingdom] tomb of 'Ka-Iber' where a painting shows a monkey dancing in front of a guitarist not an orchestra," Mostafa Waziri, secretary general of the Supreme Council of Antiquities, tells AFP.
Archaeologists have been searching for this particular tomb for more than 100 years. "A German expedition had found in 1909 a collection of antiquities carrying this lady's name, or a lady who has the same name, and these antiquities were moved to the Berlin museum at the time," Antiquities Minister Khaled al-Enany told reporters. "And 109 years later, we find this tomb that carries Hetpet's name." 
Besides the wall paintings, Nevine El-Aref at Ahram Online reports that the style of the tomb and its decoration dates it to the 5th Dynasty, the roughly 150 year period spanning from 2494 B.C. to 2345 B.C. The entrance leads into the L-shaped tomb that includes a purification basin inscribed with the priestess's name. One wall includes incense and offering holders. There is also a niche where a statue of Hetpet, now missing, once stood. 
El-Aref notes that the find is one of the year's first major archaeological discoveries to be announced by Egypt. It likely will not be the last, though. The nation, which relies heavily on tourism, is making a push to find and publicize new discoveries to reignite its tourism industry, which has struggled to rebuild itself since the Arab Spring uprising in 2011 and subsequent political upheaval.
Last year, archaeologists revealed evidence of a giant void inside the Great Pyramid of Giza. They also found the tomb of a goldsmith near Luxor in September, and in December, unveiled the tombs of two nobles found in the same area. And to kick of 2018, excavations began in January on what might be the tomb of King Tut's wife, Ankhesenamun, in a side valley in the vicinity of the legendary Valley of the Kings.