Today Is World Toilet Day, Celebrate Accordingly
Celebrate by appreciating your fancy toilet and considering those who live without one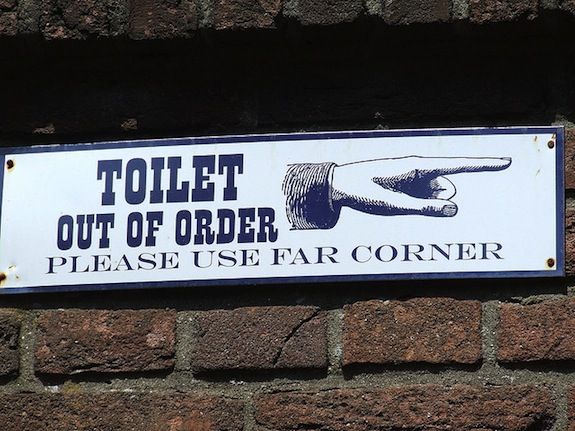 Today is World Toilet Day—a day that might seemed designed for poop jokes, but that is actually about improving sanitation for the billions of people.
The United Nations estimates that 2.5 billion people in the world do not have access to sustainable sanitation or clean toilets. And on top of that, right now access to facilities is particularly difficult in the Philippines, where Typhoon Haiyan has impacted millions of people. Diseases directly linked to the lack of sanitation kill more people each year than HIV/AIDS, malaria and measles combined.
But getting people in the West to appreciate toilets takes a little bit of savvy marketing, says Garvey Chui, a representative for Toilet Hackers. "We aim to make these hugely important issues relevant and sexy," he told CNN. "For many Westernized travelers — particularly for many women travelers, no matter how well-seasoned — sanitation and access to clean toilets becomes a serious consideration when traveling, but for those without access to safe, clean and private toilets and sanitation, it is more than an inconvenience, it can be life or death."
To get the West interested, many have launched social media campaigns, like the FastCompany #checkoutmytoilet call for photographs.
What does your toilet area look like, at work or at home? What do you do to make it your own space? What are your biggest toilet pet peeves? Show us by sending us a picture (and a caption if you like) by using the hashtag #checkoutmytoilet on Twitter or Instagram.
The World Toilet Day Twitter account asks "Do you give a shit?" and has posted both sobering facts, and poop songs.
A new toilet song! – I got to go poop! http://t.co/5dq7z8uf

— World Toilet Day (@worldtoiletday) January 21, 2013
Nearly 1.5 million children under the age of five die every year from diarrhea globally #IGiveAShit #WTD2012

— World Toilet Day (@worldtoiletday) November 19, 2012
So celebrate world toilet day accordingly, by appreciating your fancy toilet and considering those who live without one.
More from Smithsonian.com:
Bill Gates' Potty Mouth – His Eco-friendly Toilet Contest Hands Out $100,000 in Prizes