Three Things to Know About the Bloodshed in Egypt
Hundreds of people were killed in Egypt yesterday. Here's your primer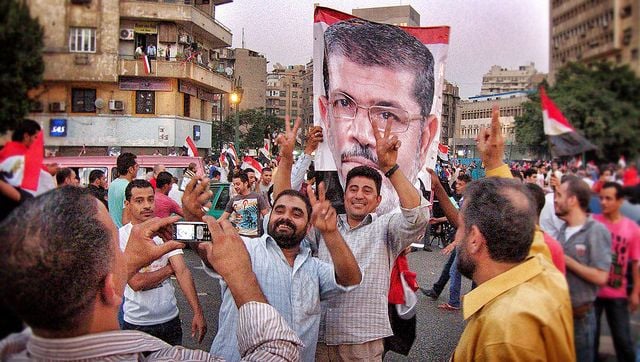 Yesterday, hundreds of supporters of Egypt's recently-ousted president Mohamed Morsi were killed in Cairo. Morsi was the first democratically elected leader in Egypt after the Arab Spring protests in 2011 pushed out Hosni Mubarak, but Morsi's short tenure as president, at the helm of his Muslim Brotherhood party, was highly controversial. He  was forced out of office last month by Egypt's military amid violent protests.
But protests followed Morsi's exit from office, too. Last week CNN reported that the new military-backed government was planning to "disperse supporters of deposed President Mohamed Morsy." On Wednesday, for more than 12 hours, the demonstrators were attacked with "armored vehicles, bulldozers, tear gas, birdshot, live ammunition and snipers," the New York Times reports.
How Many People Died?
So far, the Associated Press is reporting that 525 people have died, with 3,717 wounded. The day, says Slate, was Egypt's deadliest since the revolution two years ago.
"The attack," says the New York Times, was "the third mass killing of Islamist demonstrators since the military ousted Mr. Morsi six weeks ago, followed a series of government threats. But the scale…and the ferocity far exceeded the Interior Ministry's promises of a gradual and measured dispersal."
Who is Doing the Killing? Who is Being Killed?
Egyptian riot police, says the Associated Press, "smashed two protest camps of supporters of the deposed Islamist president" in Cairo, and the violence spread from there. There have been casualties on both sides, but in general the death toll comprises supporters of Morsi.
Though the military-backed government was leading the attack, the army hung back while police engaged in the conflict. The AP: "Army troops did not take part in the two operations, which began shortly after 7 a.m. (0500 GMT — 1 a.m. EDT), although they provided security at the locations."
What is the U.S. Doing?
President Obama spoke this morning about the conflict. He announced that the U.S. was canceling its biannual military exercise, which would have taken place next month. "America cannot determine the future of Egypt. That's a task for the Egyptian people," he said. "We don't take sides with any party or political figure."
But, for now, says the Guardian, the U.S. is still saying that the overthrowing of Egypt's President Morsi was not a military coup. The U.S. gives Egypt $1.3 billion a year in military aid, and calling it a coup would ban that exchange of money. "The United States," says Reuters, "has been reluctant to cut the funding for fear of antagonizing the military and losing what influence it has in the Arab world's most populous nation."
More from Smithsonian.com:
A New Crisis for Egypt's Copts