Three Things to Know About Radical Prohibitionist Carry A. Nation
Nation was convinced she was on a mission from God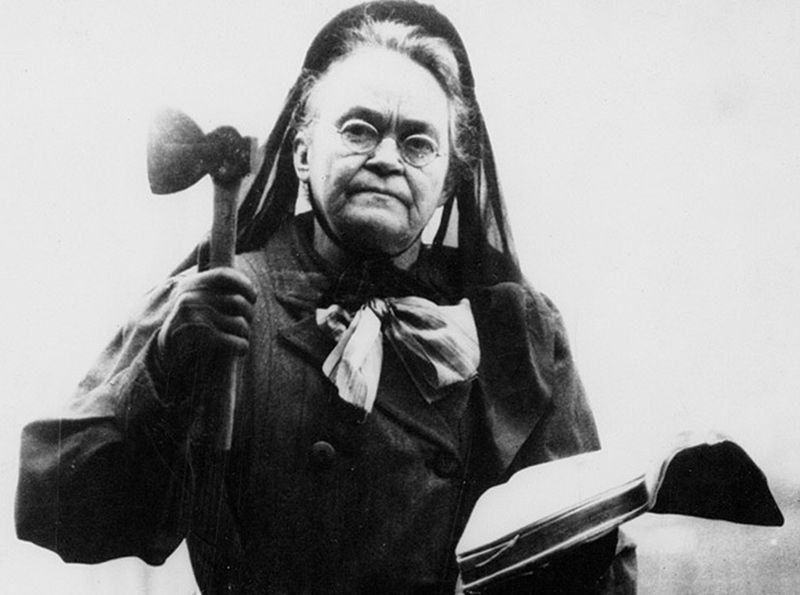 Carry A. Nation, born as Carrie Amelia Moore in November 1846, took a direct approach to forwarding the aims of the prohibition movement–often much too direct for the tastes of authorities. Her unusual life story, while interesting in itself, also illustrated some of the motivations women had for joining the movement that eventually prompted Prohibition. Here are three things to know about her life.
Her prohibition aims were motivated by her own failed marriage
Nation came from Kentucky, where she grew up in a slaveholding family who owned a large farm, according to the State Historical Society of Missouri.  When she was 21, after the Civil War, her family had moved to Missouri, where she married Charles Gloyd. He was a young doctor who had served in the Union Army, but he was also an alcoholic who couldn't hold down a job or support her. After she became pregnant, Nation went back to her parents. Her daughter Charlien, named after Gloyd, was born in September, and Gloyd died just a few months later.
Although she rebuilt her life, becoming a teacher and eventually remarrying to a lawyer named David Nation, the memory of her first dysfunctional marriage influenced Nation.
She believed in direct action
As she got older, Nation began having visions and became increasingly religious. Her husband also bnecame a preacher, the historical society writes. They moved to Kansas, where Nation organized a local chapter of the Women's Christian Temperance Union.  
The union, founded in 1874, had the goal of banning alcohol because of the suffering it caused to families–specifically to women and children whose male relations drank to excess. At a time when women lacked legal rights and recourse and had to depend on male breadwinners for some or all of the family income, an alcoholic (and perhaps violent) spouse was a big deal. But the anti-alcohol crusade quickly came to also encompass other perceived sources of social "impurity," such as smoking and sexual promiscuity. The union proposed to cure these vices through empowering women to vote and through the social ministrations of middle-class white women.
Nation took a more direct-action approach to the prohibition crusade than many of the women who surrounded her. On this day in 1900, she used a hatchet to smash up the bar at the Carey Hotel in Wichita, Kansas. She was arrested, but "Nation, who was released shortly after the incident, became famous for carrying a hatchet and wrecking saloons," writes History.com.
She made a living doing speaking tours
Carry Nation knew the value of her brand–she had her unusual name (which is also spelled "Carrie" in some accounts) trademarked in Kansas, writes Virginia Commonwealth University. Nation, who was almost six feet tall, used her imposing presence to promote her movement and her brand. She also moved outside of Kansas, where the sale of alcohol was already technically illegal, and brought her vision–and her hatchet–to other places.
"Her behavior provoked a tremendous uproar and sent her to jail repeatedly for disorderly conduct and disturbing the peace. Later, fines were paid by the sale of pewter hatchet pins," writes the university. "Nation wielded her voice as effectively as her hatchet, eloquently speaking her mind and inspiring others on numerous occasions. Even sworn enemies acknowledged her success with compelling enforcement of prohibition laws and spreading her message."
Nation and her husband divorced in 1901 and she went on a number of speaking tours throughout the rest of her life. Her efforts enabled her to buy a small farm in Arkansas, that she intended to turn into a prohibition school to teach other campaigners. However, she died in January 1911, almost a decade before the Eighteenth Amendment was passed.