Three Things to Know About the Buffalo Soldiers
These segregated regiments offered black soldiers a chance to fight for their rights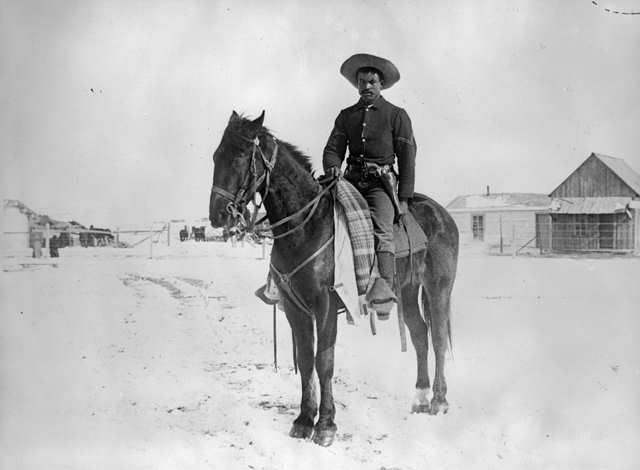 Today is Buffalo Soldiers Day–proclaimed by President George Bush in 1992 to celebrate the all-black Army regiments' "outstanding legacy of service." The Buffalo Soldiers, as Bush acknowledged, are a historically important group best remembered for fighting on American's western frontier. But "their achievements were not limited to the western United States," Bush said: Members of the Buffalo Soldiers served in other parts of America and "in places as far-flung as Cuba, Mexico, and the Philippines." The Buffalo Soldiers fought through both world wars and a number of other conflicts. Throughout all of this, as Bush acknowledged, because of racism "they often received the worst food and equipment and labored without the respect and recognition that were their due."
Here are three things to know about these regiments:
The Buffalo Soldiers' relationship with the American government changed over time
As the National Museum of African American History and Culture records, an 1866 Act of Congress created six peacetime regiments of exclusively black soldiers. Later, these regiments were melded into four—two infantry and two cavalry—colloquially referred to as the Buffalo Soldiers. (There are a few competing theories as to how they got this name, but as the museum notes, the soldiers "considered the name high praise.") Throughout their history, the soldiers had a rocky relationship with the American government they served.
The regiments faced extreme and sometimes deadly racism. They were first commanded by whites, and the rank and file "often faced extreme racial prejudice from the Army establishment," writes the museum. "Many officers, including George Armstrong Custer, refused to command black regiments, even though it cost them promotions in rank."
"He said they wouldn't fight, that they were afraid and that they'd run," said John Smith, a descendant of Buffalo Soldier Sgt. Charles Smith, in 1996.
To the contrary, the Buffalo Soldiers became known for their courage and fortitude. Among the white U.S. officers commanding them were three black West Point graduates: Henry O. Flipper, John Hanks Alexander and Charles Young. The regiments served from 1866 until the army was desegregated in 1951.
Their involvement in westward expansion was complicated
The Buffalo Soldiers found themselves working on the western frontier. Why? Writes the museum, "African Americans could only serve west of the Mississippi River, because many whites didn't want to see armed black soldiers in or near their communities."
They built roads, acted as park rangers and fought in battles to defend American westward expansion, the NMAAHC writes: "Black soldiers used military service as a strategy to obtain equal rights as citizens. Paradoxically, they sought to achieve this by engaging in government-led wars meant to overtake the Southwest and Great Plains from Native Americans."
It was the Native Americans they fought who gave the Buffalo Soldiers their nickname–although several different stories exist about what "Buffalo Soldier" refers to.
They had rich lives outside of service, that were tainted by racism
Henry O. Flipper, for instance, was the first black man to attend West Point, becoming an officer of the Buffalo Soldiers after graduating in 1877. He had been born into slavery in 1856.
However, he was court-martialed out of the army due to charges that a military review later concluded were "dubious," David Stout wrote for The New York Times,  and had been laid because Flipper was black. President Bill Clinton posthumously pardoned Flipper in 1999.
The collections held by the NMAAHC contain tantalizing hints about the civilian lives of the Buffalo Soldiers. Take Samuel Bridgwater of the 24th Infantry Regiment, who joined in the 1880s, fought in the Philippines and served as a cook after being wounded. He made a home back in America with his wife Mamie Anderson in Helena, Montana.