Three 18th-Century Ships Found in Old Town Alexandria Tell a Story of Colonial-Era Virginia
Another intentionally buried ship was found just a block away from the newly discovered finds in 2015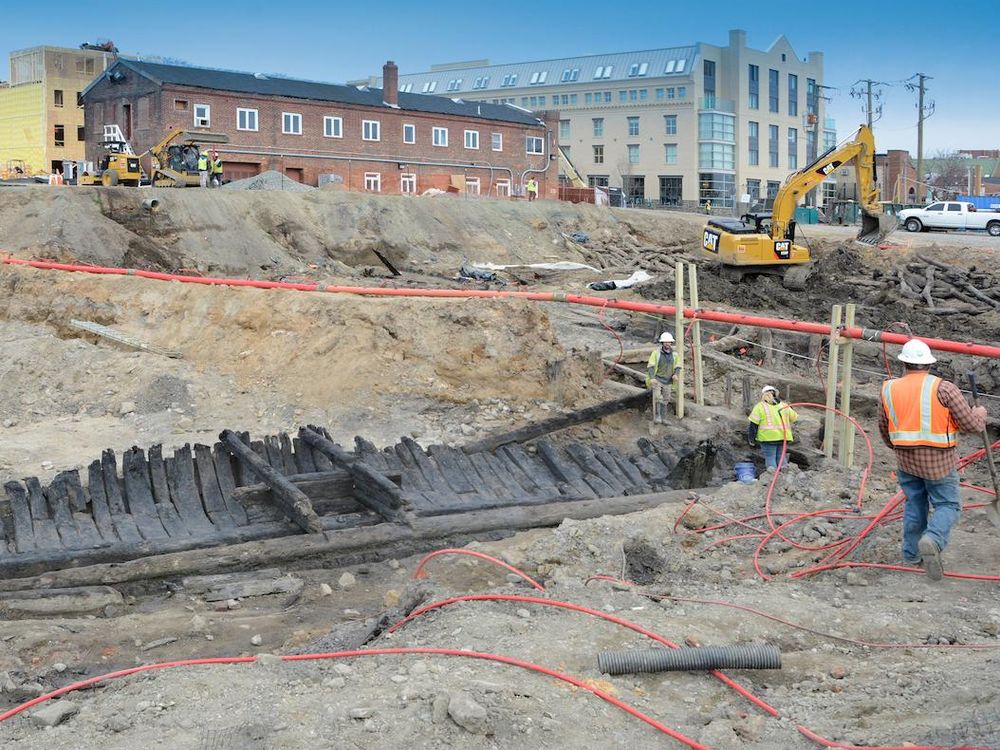 Back in December 2015, a 300-year-old ship buried in Old Town Alexandria was first detected at a construction site for a new hotel.
Local archaeologists suspected that it may have originally been used to truck heavy cargo or was built for military purposes, the Washington Post's Patricia Sullivan reported at the time. Later research revealed that the ship had been built in Massachusetts sometime after 1741 and made its way to Virginia in the latter half of the century, where it was used as landfill to create new real estate off the 18th-century shoreline.
Now, Emily Cochrane reports for The New York Times, three additional 18-century ships have been found nearby the first. The four ships in total present a captivating look at life in Colonial-era Alexandria.
The three newly discovered ships were found earlier this year — with the last of the trio detected in late March, Sullivan reported in a follow-up article for the Post in April. Each of the ships were buried just feet away from one another. Pins, animal bones, jewelry, tokens from London's Newgate Prison and Spanish and Irish coins were among other artifacts also found in the dig, Cochrane reports.
The three ships were detected at a construction site of a new townhouse development along the waterfront, located just a block from the site of the initial ship discovered in 2015. All development projects in Alexandria must be evaluated for potential archaeological significance before construction can begin thanks to the Archaeological Resource Protection Code, which the Alexandria Archaeological Commission pushed for in the late 1980s.
In an email to Smithsonian.com, city archaeologist Eleanor Breen says that one of the newly found ships has already "been documented, excavated and dismantled." Its timbers, she adds, "are now stabilized in tanks of water at a city facility to prevent deterioration." The other two ships are still partially buried, and archaeological work will begin on them soon.
Archaeologists believe that like the ship found in 2015, these three ships were filled with soil and buried so the city could expand its real estate into the shoreline. This is not an unusual practice—San Francisco is among the many cities to have intentionally sunk ships to create more land.
"It tells us a lot about the resourcefulness of our predecessors, how pragmatic they were," city historian Dan Lee tells Cochrane. "They don't put ships in there because they're sentimental, but because they needed something and they found a way to do it."
Archaeologists believe one of the newly discovered ships was an ocean vessel while the other two were river crafts. Since excavations are nearly complete, Breen tells Cochrane that it isn't likely any more sunken ships will be surface at this specific site.