Thousands of Unseen Photos Featuring Andy Warhol and Celebrity Pals to Be Digitized
The trove of the pop artist's personal snapshots includes 130,000 frames, which will also be featured in an upcoming show and monograph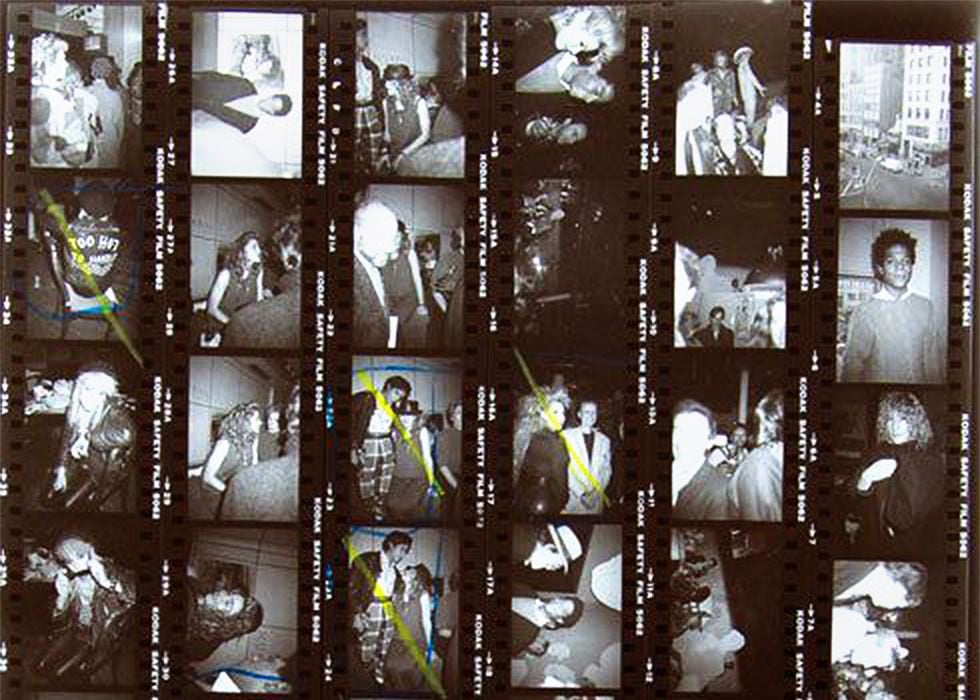 Wherever Andy Warhol went, his camera followed, enabling the artist to create a visual record of his comings and goings. In his own words, photography's appeal derived from its documentary function: "A picture means I know where I was every minute," he once noted. "That's why I take pictures."
Now, more than 130,000 of these frames will be made available to the public via an upcoming book, exhibition and digitization initiative that offer new insights into the king of pop art's personal life and artistic philosophy. The project, fittingly entitled Contact Warhol, stems from a 2014 acquisition by Stanford University's Cantor Arts Center. Following an invitation-only competition, the Andy Warhol Foundation selected the museum as the permanent home of Warhol's contact sheets and negatives.
The Guardian's Dalya Alberge reports that the photographs, which were taken during the 11-year period preceding Warhol's 1987 death, span 3,600 contact sheets. Markings on the images—an "X" indicates rejection, a circle approval—show that the artist printed just 17 percent of his shots, leaving a trove of unpublished material for researchers to comb through.
According to Christopher Bollen, editor-at-large of Interview magazine, Warhol was so attached to his camera that at parties, he often referred to his Minox 35EL as his "date." Some of Warhol's shots, particularly those featuring famous friends at clubs and social hotspots, mimic the invasive photos seen in celebrity tabloids. Others are stunningly personal—a languid Truman Capote stretches out on a couch, while Jon Gould, Warhol's last boyfriend, poses in a range of settings, from the beach to a snow-covered landscape.
Peggy Phelan, an art professor at Stanford who co-curated the upcoming exhibit with fellow professor Richard Meyer, tells Alberge that Warhol was infatuated with Gould, who was the vice president for corporate communications at Paramount Pictures, when they met. Warhol photographed him as an "idealized, Christ-like figure." In view of Gould's untimely death from AIDS in 1986 and Warhol's death the following year, the images gain a heartbreaking poignance, Phelan says.
Contact Warhol: Photography Without End, which goes on view at the Cantor Arts Center this September and runs through January 6, 2019, arrives just prior to the opening of a blockbuster Warhol exhibition at the Whitney Museum of American Art in New York. The show, Andy Warhol — From A to B and Back Again, is the first Warhol retrospective organized by a United States museum since 1989 and will feature more than 350 paintings, drawings, prints, sculptures, films, videos and photographs. The exhibition's goal, according to the Art Newspaper's Hannah McGivern, is to show that Warhol's artistic output was not significantly impeded by Valerie Solanas' 1968 assassination attempt (even if his health never quite recovered).
While the Whitney show promises to provide a holistic view of Warhol, the Stanford exhibition and its accompanying monograph offer a more focused approach to the artist's craft, articulating the tension between Warhol's undoubtedly more famous silkscreens, which emphasize the distance between artist and artwork, and his private photographs.
"These photographs are not the work of a disinterested mind who felt that making art required merely pressing a button," Bollen writes. "They showcase a furious, poetic eye who knew that a camera could celebrate the famous and also preserve the simple, silent corners of the world where a real interaction could be made."
Contact Warhol: Photography Without End opens at the Cantor Arts Center September 29. Andy Warhol — From A to B and Back Again opens at the Whitney Museum of American Art November 12.