Thornbury Castle, Honeymoon Spot of Henry VIII and Anne Boleyn, On Sale for $10.3 million
The property boasts boasts 28 bedrooms, sprawling Tudor gardens and restaurant experience in the dungeons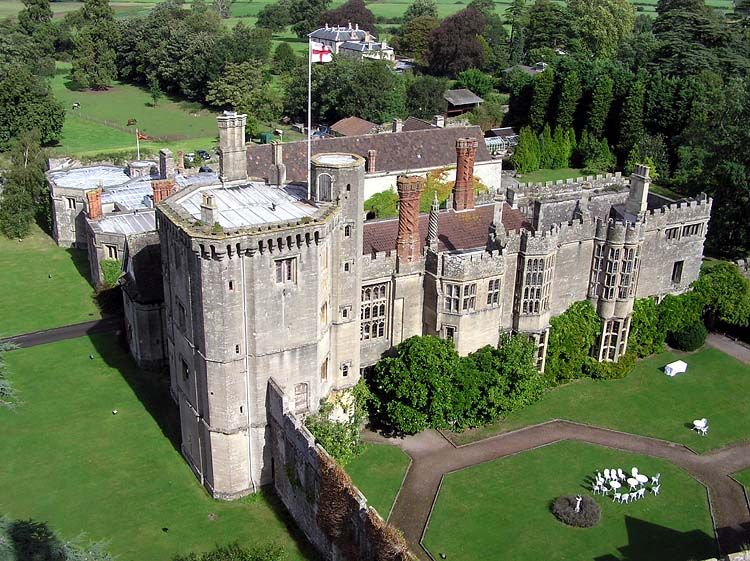 In 1535, while in the midst of their honeymoon tour, Henry VIII and Anne Boleyn spent ten days at Thornbury Castle in Gloucestershire. Shortly thereafter, their relationship soured (to put it mildly). But despite this, Thornbury has long retained its reputation as the romantic abode of the royal couple. Now, the historic Tudor castle is available for purchase. As Adam Boult reports for the Telegraph, Thornbury was recently placed on the market for a cool $10.3 million.
The castle, which currently operates as a hotel, boasts 28 en suite bedrooms, a vineyard, sprawling Tudor gardens, and a restaurant that occupies several rooms, including the property's dungeons. Visitors can even sleep in the same bedchamber where Henry VIII once briefly slumbered alongside his (second) bride. Most of the castle was built in 1510, according to Alison Millington of Business Insider UK, but some sections date back to 1330. 
Henry VIII and Anne Boleyn were not the only ill-fated lovers to occupy Thornbury during its long history. According to the hotel's website, the estate can trace its roots back to the 10th century when it was the manor of Thornbury. One of its earliest-known owners was the powerful Saxon nobleman Brictric son of Algar. While serving as an English ambassador to Flanders, Brictric reportedly spurned the romantic attentions of Matilda of Flanders, who later married William the Conqueror, the first Norman king of England. Still rankled by the rejection once she became queen, Matilda persuaded her husband to seize Brictric's lands—including Thornbury manor—and had Brictric thrown into a Winchester prison, where he lived out the rest of his days. 
Edward Stafford, the Duke of Buckingham, who built Thornbury's grand castle also met a rather unfortunate end. According to the Encylcopaedia Britannica, Stafford was a powerful nobleman during the reign of Henry VII and had even been considered as a possible successor to the crown. Henry VIII was consequently rather wary of Stafford, who did not help matters by becoming a spokesman for nobles who had been excluded from office under the king's reign. Stafford was ultimately accused—probably falsely— of plotting to murder the king, and was executed on Tower Hill in 1521.
After Stafford was killed, Henry VIII claimed Thornbury castle. It remained royal property until the death of Henry's daughter, Mary I, after which Thornbury was returned to Stafford's descendants. But the castle was unoccupied for two centuries, and it slowly crumbled into ruins.
In the 1850s, Thornbury was restored and transformed into a family home. The castle was co-opted as a restaurant in the 1960s, and later opened as a hotel and event space.
Martin Rogers, a representative of the estate agent Savills, tells the Telegraph that the newly listed property is being marketed "to an investor looking to own a historic hotel." He added that Savills expects "significant interest while marketing the asset," which isn't entirely surprising. Thornbury is, according to Millington of Business Insider UK, the only Tudor castle-turned-hotel in England, offering visitors a unique opportunity to live like a king.