This Tiny Welsh Island Is Europe's First Dark Sky Sanctuary
Ynys Enlli joins just 16 other sites of its kind across the world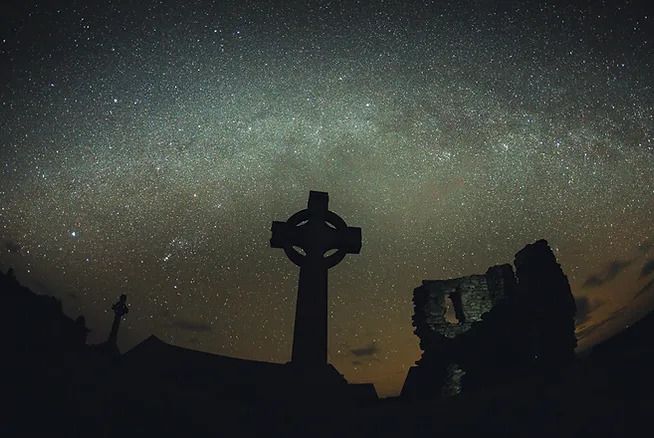 A Welsh Island called Ynys Enlli (Bardsey Island) became the first site in Europe to receive the designation of an International Dark Sky Sanctuary, joining just 16 others in the world. The island, which is 1.5 miles long and half a mile wide, has only two year-round residents and about a dozen during the summers.
"In a world that's increasingly being polluted in every single way, having a pristine night sky at our doorstep still takes my breath away," Mari Huws, who works as a warden on the island, tells the Guardian's Steven Morris and Patrick Barkham. "It means that the night is alive—oyster catchers cry, Manx shearwaters swoop and owls glide. So much of the natural world is awake at night."
International Dark Sky Sanctuaries are found in areas with exceptionally low light pollution that are at least partially accessible to the public and are "legally protected for scientific, natural, educational, cultural, heritage and/or public enjoyment purposes," per the International Dark-Sky Association (IDA). Sites with this distinction are some of the most remote, darkest places on the planet. Their sky brightness must routinely be 21.5 magnitudes per square arc second or darker—in comparison, a theoretically perfect dark site would have a brightness of 22, while a city with a very polluted light sky could measure around 16 or 17.
IDA certifies sanctuaries following a "rigorous" application process. To apply, those on the island monitored the night sky for four years, writes Forbes' Jamie Carter. 
Ynys Enlli lies two miles off the tip of the Llŷn Peninsula in northwest Wales. The island itself is off the grid, and its 550-foot mountain acts as a barrier to limit light from the mainland, per a statement. The closest source of significant light pollution is Dublin, which is 70 miles away across the Irish Sea. Ynys Enlli is home to a nesting colony of about 20,000 nocturnal Manx Shearwater, which need dark skies to return to their burrows, Huws tells the Guardian. Nesting storm petrels, wood mice and a variety of moths also call the island home. 
Humans have inhabited Ynys Enlli for at least 4,000 years, per the Bardsey Island Trust. Celtic Christian monasteries were built there starting in the sixth century, and Ynys Enlli became known as a place of pilgrimage and the "island of 20,000 saints." After the dissolution of monasteries in 1537, pirates and marauders took over the island. Then, in the mid-eighteenth century, a farming and fishing community formed there. 
Until recently, Ynys Enlli's iconic 200-year-old lighthouse—the tallest square lighthouse in the U.K.—was a source of light pollution. The beacon's white light was "catastrophic for birds and caused thousands of fatalities every year," Dani Robertson, a Dark Sky Officer, tells Forbes. "The light was changed in 2014 from white to red, and overnight the fatalities stopped completely—it's an amazing dark skies success story."
The island's certification comes as light pollution continues to increase across the world. A recent study found that between 2011 and 2022, global sky brightness increased by about 9.6 percent per year. Bright light at night can disrupt wildlife—including sea turtles, insects and birds—harm human health and reduce the visibility of stars. 
"It's a privilege to be able to work toward protecting something that is pristine for future generations," Huws says in a statement. "I am always in awe of the island's beauty—and the night sky is very much a part of that."