This Photographer Is Documenting the Forgotten Female Faces of Farming
The face of farming is almost always male, but women are the fastest growing farming demographic in the country. This photographer is telling their stories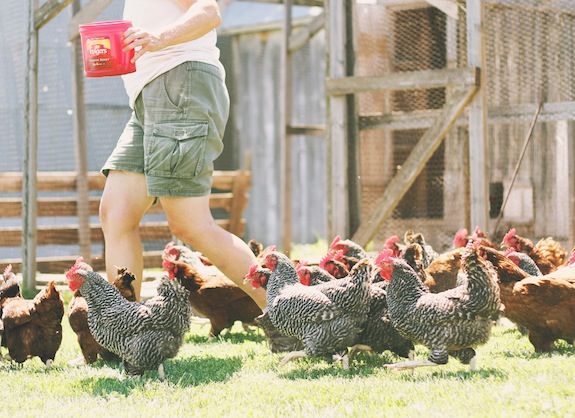 At last year's Super Bowl, Dodge Ram ran an ad that praised the farmer. The ad featured powerful images of farmers fading in and out over Paul Harvey's 1978 speech "So God Made A Farmer." But there was one problem with the ad. Only a single woman was pictured. The rest of the farmers, image after image after image, were men. Never mind the fact that, as Modern Farmer points out, women are the fastest growing population of farmers. Or that women enter farming at a far higher rate than men. Or that the number of women-operated farms had over doubled from 1982 to 2007. Dodge seemed not to notice.
But women farmers noticed. And one of them, Marji Guyler-Alaniz, said she wanted to do something about it. Guyler-Alaniz had spent eleven years working in agribusiness in Iowa. But in the middle of the night, the day after the Superbowl, she came to a sudden realization. "During those 11 years I gained what I had thought was a good view of our agricultural system," she told SmartNews, over email, "but realized there, in the middle of the night, that my view of agriculture was lacking a major part…women!"
So she did what she knew how to do—she started taking pictures. "Everywhere you look, farm imagery really only covers the male aspect of farming.  Being a photographer, I felt that I have the means to begin to change that," she says. And it turns out that other women farmers were eager to help. Guyler-Alaniz began networking, and word spread fast of her project. Over the past few months she's visited 11 "FarmHers" in Iowa, and is hoping to travel far beyond to continue the project. "The hardest part has been finding the time to put to this project to bring it to its fullest potential," she says, and balancing a portrait photography business and two small children is a feat alone, without a her side project to change the face of farming.
But it's all worth it, she says. "I love photographing these women.  I love it more than I ever realized I would. I can't wait to meet the next FarmHer, and the next, and the next."
Below you'll find a handful of Guyler's photographs. For more, visit FarmHer.
H/T Modern Farmer
More from Smithsonian.com:
What Is the "Right to Farm" and Who Has It?
On the farm