This Past November Was the Hottest November Ever Recorded
In the 134-year observational record, we've never had a hotter November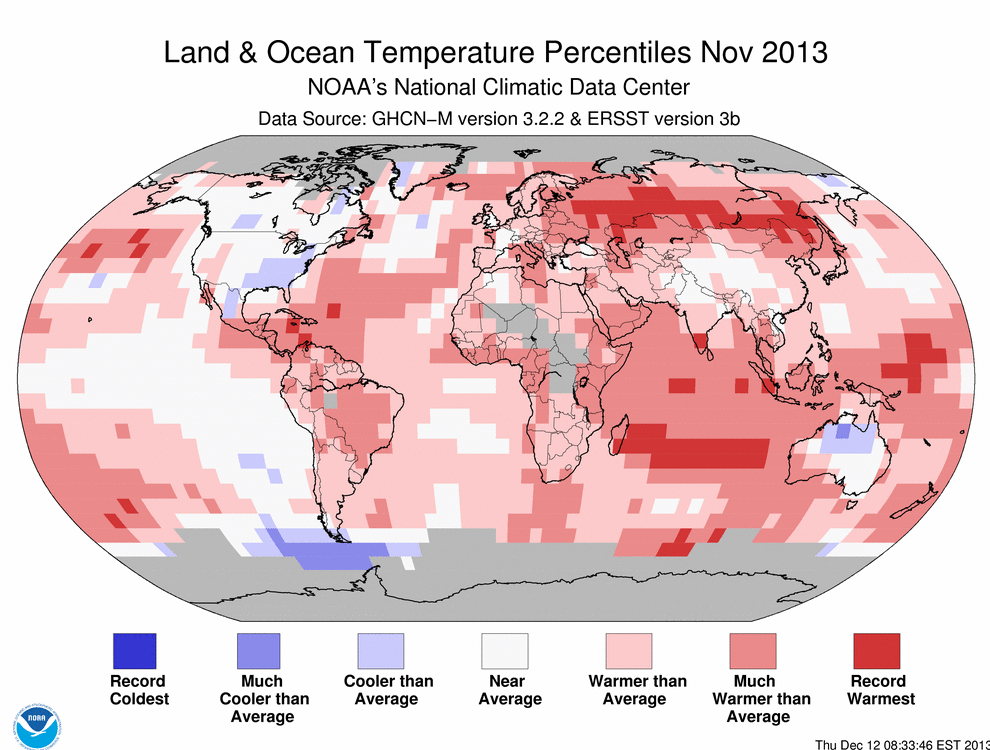 The observational record of temperatures on Earth stretches back 134 years. In all that time, no November has ever topped the global average temperature of this most recent November.
November 2013 was 1.4 degrees Fahrenheit hotter than the average November in the 20th century. It was also 0.05 Fahrenheit hotter than November 2004, when the previous record was set.
NOAA:
Most of the world's land areas experienced warmer-than-average monthly temperatures, including much of Eurasia, coastal Africa, Central America, and central South America. Much of southern Russia, north west Kazakhstan, south India, and southern Madagascar were record warm. Meanwhile, northern Australia, parts of North America, south west Greenland, and parts of the Southern Ocean near South America were cooler than average. No regions of the globe were record cold.
For the year as a whole, we're currently tied for the number four slot in the list of the hottest years on record. The leading three years, 2010, 2005, and 1998, says Climate Central, were all El Niño years, where a change in ocean temperatures and circulation patterns in the Pacific Ocean contributes to warmer global temperatures. This year there is no El Niño effect, making the current record-setting warmth even more impressive.
Climate Central:
November also brought the string of consecutive above-average months on the planet to 345, with last month being the 37th straight November with above-average temperatures compared to the 20th century average. That means that anyone younger than 28 has never experienced a colder-than-average month, globally speaking.
More from Smithsonian.com:
America's First Great Global Warming Debate
Budget Cuts Could Shut Down the Carbon Dioxide Monitors That First Warned of Global Warming
2012 Saw the Second Highest Carbon Emissions in Half a Century