This New Hand-Painted Video Game Takes Place Inside Claude Monet's Eyeball
Australian designer and developer Pat Naoum spent seven years creating "The Master's Pupil"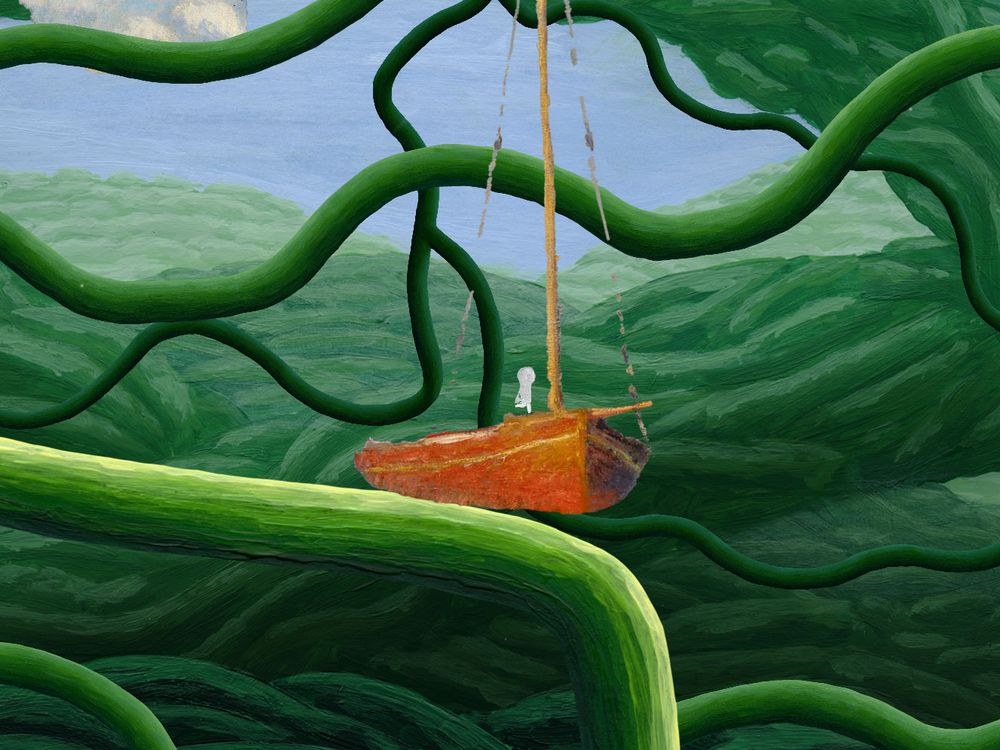 As Claude Monet got older, cataracts began to cloud his vision. This development was particularly troublesome for the French Impressionist painter, who used his eyes—and his paintbrush—to capture the nuances of light and color in the world around him. His vision loss even showed up in his paintings, which, by 1914, had become darker and muddier.
After trying specialized glasses, taking medication and eventually getting surgery, Monet's painting style more or less returned to normal by 1925. He died a year later.
Now, a century after Monet suffered from cataracts, the painter's eyes are the focus of a new independent video game called "The Master's Pupil," a 2D game that puts players inside Monet's eyeball.
Australian designer and developer Pat Naoum spent seven years creating the game, which takes players on a colorful, 12-level journey through Monet's iris, per Artnet's Min Chen. To progress in the game, players must solve puzzles while running along green vines and through scenes depicted in some of Monet's paintings. In doing so, they also help Monet complete his works.
Naoum hand-painted the entire game, a process that took over 2,000 hours. He then learned to code so he could digitize his artwork and make it interactive—all while holding down a day job as a web designer.
To create the puzzles, Naoum designed the basic shapes that would appear in the game, printed them out and painted directly onto the prints. Then, he digitized the paintings using a film negative scanner, which was key to creating the game's unique texture.
"It's not hyper-realistic, but it feels closer to the real world, like a painting somehow crumbled away from the real world and pieced together inside your screen," writes Fast Company's Elissaveta M. Brandon.
In 2021, Naoum received a roughly $90,000 grant from Screen Australia, a government agency that supports the country's screen production industry, reports the Washington Post's Gene Park.
Naoum also started sharing short clips from the game and behind-the-scenes footage of the development process on social media, racking up tens of thousands of followers on TikTok and Instagram.
By the time the game launched in July, more than 20,000 people were waiting to play it, per the Washington Post. It's now available for Windows and Mac, as well as for Nintendo Switch.
When he started thinking about the game, Naoum knew he wanted to set it inside someone's eye—he just didn't know whose. He initially considered a World War II survivor but eventually settled on Monet. He thought the ups and downs of Monet's life would provide a compelling narrative for the game.
His inspiration for the unusual setting came from Suren Manvelyan, an Armenian photographer who took a series of close-up images of eyes.
Throughout the process, Naoum spent a lot of time learning about Monet's life and studying his art. This knowledge informed his recreations of Monet's style and several aspects of gameplay.
For example, mixing certain colors together in the game will cause a player's avatar to die. Blue and yellow are okay, because together they make green. But because green and red would make brown, that combination results in the avatar's death, Naoum explains on TikTok.
As Naoum tells Artnet, "When Monet painted, he would be very careful about the colors he mixed—so much so that it became a central part of the puzzles in 'The Master's Pupil.'"