This Man From Calgary Spent 23 Years on the Road, Visiting Every Country in the World
While many other people have also managed to visit more than 190 countries, in Bown's book those visits don't count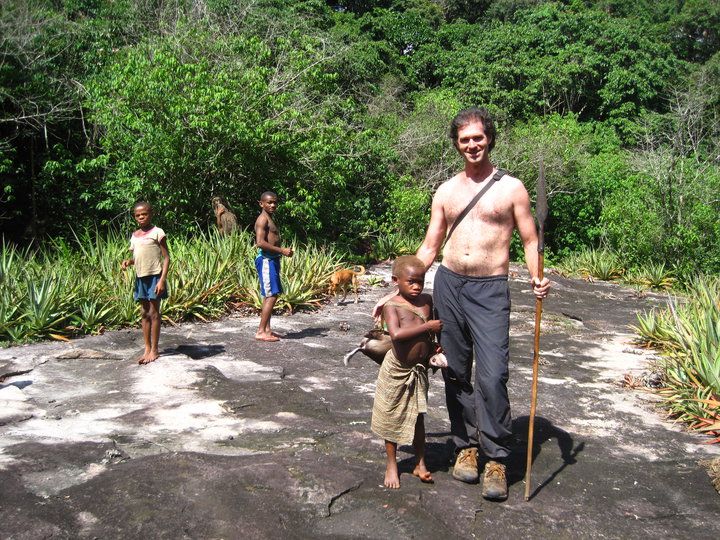 Mike Spencer Bown, 42, has been on the road since he sold his import company and, in 1990, left his home in Calgary. This week, upon arriving in Ireland, he completed his mission of more than twenty years—to experience every country in the world.
While many other people have also managed to visit more than 190 countries, in Bown's book, many of those visits don't count. "What they do is fly between major cities and especially capital cities, stop off in the airport or take a hotel for the night, and then say that they've 'done' such and such country," he said on Canoe.ca.
Sometimes, Bown's dedication to extensively visiting each place landed him in potentially dangerous situations. On his trip to Somalia, for example, he very well could have landed in prison. Officials there were flabbergasted when he insisted that he was a tourist, instead assuming that Bown must be a spy. Middle East Online reported on incident in 2010:  
"They tried four times to put me back on the plane to get rid of me but I shouted and played tricks until the plane left without me," the 41-year-old told an AFP correspondent in Mogadishu on his hotel's roof terrace.

Somali officials then tried to hand him over to the African Union military force in Mogadishu, refusing to believe that he was in the city for pleasure.

"We have never seen people like this man," Omar Mohamed, an immigration official, said Friday. "He said he was a tourist, we couldn't believe him. But later on we found he was serious."
Iraq was also difficult to visit, Bown said on his Facebook page. He tried not to talk while he was there, because he was attempting to pass as a local. In the Democratic Republic of Congo, he almost ran into a camp of genocidal rebels.
According to Canoe.ca, talk about a book and movie about Bown's life are in the works. But if you'd prefer to experience the world's highlights for yourself, Bown provided a list of the top 80 on Backpackology. Here are the top ten:
10. Living in a leaf hut with an African Pygmy tribe, Democratic Republic of Congo
09. Poling away from cantankerous hippos in a mocoro boat, Okavango Delta, Botswana
08. Pretending you're Indiana Jones in the incredible, cliff-carved ruins of Petra, Jordan
07. Testing your liver on the Trans-Siberian Railroad, Russia
06. People watching over a sheesha pipe in an ahwa, Damascus, Syria
05. Coming face to face with Silverback Gorillas in Virunga Volcanoes National Park, Rwanda
04. Red wine and wheels of cheese, anywhere in the Alps
03. Trekking the Inca Trail to Machu Picchu, Peru
02. Standing in awe of the Great Herd Migration, Ngorogoro Crater, Tanzania
01. Looking down upon the world from Mt. Everest Base Camp, Nepal or Tibet
More from Smithsonian.com:
What Is Your Dream Travel Destination? 
Travel Pioneers in Southeast Asia