These Were the Most-Performed High School Musicals of 2015/2016
Creepy, kooky and supercalifragilisticexpialidocious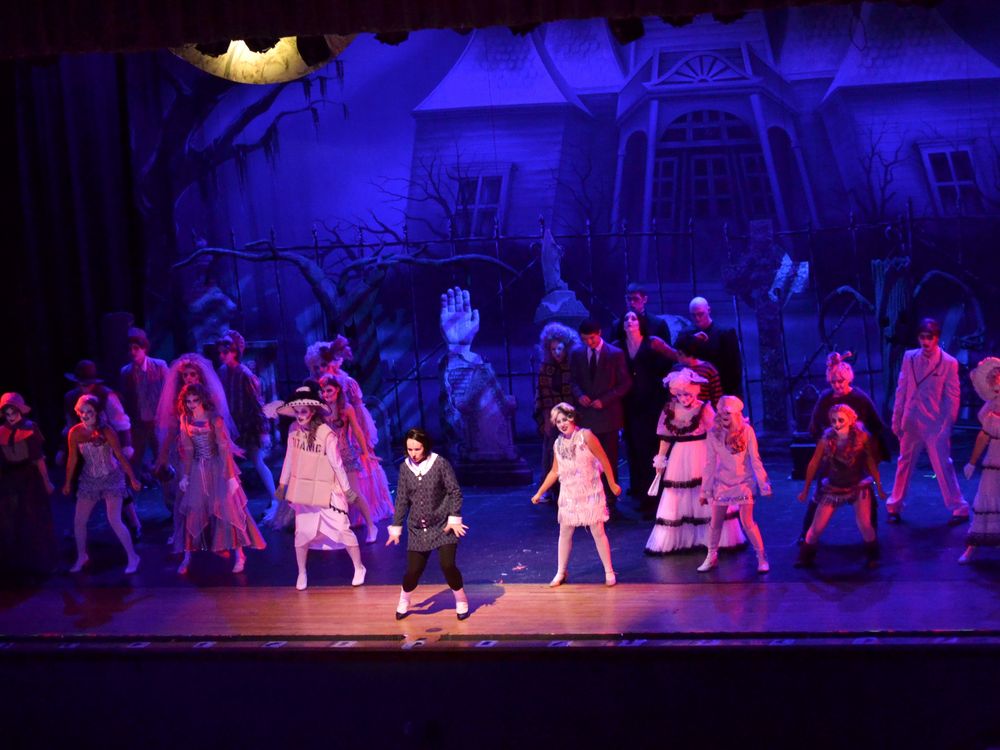 Each year, thousands of high schools in the United States climb ev'ry mountain, paint their wagons and realize that they're hopelessly devoted to you. Translation: The play's the thing—an estimated 37,500 plays and musicals are put on across the country every year. But what musicals might come to a high school stage year you? Look no further than Dramatics magazine, which just released its list of the top high school musicals and plays for 2015 and 2016.
The magazine, which is the publication of the Educational Theatre Association, has been conducting its survey since 1938. This year's numbers were compiled from a survey of 1,200 schools, and in a release the ETA estimates that at least 50 million people attend high school performances each year.
NPR's Elissa Nadworny and the NPR data team compiled all of the annual reports from ETA into an interactive database to tease out themes in high school performances. Of course, any high school drama teacher can tell you that there are a few factors that make it easier to fill seats: a large cast (more kids means more parents who attend), plenty of roles for girls (some schools have a six-to-one girl-to-boy ratio when it comes to putting on a show), and one that fits the abilities of the student performers. A fun story doesn't hurt, either, as this year's winning musicals demonstrate:
1. The Addams Family (Andrew Lippa, Marshall Brickman, Rick Elice): Based on the classic cast of macabre characters, The Addams Family features a grown-up Wednesday Addams hiding her love for a normal young man—and the hijinks that ensue when her family hosts her boyfriend and his parents. The Broadway musical's dark jokes have a definite high school appeal, seeing as it was the top selection last year, too.
2. Mary Poppins (Sherman Brothers, George Stiles, Anthony Drewe, Julian Fellowes): She's practically perfect in every way, and the new 16-role adaptation of the Broadway smash is a hit with audiences. As Nadworny notes, it's only been available to perform in supercalifragilisticexpialidocious high schools since 2014, and rose to number two after less than a year.
3. The 25th Annual Putnam County Spelling Bee (William Finn, Rachel Sheinkin): This Tony Award-winning musical has been performed in more than 3,000 theaters worldwide. Featuring audience participation and a convenient high school set, it's become a favorite of drama teachers and fans.
4. Cinderella (Richard Rodgers, Oscar Hammerstein II, Douglas Carter Beane): The Rodgers and Hammerstein musical has been around since the 1950s, but it's been even more popular since it was remade in the 1990s in a live-action Disney production starring Brandy. The cast can be switched from small to medium or large—think of it as the equivalent of a perfectly fitting glass slipper for schools of every size.
5. Legally Blonde the Musical (Nell Benjamin, Laurence O'Keefe, Heather Hach):
Pink is where it's at for this musical based on the movie antics of Elle Woods, a sorority girl with legal chops. This show has room for a huge ensemble and plenty of female roles, making it perfect for schools with girl-heavy drama programs.
6. (tie) Grease (Jim Jacobs, Warren Casey, John Farrar): Pink Ladies, Burger Palace Boys and hoppin' high school antics have long made Grease a high school fave—it's been on the top-10 list since the 1980s.
6. (tie) Into the Woods (Stephen Sondheim, James Lapine): Sondheim might seem like a complicated choice for high school performers, but Into the Woods entered the list of most beloved top-10 shows starting in the 2010s. Whether high schoolers are more sophisticated or drama teachers just love the fractured fairy tale storyline and large cast, look for it in an auditorium near you.
6. (tie) The Little Mermaid (Alan Menken, Howard Ashman, Glenn Slater, Doug Wright): Disney's The Little Mermaid became part of your world after its Broadway debut in 2008, nearly 20 years after it first came to the screen as an animated movie. Featuring scenes set on land and under the sea, it's beloved for the opportunity it gives for gorgeous stagecraft and catchy, well-known songs.
6. (tie) Little Shop of Horrors (Alan Menken, Howard Ashman): Composed by the same songwriters responsible for The Little Mermaid, Little Shop of Horrors is no G-rated lovefest. Rather, it's a PG-13 satire about a plant hungry for human flesh—a nice antidote to more traditional boy-meets-girl stories.
10. (tie) Beauty and the Beast (Alan Menken, Howard Ashman, Tim Rice, Linda Woolverton):  It might be a tale as old as time, but this musical about a bookish young woman and a hideous beast only premiered on Broadway in 1994. Based on the Disney version of the love story, this musical has roles for those who can can sing, dance and even perform acrobatics. It doesn't hurt that an Emma Watson-helmed remake is coming to movie theaters in 2017.
10. (tie) High School Musical (various writers): It started as a smash Disney Channel movie aimed at tweens, but High School Musical has since moved to the stage in a show that will have anyone who hasn't lived under a rock for the last 10 years singing along. Since it's set in high school, it doesn't need ridiculous sets, and the meta aspect of a high school musical about a high school musical might even make up for the fact that your lead is not Zac Efron.