These Temporary Tattoos Can Help ID a Food Allergy
Plus, the tattoo is inspired by historical Japanese prints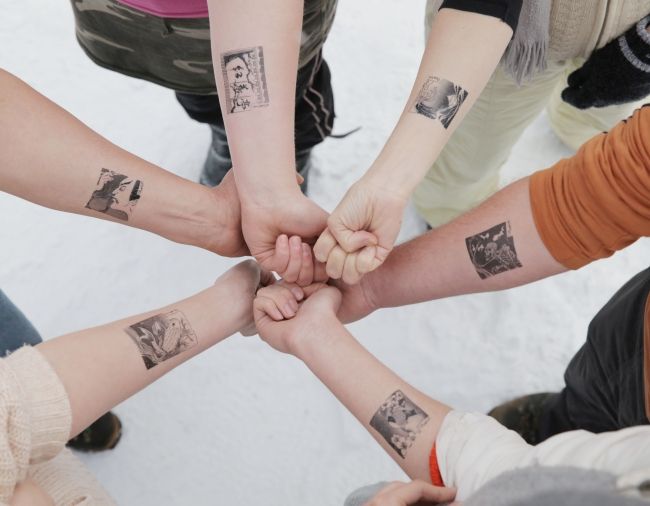 Traveling to a different country offers the chance to experience new things and tasting the local cuisine is often a highlight. Yet there's always the slight chance that new foods could come with new problems. Tourists visiting Japan will likely encounter the popular soba noodles, which are made from buckwheat. But this delicacy is a common food allergen and inhabitants of the relatively buckwheat-free U.S. or U.K. might not know of the danger before they slurp. 
Never fear: In collaboration with dermatologist Mami Nomura, ad agency J. Walter Thompson Japan has come up with a visually-striking campaign to raise awareness about buckwheat allergies in the form of a temporary tattoo.
To the Japanese, buckwheat allergies are just as well-known as peanut allergies are in the U.S., according to the ad agency's website. Though the allergy is not as common as peanut allergies, it can cause a life-threatening reaction called anaphylactic shock, reports Preston Phro for Rocket News 24. 
The ad agency was hired by a group of soba noodle restaurants in Hokkaido, the northernmost island in the Japanese archipelago and a popular destination for winter sports enthusiasts. After consulting with a dermatologist, the agency has released a temporary tattoo that when properly applied will turn red if the wearer is allergic to buckwheat, writes Johnny Strategy for his blog Spoon & Tamago, which explores Japanese art, design and culture.
The red is a minor skin irritation, provoked by the buckwheat. This test is similar to ones that allergists might use in real diagnosis called a skin prick test.
For these tattoos, the user first pricks their skin, then applies the tattoo using soba noodle broth. The tattoos come in eight different skin-tone shades, with small clear sections that reveal the skin underneath. If you are not allergic, the tattoo looks only like dark designs on your skin. If you have a reaction, the red, irritated skin will show through the clear sections. 
The tattoo is not a substitute for an expert evaluation, but it serves to make people aware that buckwheat allergies do exist. A visit to an allergist can determine if the reaction is a true allergy.
The series of tattoos all have bold designs in the ukiyo-e style, which flourished as woodblock prints from the 17th to 19th centuries in Japan.
So far, the tattoos are only available at special events in Hokkaido, reports Justina Bakutyte for Kobini. But the trip might be worth it for those that like body art, skiing and might consider trying some tasty noodles.