These National Parks Are Hosting Stargazing Festivals in 2023
As more areas grow brighter with light pollution, national parks across the country have become dark-sky havens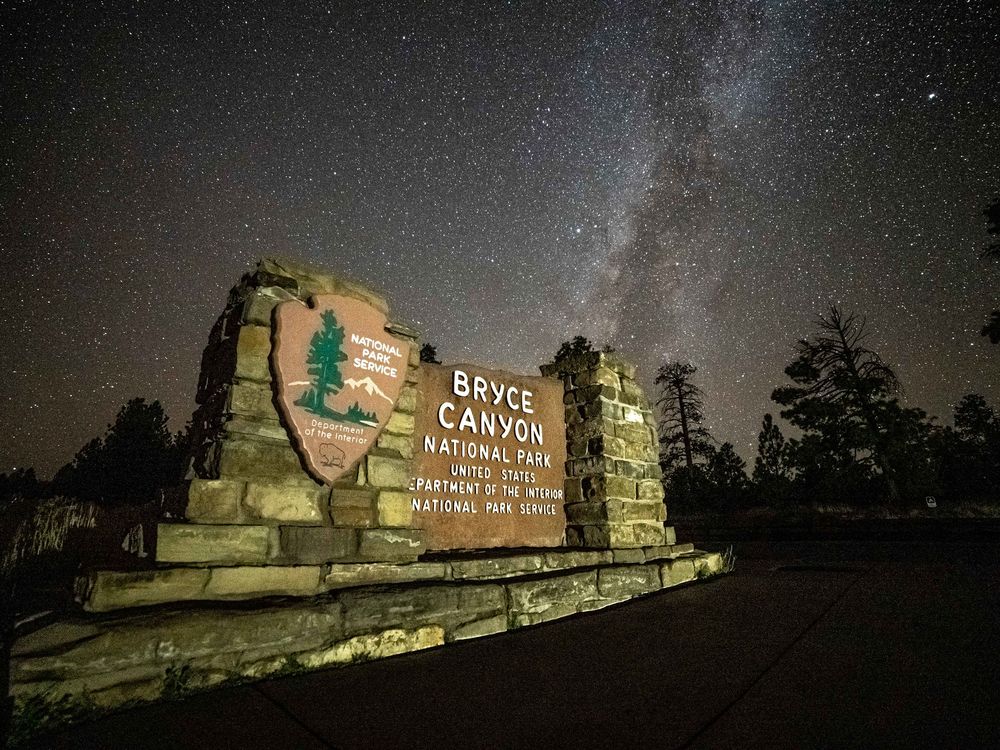 As light pollution gets worse, public lands are some of the last remaining places to easily gaze at stars or catch a glimpse of luminous meteor showers. National parks, in particular, are making a push to get certified as havens for sky watching by the International Dark Sky Association, and they even host events designed to get travelers excited about astronomy.
This year, several national parks are holding stargazing festivals, also known as "star parties," to help take advantage of their inky-black skies. Even if you can't make it to these specifically, many national parks offer regular stargazing events throughout the year—or, at the very least, they offer online tips for successfully peering up at the cosmos within their bounds.
If you're curious to know how your favorite park stacks up in terms of light pollution, the National Park Service has created an interactive map that shows brightness measurements across the country. And if you're planning a park trip, you may consider timing it with one of these special, star-focused events.
Grand Canyon National Park — June 10–17
Encompassing some of the country's most remote, rugged terrain, Grand Canyon National Park is hosting its annual "star party" this month. Park officials are organizing events on both the north and south rims, such as ranger-led constellation tours, lectures and photography workshops. Travelers can learn about how the Hopi and Navajo peoples interpret the night sky, as well as hear from NASA scientists Julie McEnery and Aaron Yazzie.
Bryce Canyon National Park — June 14–17
Situated in southern Utah, Bryce Canyon earned its dark-sky designation in 2019. Though most travelers visit to see its rich, reddish-orange rock formations known as "hoodoos" during daylight hours, the 35,835-acre park is also an ideal place to stay up late. This year, its annual astronomy festival includes guided stargazing sessions, lectures and "star stories" presentations, family-friendly activities and even a performance by strings musicians in the northern Arizona-based Dark Sky Quartet.
Badlands National Park — July 14–16
Put South Dakota on your travel bucket list and pay a visit to Badlands National Park, which protects fossil beds and mysterious geologic formations like clastic dikes and sod tables. Its remote location means there isn't much light pollution to speak of here, and the upcoming astronomy festival—held in partnership with the NASA South Dakota Space Grant Consortium—helps travelers make the most of the darkness. Organizers are still working out this year's schedule, but past events have included a guided walk through a scale-model solar system, equipment demonstrations, guest speakers and observations with special solar telescopes.
Shenandoah National Park — August 11–13
Conveniently located within a day's drive from two-thirds of Americans, Shenandoah National Park's night sky festival is a low-lift way to dabble in astronomy if you're at all curious. The nearly 200,000-acre park, located among the Blue Ridge Mountains in north-central Virginia, will host ranger talks, public stargazing sessions, lectures, presentations and activities for kids. Staffers are still working on this year's full schedule, but past events have covered topics ranging from space weather to nocturnal creatures.
Great Basin National Park — September 14–16
Great Basin is one of the least crowded national parks—in 2021, it received around 145,000 visitors—making it the perfect place to quietly ponder the mysteries of the cosmos. The 77,000-acre park, located in far eastern Nevada, is also home to the only research-grade observatory in a national park, the Great Basin Observatory. Its annual astronomy festival is scheduled for this fall and includes guest speakers, constellation talks, observatory tours and a photography workshop. During the festival's unique "Art in the Dark" program, participants will get to paint in low-light conditions and experiment with how their eyes perceive color.
Joshua Tree National Park — October 13–14
Venture to Southern California to marvel at the stars and planets at Joshua Tree National Park, which, as the International Dark Sky Association notes, is the "nearest convenient place to go stargazing under a relatively dark sky" for the 18 million people who live in the Los Angeles metropolitan area. Joshua Tree became an official dark sky park in 2017, and each year, it hosts a night sky festival in the fall. As luck would have it, this year's dates overlap with an annular "ring of fire" solar eclipse. From Joshua Tree, the moon will appear to obscure between 70 and 80 percent of the sun.