These Malaysian Cave Drawings Reflect Colonial-Era Conflicts
A new study reveals that some of the charcoal drawings date to between 1670 and 1830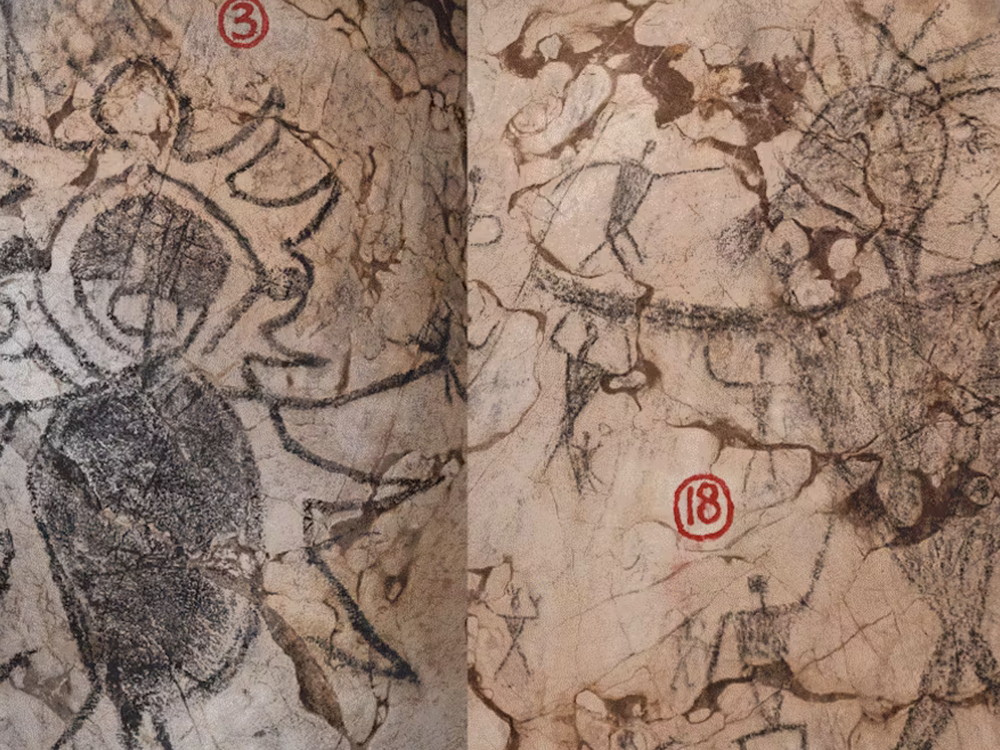 Hundreds of charcoal sketches adorn the walls of Gua Sireh Cave, located on the island of Borneo in Sarawak, Malaysia. Made by the Bidayuh, a local Indigenous community, the drawings depict people engaged in activities like hunting, fishing, fighting and dancing. Some are shown carrying objects like shields, knives and spears.
Now, researchers have analyzed two of these figures using radiocarbon dating. According to a study published last week in the journal PLOS One, both were drawn between 1670 and 1830—a time of increasing conflict in the region.
"Our work at Gua Sireh indicates this art form was used up to the recent past to record Indigenous peoples' experiences of colonization and territorial violence," says co-lead author Jillian Huntley, an archaeologist at Australia's Griffith University, in a statement.
Based on previous excavations at Gua Sireh, researchers think the cave was occupied as early as 20,000 years ago through as recently as 1900. The new analysis connects at least two of the drawings with an era "of increasing conflict in the region when the Malay elites controlling the region exacted heavy tolls on Indigenous hill tribes, including the Bidayuh."
The well-preserved drawings serve as an "archive of local history," says co-lead author Paul Taçon, also an archaeologist at Griffith University, to Hyperallergic's Elaine Velie.
Previously, experts had estimated the art's age based on oral histories.
"The Bidayuh recall Gua Sireh's use as a refuge during territorial violence in the early 1800s, when a very harsh Malay Chief had demanded they hand over their children," says Mohammad Sherman Sauffi William, a Bidayuh descendant and curator at the Sarawak Museum Department, in the researchers' statement.
"They refused and retreated to Gua Sireh, where they initially held off a force of 300 armed men," he adds. "They saved their children when most of the tribe escaped through a passageway at the back of the largest entrance chamber."
The first figure the team studied holds two short-bladed Parang Ilang, "the principal weapon used during the warfare that marked the first decades of white rule in Borneo," write the researchers in the Conversation. They dated this figure to between 1670 and 1710.
The second drawing features figures wielding a Pandat, a weapon that was used "exclusively for fighting and protection, never in agriculture or handicrafts, suggesting the drawing relates to conflict," they write. This drawing dated to between 1790 and 1830.
As Taçon tells Hyperallergic, "The nature of the imagery, the radiocarbon dates, the ethnographic literature and the Indigenous oral history all line up and support each other."