These Letters Tell the Inside Story of Mary, Queen of Scots' Imprisonment
A collection of 43 letters relating to the latter years of the queen's confinement was recently donated to the British Library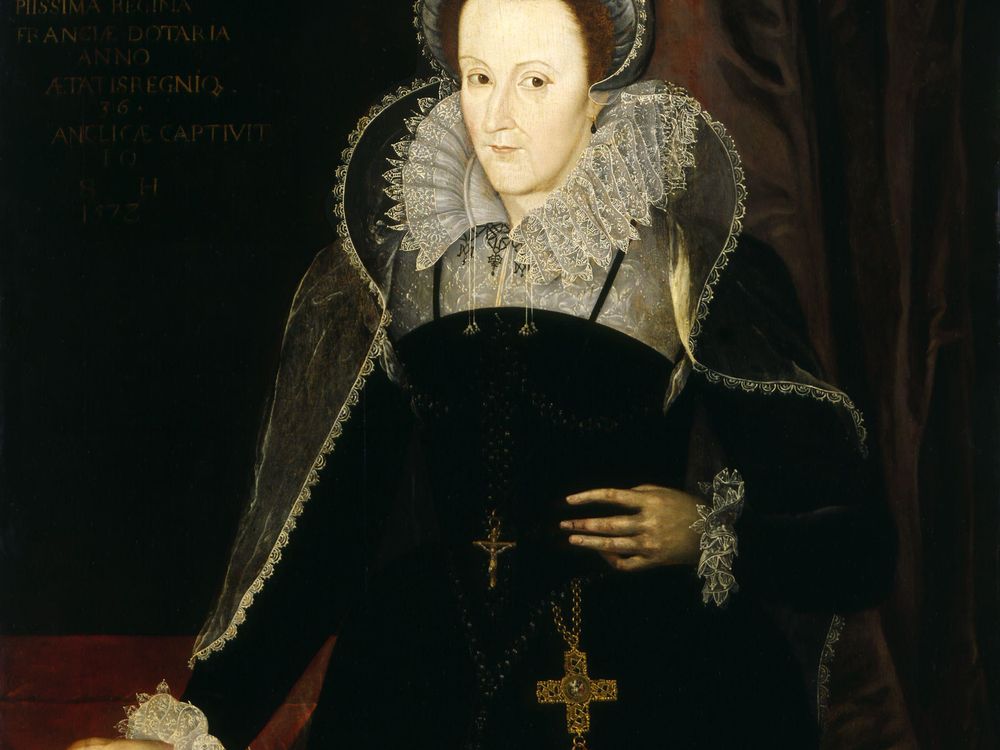 Three years before she was found guilty of treason and sentenced to die, Mary, Queen of Scots tried to mend her fractured relationship with her cousin, Elizabeth I. Mary expressed her wish to put aside the "jealousy and mislike" that had festered between the two women. Elizabeth, however, was unmoved.
"You may lett hir understand that we wish she had been as carefull for the tyme past to have avoyded the cause and ground by hir given of the just jealousy by us conceaved," the English queen wrote to Sir Ralph Sadler, who had been instructed to keep a close eye on Mary, in October of 1584. "[W]e wish … She were as innocent therein as she laboreth greatly to beare both us and the world in hand that she is."
This frosty missive belongs to a trove of 43 letters that was recently donated to the American Trust for the British Library. The documents in this remarkable collection, which include four letters signed by Elizabeth I and others written by high-ranking officials like Sir Francis Walsingham, all relate to Mary's imprisonment in England, where she was held for 19 years before her execution.
Mary fled to England in 1568, after an uprising forced her to abdicate the Scottish throne in favor of her infant son. She hoped that her cousin, Elizabeth, would offer refuge, but Mary's arrival unnerved the English queen. Mary was Catholic; Elizabeth was a Protestant. Concerned that Mary would become the focus of plots to depose her and install a Catholic monarch, Elizabeth ordered her cousin to be placed under the strict supervision of English noblemen.
For most of her long confinement, Mary was kept at a manor in Derbyshire, in the custody of the Earl of Shrewsbury. But in 1584, she was moved to a dreary castle further inland, and transferred to the charge of the statesman Ralph Sadler. The British Library's newest collection of letters span the period in which Mary was in Sadler's care, from the summer of 1584 to the spring of 1585. It was a tumultuous time for both the Scottish queen and Europe at large. Religious wars were raging in France, the Protestant William of Orange had been assassinated by a "fanatical Catholic," and a plot against Elizabeth's life had recently been foiled. With the possibility of insurrection and assassination lurking constantly in the shadows, Elizabeth and her supporters became increasingly nervous about Mary.
"[W]hat the letters reveal is a tangible, palpable sense of heightened levels of fear among Elizabeth's government and ministers about her safety in the midst of the danger posed by Mary Queen of Scots, who for many Catholics was a figurehead," says Andrea Clarke, curator of Early Modern historical manuscripts at the British Library.
And so Sadler was instructed to clamp down on Mary's movements. She was allowed to leave Tutbury castle, where she was forced to reside, but was "not permitted to ride farre abroad," as one letter notes. In another, Walsingham gently reprimands Sadler for taking Mary "hawkyng" with him. Mary, Walsingham notes disapprovingly, had been given "more lybertye now then at any tyme when she was in the E of Shrewsbury chardge."
In a letter signed by Lord Burghley, Elizabeth's chief minister, Sadler was told to station standing watches around the castle and conduct searches of the grounds "once or twise a moneth." And just as importantly, all matters pertaining to Mary's care and provision were to be undertaken as cheaply as possible.
 "Queen Elizabeth was very resentful of the cost involved in Mary's upkeep," Clarke says. "[Burghley] writes to Sadler to pass on the message from the queen, urging him to cut costs, basically." 
Mary, however, was not keen to surrender the luxuries that befitted her royal title. The British Library letters reference her requests for table silver and a "tent of Tapestery" for her bedchamber. One of the documents, according to Clarke, includes an inventory of all the fineries that were transferred to Tutbury when Mary left the Earl of Shrewsbury's charge—a list that includes damask tablecloths and napkins, plates, bowls and basins.
But the most fascinating letter is arguably the one penned by Elizabeth in 1584. Though the queen's tone is aloof and unforgiving, she expresses a wistful sense of regret over the friendship that the cousins had lost.
"For [Mary] hir selfe knoweth … howe great contentment and lyking we had for a tyme of hir frendshippe, which as we then esteamed as a singular and extraordinary blessing of god to have one so neerely tyed unto us in blood and neighborhood," Elizabeth wrote.  
Mary had not yet been implicated in a plot to restore a Catholic monarch to England, but it was believed that she had been involved in recent machinations against Elizabeth. The English queen's letter "reveals [her] hardening sense of frustration," Clarke explains. "Elizabeth basically says, 'Things could have been very different. You know full well why you're in the situation that you're in.'"
As Roslyn Sulcas of the New York Times reports, the collection of 43 documents was purchased at auction by Mark Pigott, an American businessman, for around $400,000 in 2010. Pigott had loaned the letters to the British Library for several years before gifting them to the institution in December.
"We have a fantastic collection of letters and documents relating to the reign of Elizabeth I, and specifically Mary Queen of Scots," Clarke says. "[The recent donations] relate very closely to letters already in our collection."
The letters are not currently on display at the British library. But Clarke says that the documents will be digitized and posted online later this year, making them easily accessible to anyone who wishes to explore the tense, precarious relationship between two rival queens.