These Are the United States' 18 Most Dangerous Volcanoes
Hawaii's Mount Kilauea, Washington's Mount St. Helens top the list, which forecasts eruptions' potential impact on people, property, infrastructure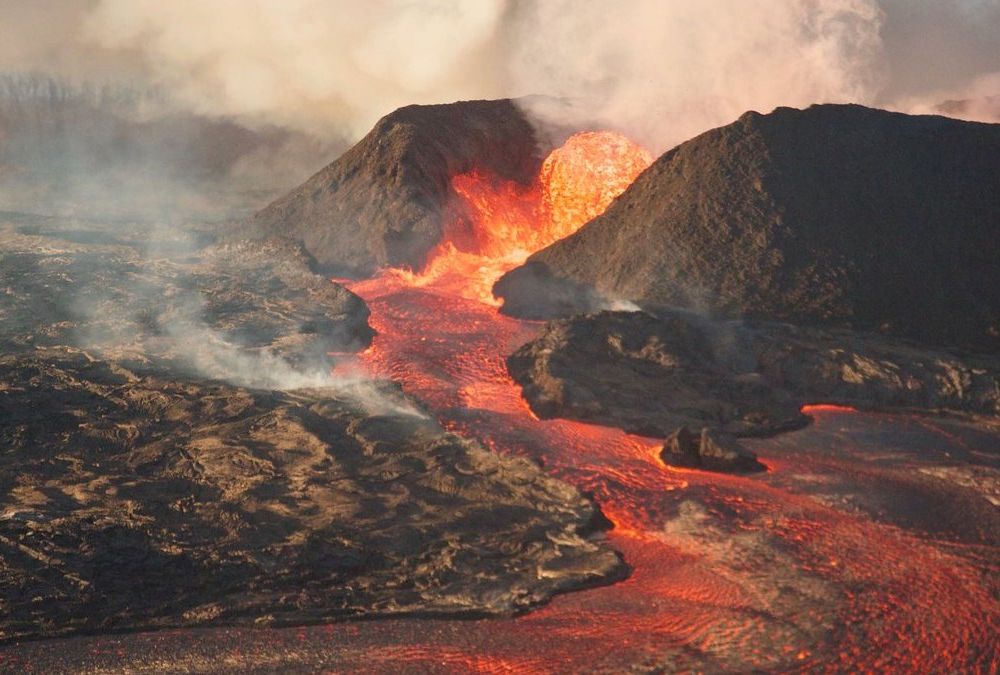 Eighteen volcanoes scattered across the United States' western coast officially pose a "very high threat" to their surrounding communities, according to a newly updated version of the U.S. Geological Survey National Volcanic Threat Assessment.
The Associated Press' Seth Borenstein notes that a dozen volcanoes rose in threat level since the last assessment was completed in 2005, while 20 dropped. Of the top 18, 11 actually saw their overall threat scores decrease despite remaining at a very high threat level. The new assessment ranks 161 of the nation's active or potentially active volcanoes based on the predicted damage inflicted by their hypothetical eruption. It does not forecast which volcano will erupt next, National Geographic's Maya Wei-Haas emphasizes, but rather the "potential severity" of an eruption's impact.
Mount Kilauea, which bombarded Hawaii's Big Island with lava bombs, ash and volcanic smog in a series of eruptions that lasted throughout the summer, and Washington's Mount St. Helens, the infamous site of a 1980 eruption that killed 57 people, topped the updated rankings, while Washington's Mount Rainier, Alaska's Redoubt Volcano and California's Mount Shasta rounded out the top five.
As CNN's Andrea Diaz reports, the USGS conducted its threat assessment by weighing 24 factors related to a volcano's "hazard potential and exposure of people and property to those hazards." These factors, which were used to sort the country's volcanoes into five threat levels ranging from very low to very high, included type of volcano, recent seismic activity, frequency of eruption, number of people living nearby and previously recorded instances of eruption-triggered evacuations.
Volcanoes forecast to endanger people, property or critical infrastructure upon eruption were ranked as higher threats, according to The Verge's Mary Beth Griggs. This helps accounts for Kilauea's spot at the top of the list, George Dvorsky writes for Gizmodo: In addition to being a highly active volcano, Kilauea is situated directly beside an inhabited community and a geothermal power plant. Washington's Mount Rainier, which finished third in the rankings, is located just 59 miles from Seattle and poses a significant hazard to roughly 300,000 people—the most of any active volcano included on the list.
Interestingly enough, risk to aviation also proved key to the updated assessment. As National Geographic's Wei-Haas explains, ash from Alaskan volcanoes (five of which are classified as very high threats) threaten the planes navigating the state's skies, causing problems like engine erosion, clogged air filters and, in worst-case scenarios, complete engine failure.
Eight volcanoes included in the 2005 rankings failed to make the cut this time around. This is in large part thanks to more accurate dating methods, which pinpointed the volcanoes' last known eruptions to more than 11,700 years ago, which is the benchmark for a volcano to be considered inactive. But Ben Andrews, director of the Smithsonian's Global Volcanism Program, tells Wei-Haas that three sites on the list—Wyoming's Yellowstone supervolcano, New Mexico's Valles caldera and California's Long Valley volcano—represent the exception to the rule, as volcanologists believe they erupt on intervals longer than the 11,700-year mark.
The USGS findings provide a potent reminder of the United States' surprisingly high levels of volcanic activity. As the report notes, the country is home to more than 10 percent of the world's known active and potentially active volcanoes. Since 1980, these geological hotspots have spewed forth 120 eruptions and 52 episodes of notable volcanic unrest.
In an interview with AP's Borenstein, Denison University volcanologist Erik Klemetti said that the U.S. is "sorely deficient in monitoring" for many of the top 18 sites.
"Many of the volcanoes in the Cascades of Oregon and Washington have few, if any, direct monitoring beyond one or two seismometers," Klemetti explained. "Once you move down into the high and moderate threat [volcanoes], it gets even dicier."
USGS geologist Angie Diefenbach tells CNN that the rankings are not designed to scare the public. Instead, they aim to further support monitoring of high-risk volcanoes and better prepare at-risk communities for potential eruptions.
Volcanologist Janine Krippner of Concord University concurs, telling Wei-Haas that "this is a really good opportunity to remind people that, yeah, this is one of the most volcanically active countries in the world."
She adds, "It needs to be a priority for funding and monitoring. USGS is working incredibly hard to understand what these hazards are and communicate them—and everyone needs to listen."
Here's the complete list of the country's 18 most dangerous volcanoes:
Mount Kilauea, Hawaii
Mount St. Helens, Washington
Mount Rainier, Washington
Redoubt Volcano, Alaska
Mount Shasta, California
Mount Hood, Oregon
Three Sisters, Oregon
Akutan Island, Alaska
Makushin Volcano, Alaska
Mount Spurr, Alaska
Lassen volcanic center, California
Augustine Volcano, Alaska
Newberry Volcano, Oregon
Mount Baker, Washington
Glacier Peak, Washington
Mauna Loa, Hawaii
Crater Lake, Oregon
Long Valley Caldera, California