Five Things We've Learned Since Brazil's Devastating National Museum Fire
Luzia, the oldest human fossil in the Americas, was recovered from the rubble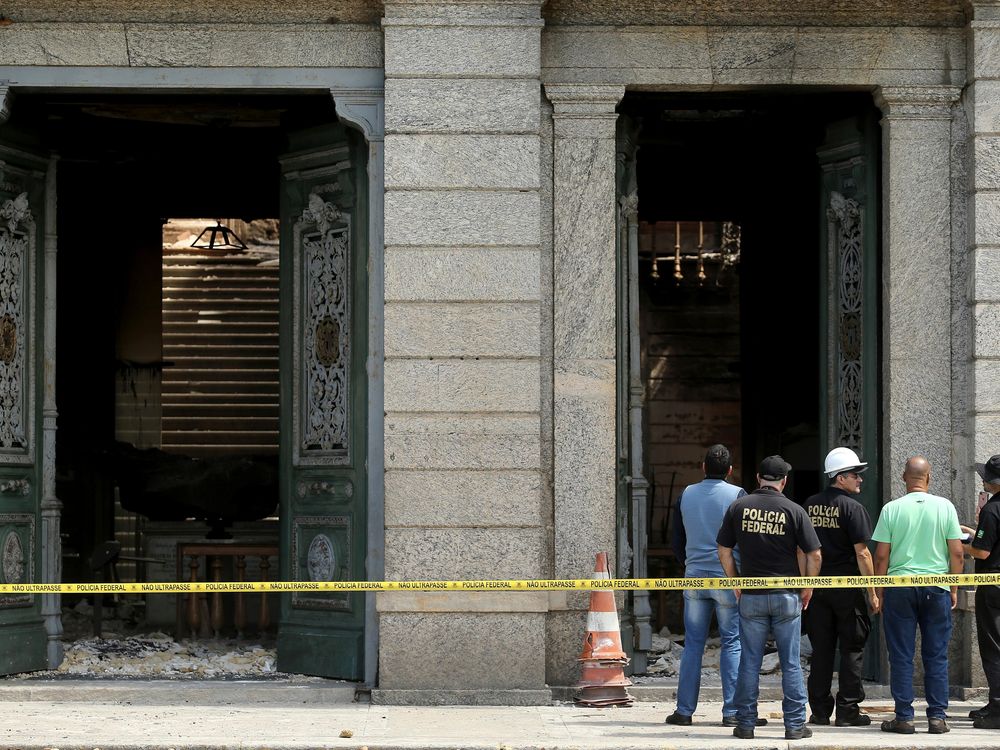 Update, October 26, 2018
: Luzia, the oldest human fossil in the Americas, has been recovered from the rubble of Brazil's National Museum. The 200-year-old Rio de Janiero institution burned down in September, taking with it most of the museum's 20 million artifacts. But the remains of Luzia, which were held in a metal urn, have been successfully identified by researchers. "We found almost all of the skull and 80 percent of its fragments have been identified," museum director Alexander Kellner said in a
statement
. According to Claudia Rodrigues, a professor at the museum, the remains have "suffered alterations, damage." The knowledge that Luzia survived the tragedy, however, is a much needed burst of good news."[W]e're very optimistic at the find and all it represents," Rodrigues says.
It's been just under a week since an inferno blazed through Brazil's 200-year-old National Museum, razing the historic institution and reducing the majority of its collection to ashes. Researchers are still awaiting permission to enter the building's smoldering remains to assess the extent of the damage, but the Associated Press' Marcelo Silva de Sousa and Mauricio Savarese report that firefighters have begun the arduous task of sifting through the rubble and identifying fragments of salvageable artifacts. While the cause of the fire and exact fate of the museum's more than 20 million artifacts—including Luzia, the oldest human fossil in the Americas, and the reconstructed skeleton of a Maxakalisaurus topai dinosaur—remain unclear, here's what we've learned in the wake of the unprecedented loss.
A set of 13th-century Torah scrolls, the 5.8-ton Bendegó meteorite and a portion of the museum's mollusk and vertebrate collections are among the items said to have escaped the flames. Up to 90 percent of the collection is feared lost
Shortly after the blaze broke out around 7:30 p.m. on September 2, a group of museum staff, technicians and students entered the burning building and rescued a small selection of items. Zoologist Paulo Buckup told BBC Brasil's Julia Carneiro that he managed to escape with "a few thousand" mollusk specimens, including 80 percent of the museum's holotypes, or original examples of given species. As Buckup explained to Globo News, the team "decided to select the material of greatest scientific and irreplaceable value."
The museum's prized Bendegó meteorite, a 5.8-ton space rock discovered in the Brazilian state of Bahia in 1784, survived the flames largely unscathed, Hanneke Weitering reports for Space.com. Video footage posted on Twitter by local station Rádio BandNews FM shows that a second, smaller meteorite also survived the fire.
#MuseuNacional: O meteorito Bendegó, o maior do Brasil, é um dos principais atrativos do acervo do Museu. Pelas imagens, é possível observar que ele resistiu ao incêndio. #BandNewsFM pic.twitter.com/TMuda3nc4n

— BandNews FM - Rio (@bandnewsfmrio) September 3, 2018
The Atlantic's Ed Yong reports that the museum's herbarium, main library and portions of its vertebrate collection were kept in a separate building and therefore not affected by the fire. A series of centuries-old Torah scrolls believed to be some of the world's oldest Judaic documents were similarly moved to a separate location prior to the fire per Pregaman and de Sousa of the AP.
Federal University of Espírito Santo paleontologist Taissa Rodrigues tells National Geographic's Michael Greshko that some of the metal cabinets housing fossils may have survived, although it's unclear whether the artifacts inside could have withstood the fire. According to the AP, firefighters excavating the scene have found various bone fragments, triggering hopes that the 11,500-year-old skull of an early hominin named Luzia may still be recovered. All materials collected from the scene will be examined by federal law enforcement, who are working to determine the cause of the fire, before being sent on to experts for identification.
Preliminary reports list the institution's entomology and arachnology collections, roughly 700 Egyptian artifacts and a Royal Hawaiian feather cloak gifted to emperor Dom Pedro I in 1824 amongst the items feared lost. Artnet News' Henri Neuendorf has a more comprehensive list of the museum's prized treasures, most of which were likely damaged or completely destroyed.
We still don't know what started the fire, but tensions have flared over the systemic under-funding and neglect of the cultural institution
According to Brazilian culture minister Sérgio Leitão, an electrical short circuit or a paper hot-air balloon that landed on the museum's roof was the likely cause of the fire. The Guardian's Jonathan Watts, Dom Phillips and Sam Jones report, however, that the underlying factors at play were severe budget cuts and outdated fire prevention systems.
National Geographic's Greshko notes that the National Museum hasn't received its full annual budget of $128,000 since 2014. This year, it received just $13,000. In late 2017, curators were so strapped for cash they had to crowdfund repairs of a popular exhibition hall that had been infested with termites.
Museum vice director Luiz Fernando Dias Duarte told Brazilian television that staff members knew the building was in critical condition. Before leaving at the end of each day, he unplugged all of the items in his office to minimize fire risk. Duarte further argued that even a quarter of the money budgeted for a single 2014 World Cup stadium (the Foundation for Economic Education's David Youngberg reports that Rio spent $15 billion on the Cup and $13.1 billion on the 2016 Olympics) "would have been enough to make this museum safe and resplendent."
The day after the fire, protestors gathered outside of the museum's gates, demanding that authorities reveal the extent of the damage and pledge to rebuild. According to the AP's Peter Prengaman and Sarah DiLorenzo, when the protestors attempted to see the damage, police held them back using pepper spray, tear gas and batons.
Wikipedia and a group of local students are spearheading campaigns to preserve the museum's memory via photographs and digital technology
Soon after the fire, a group of students at UNIRIO, the Federal University of the State of Rio de Janeiro, put out a global request for photographs and video clips taken at the museum. Atlas Obscura's Sarah Laskow reports that the students have already received thousands of contributions, which they hope to eventually compile into a "virtual museum or a memory space of some sort." As Laskow notes, these images "preserve, at least in some form, what remains of the history the museum was meant to protect." Relevant photos or videos should be emailed to [email protected].
On Tuesday, Wikipedia posted a similar Twitter announcement calling for users to upload their personal snapshots of the museum to Wikimedia Commons, its open access repository of images.
There were over 20 million objects inside the #MuseuNacional. Did you take a photo of any of them? Help us preserve the memories of as many as we can and add them to @wikicommons. Here's how to do it from your desktop: pic.twitter.com/jMwbj15Kg3

— Wikipedia (@Wikipedia) September 4, 2018
Other efforts are forthcoming. According to Forbes' Kristina Killgrove, Thomas Flynn, cultural heritage lead at 3D modeling website Sketchfab, has posted 25 virtual renderings of museum artifacts to his profile page. All models are available to the public.
Jorge Lopes dos Santos, a 3D modeling expert at the museum, tells Killgrove that prior to the fire, the digital modeling team successfully completed "hundreds of scans of several important artifacts of the collection, including fossils, Egyptian mummies, the Luzia skull and others, and Greek and Roman artifacts." As recovery efforts move forward, he says that the team will "discuss how the files will be used."
This isn't the first time a world-class museum has gone up in smoke or confronted natural disaster—and it probably won't be the last
The Rio fire has brought much-needed attention to the risks faced by cultural institutions across the globe. In addition to receiving increasingly scarce financial support, museums are more susceptible to natural hazards than one might think.
As Hugh Eakin notes for the Washington Post, New York's Museum of Modern Art burst into flames back in April 1958, destroying one of Claude Monet's "Water Lilies" paintings but leaving most of the collection unscathed. In more recent examples, Rotterdam's world-class Old Masters and modern European art gallery, the Museum Boijmans Van Beuningen, experienced five floods over the past 14 years and is currently constructing an estimated $70 million flood-proof storage facility. In 2016, an inferno gutted India's National Museum of Natural History in New Delhi, and the year before that, another Brazilian institution, the Museum of the Portuguese Language in Sao Paulo, suffered a similar fate.
Some museums are readily attuned to these dangers: Los Angeles' Getty Center and New York City's Whitney Museum of American Art are both equipped with lavish protective systems. But most institutions can't afford such expensive tools. Brazil's National Museum, for example, had no working sprinkler system, and the two hydrants closest to the building malfunctioned when firefighters arrived at the scene.
Popular Science's Eleanor Cummins points out that natural disasters aren't the only threat to museums: "Museum science is a race against time," she writes, "and budget cuts, staff reductions, and declining visitation in countries around the world, the United States included, aren't making anyone's job any easier."
As Brazilians work to recover from their unprecedented loss, these are the steps they'll take
In the immediate aftermath of the fire, government officials pledged $2.4 million for the extensive rebuilding process that lies ahead. Museum director Alexander Kellner tells Scientific American's Richard Conniff that initial funds will go toward stabilizing what remains of the building and recovering all that "can be recovered." Another $1.2 million may be allocated for making the structure "habitable," and officials are discussing the "possibility for next year" of granting an additional $19.2 million for the actual rebuilding of the museum.
"What we mostly need is a strong commitment from the Brazil government, or even private enterprise, to provide the means for scientists to be restored to minimal working conditions," Buckup says. "We have lost lots of history. What we cannot afford to lose is the future of science in this institution."
On Wednesday, the directors of 12 of the world's most prominent natural history museums released a statement of solidarity highlighting the importance of such institutions and promising to support Brazilian colleagues in the coming "weeks, months and years." Kirk Johnson, head of the Smithsonian's National Museum of Natural History, who was one of the signatories, further stated that curators were working "on a larger Smithsonian effort as well."
Much of the chaos wrought by the inferno is irreversible. Researchers whose life's work drew on specimens held within the museum now find themselves "lost," as entomologist Marcus Guidoti tells National Geographic's Greshko. Funds and support offered by Brazil's government and outside institutions may help to soften the blow, but the fact remains that a priceless repository of Latin American cultural heritage has vanished overnight.
Still, Brazilians remain cautiously optimistic about the arduous journey that lies ahead. Curator Débora Pires notes that the museum still has its team of dedicated researchers, adding, "The brains did not burn. We are working with a positive agenda." Anthropologist Antonio Carlos de Souza Lima tells NPR's Ari Shapiro that the loss of his 38 years of research on indigenous cultures is "very, very small" compared to what Brazilians have lost as a country and intellectual community.
It would be easy to yield to depression, Souza Lima says, but he and his colleagues plan on fighting for their country's future instead.