These Adorable Robot Toys Teach Kids How to Code
The two bots using a basic visual language, and they are just one way to introduce children to computer programming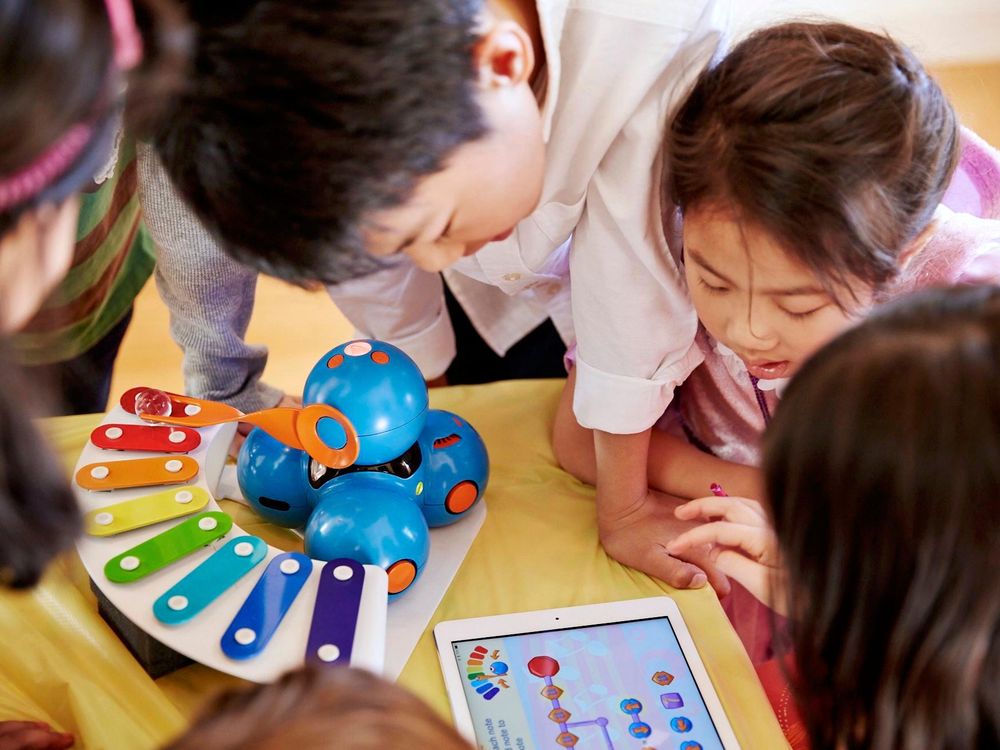 Vikas Gupta feels like learning to how to program computers, or code, is a superpower. He taught himself BASIC, a computer language, on his high school's two computers in Chandigarh, India, during the late 1980s. His superpower took him to the U.S. and helped him start a company that was snatched up by Google, reports Andrew Leonard for Backchannel on Medium. When Gupta's daughter was born, he started thinking about how he could pass on his superpower to her. He came up with toy robots.
Meet Dash and Dot, two cheery blue bots with rounded bodies and orange-ringed eyes. Leonard writes that Dash bounces off walls, spins, burbles,and "bleats and coos in tones as cute and irresistible as a baby lamb crossed with a puppy." Dot doesn't move, but makes noises, has programmable lights and works as a remote control for Dash.
Kids can use an iPad Mini or other tablet to program the robots—teach them to respond to a name, execute spins, direct Dash to and fro. The programming language is a simple and very visual one developed by Google and called Blockly. "Your child will need to be able to read, but it's hard to imagine a coding interface more basic than this one," Leonard writes. Dash can also play songs on a xylophone. Both bots can accessorize with Legos and Building Brick Connectors.
The goal is all to introduce kids to basic computer programming. Young people spend their time with new technologies—gaming, browsing, chatting, texting. But that doesn't make them fluent, Mitch Resnick explains in TEDx video. "Young people today have lots of experience and  lots familiarity with interacting with new technologies, but a lot less so with creating new technologies and expressing themselves with new technologies. It's almost as if they can read but not write with new technologies."
Teaching kids to code is the answer giving them true digital native status, he says. To help them, he created a program called Scratch that allows kids to create their own animated projects and stories, write trigonometry tutorials, imitate classic video games or create interactive art, among other things.
"If we can help kids make sense of the world that they live in," Gupta told Backchannel, "then I think they will benefit. Because irrespective of what profession you go into, being able to code will provide valuable skills. How does my iPad work? How do self-driving cars work? If we can't make sense of the world we live in, we will be nothing more than passive consumers."
The robot toys are pricey: The Dash & Dot pack alone is listed at $259—adding all the accessories, including Dash's xylophone, rings in at $349. If that puts it out of the budget, there are plenty of other ways to get young would-be coders cracking.
For other online resources on computer programming, check out Matt Davis's post on Edutopia. Venturebeat has a list of games that introduce the basics of programming. Celebrate Computer Science Education Week and get kids (and adults!) started on coding. President Obama already has a head start with his first line of code.
And don't worry about being a computer scientist. The skills picked up during coding—creative thinking, reasoning, collaboration and self expression—seem like a great foundation for anything you'd like to do.