Meet Freddy, the Runaway Bison Who Inspired a Choral Arrangement
The piece references Manitoban history, a small town's celebrity animal and includes distorted bison noises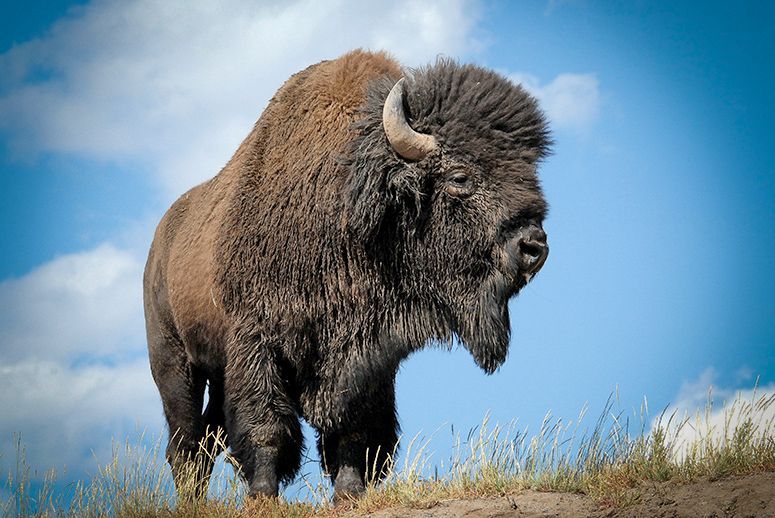 In southern Manitoba, a bison keeps escaping a ranch. The locals call the escapee Freddy, and he's something of a minor celebrity. Now the rebelious bison has a song dedicated to him, reports Cara Giaimo for Atlas Obscura.
Inspired by media attention surrounding Freddy and the history of bison in Manitoba, Toronto-based composer Elliot Britton crafted a renaissance-style choral arrangement to Freddy, complete with contemporary pop-chord progressions accompanied by traditional fiddle and electronically distorted bison noises.
The piece premiered in late April at a celebration of Manitoba's Métis culture called Red River Song. The Métis people are descendants of intermarriage between French-Canadians and First Nations people. Dating back to the early 1600s, native women, mostly from the Cree, Ojibwa and Saulteaux nations began marrying early Scottish and French-Canadian fur trappers who'd arrived to the lands of southern Manitoba, Saskatchewan and Alberta, according to the website Canada's First Peoples.
Annual buffalo hunts were an important part of Métis culture, which provided an opportunity for extended families to catch up and strengthen ties.
While Freddy's story is lighthearted, the song references the region's unique heritage and complex relationship with bison. Bison are ubiquitous to this day in adverts and imagery around Manitoba. "Manitobans have this funny, strange way of projecting whatever they need onto this animal," Britton tells Giaimo. "They're tragic and terrifying at the same time. Heroic and tough."
Britton, who is Métis himself, found parallels in Freddy's story to historical stories of bison hunts, in particular a 1911 New York Times article about the last bison hunt, and a bison that refused to be shipped to Canada.
As it happens, this isn't the first time Britton wrote a song about Manitoba's bison. His "Heirloom Bison Culture" premiered at the most recent Winnipeg New Music Festival and grapples with Britton's experience seeing bison featured in branding and advertisements across Manitoba. The piece also features bison sounds at "cinematic levels," he says in an article posted by the University of Toronto, where Britton is part of the Faculty of Music's composition department. "I managed to convince the Winnipeg Symphony Orchestra to give me direct access to their massive integrated sub bass system and the results were fantastic," he says. "Intimidating, cute and terrifying."
After that, Giaimo writes that he became the "bison guy" to his friends and family. Internet stories and photos of bison landed in his inbox. That's how he heard about Freddy.
In Lorette, Manitoba, people know that you can occasionally spot a stray bison outside the fencing of a nearby ranch. The escapes had been happening for decades, reports Kyle Edwards for Maclean's. While it's likely that the rebel isn't the same bison every time, that didn't stop resident Kevin Patton from dubbing the animal Freddy earlier this year. He also started a Facebook page.
Freddy's exploits have since attracted media and tourist attention. The town's embraced it: There are Freddy sweatshirts and a sign hanging in a local gym states "Freddy trains here, be like Freddy," Edwards reports.
"It somehow makes the community feel more like a family," says local florist Liana Boily, who sells Freddy-themed cards in her shop. Like much of the Freddy merchandise, the card sales help raise money for local projects benefiting the town.
The headlines Freddy generates as well as quotes from locals interviewed by the media inspired the text for Britton's choral piece. "Brazen bison won't stay home on the range," CBC.com proclaimed in one headline. "He looks like a bison. You know I don't want to be insensitive but they all look the same," Boily tells the author of the piece, Austin Grabish. Both phrases make it into the text of Britton's "Run, Freddy, Run!"
Vocal ensemble Camerata Nova, which performs early, contemporary, and indigenous-infused music​, sang the piece during Red River Song. You can watch the entire concert for yourself over at Camerata Nova's Facebook page. "Run, Freddy, Run!" begins around the 80 minute mark, and Britton introduces the piece wearing his own Freddy hoodie.