There Are Over 200 Bodies on Mount Everest, And They're Used as Landmarks
The mountain offers seemingly endless options for kicking the bucket, from falling into the abyss to suffocating from lack of oxygen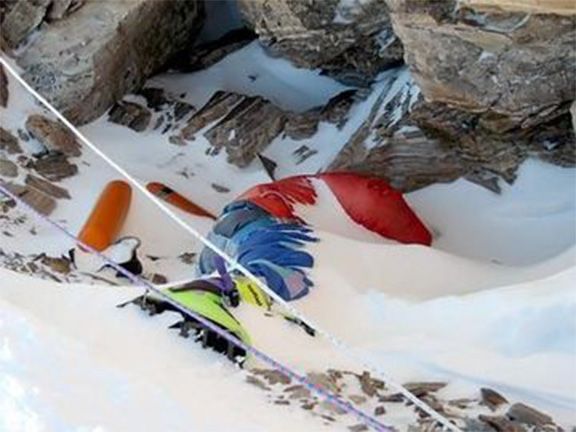 More than 200 people have died in their attempt to scale Mount Everest. The mountain offers seemingly endless options for kicking the bucket, from falling into the abyss to suffocating from lack of oxygen to being smashed by raining boulders. Yet climbers continue to try their skills – and luck – in tackling Everest, despite the obvious dangers. Indeed, the living pass the frozen, preserved dead along Everest's routes so often that many bodies have earned nicknames and serve as trail markers. Here are a few of the more colorful tales, adapted from Altered Dimensions:
The body of "Green Boots," an Indian climber who died in 1996 and is believed to be Tsewang Paljor, lies near a cave that all climbers must pass on their way to the peak. Green Boots now serves as a waypoint marker that climbers use to gauge how near they are to the summit. Green Boots met his end after becoming separated from his party. He sought refuge in a mountain overhang, but to no avail. He sat there shivering in the cold until he died.
In 2006, English climber David Sharp joined Green Boots. He stopped in the now-infamous cave to rest. His body eventually froze in place, rendering him unable to move but still alive. Over 40 climbers passed by him as he sat freezing to death. His plight might have been overlooked as passers-by assumed Sharp was the already-dead Green Boots. Eventually, some heard faint moans, realized he was still alive, and, too late, attempted to give him oxygen or help him stand.
Francys Arsentiev was the first American woman to reach Everest's summit without the aid of bottled oxygen, in 1998. But climbers do not recognize this as a successful ascent since she never made it down the mountain. Following a rough night time trek to camp, her husband, a fellow climber, noticed she was missing. Despite the dangers, he chose to turn back to find his wife anyway. On his way back, he encountered a team of Uzbek climbers, who said they had tried to help Francys but had to abandon her when their own oxygen became depleted. The next day, two other climbers found Francys, who was still alive but in too poor of a condition to be moved. Her husband's ice axe and rope were nearby, but he was nowhere to be found. Francys died where the two climbers left her, and climbers solved her husband's disappearance the following year when they found his body lower down on the mountain face where he fell to his death.