There Are 58 Versions of Little Red Riding Hood, Some 1,000 Years Older Than the Brothers Grimm's
Brothers Grimm may have popularized the tale but they certainly didn't win any prizes for originality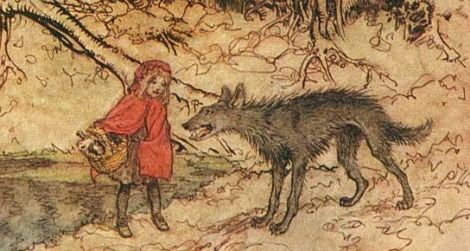 In 1812, the Brothers Grimm published "Rotkäppchen," the tale that many know today as "Little Red Riding Hood." But the story has much deeper and broader roots than 19th century Germany. To dissect "Little Red Riding Hood's" complicated origins, scientists turned to phylogenic methods normally reserved for studying the origins of species. Instead of analyzing genetics, they homed in on cross-cultural relationships, from Europe, the Middle East,  Asia and Africa.
Scholars and in-the-know readers are aware that the Brothers Grimm borrowed from an earlier French telling of the story, written some two centuries prior. A second story, "The Wolf and the Kids," was in oral circulation in Europe and the Middle East much earlier. There are at least 58 versions of similarly themed stories around the world, from Japan to Africa to Korea.
To root out the original version, if one exists, the authors built a model analyzing 72 different plot variables, NBC explains. Contrary to some scholars' assumption that the Asian version of the story would be the oldest, "The Wolf and the Kids" proved to be the first.
The Asian versions of the tale presumably blended elements from the two stories into hybrids. Tehrani said those Asian tales were derived from older oral versions of the stories, and then they evolved. At about the same time that Perrault was writing about Little Red Riding Hood in the 17th century, the Chinese poet Huang Zhing was setting down the tale of the Tiger Grandmother.
The Brothers Grimm may have popularized the tale, but they certainly didn't win any prizes for originality. "The Wolf and the Kids" outdates their telling by some 1,000 years.
More from Smithsonian.com:
A Grimm Review of Snow White and the Huntsman 
Holiday Story Time at the American Art Museum