The World's Third Oldest Bible, the Codex Washingtonianus, Is Making a Rare Museum Appearance
When the Codex was first published publicly in 1912, it caused a controversy because it contained an extra passage in the Gospel of Mark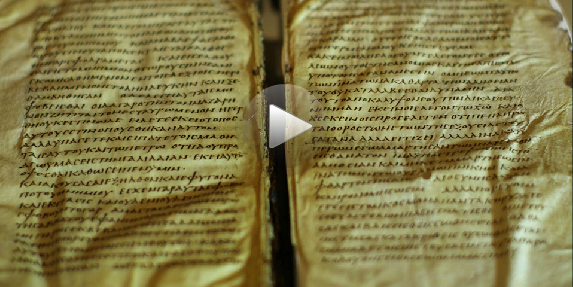 Visitors to the Smithsonian's Freer Gallery of Art have the opportunity to view the world's third oldest Bible, which making a rare public appearance until February 16. Known as the Codex Washingtonianus, it dates back to the late fourth or early fifth century. National Geographic describes the ancient book:
It is written in Greek on parchment—processed leather scraped thin to form pages. The pages are sensitive to light and humidity, which is why the codex never leaves the museum and isn't exhibited very often.

There are only two other complete texts of the Gospels—Matthew, Mark, Luke, and John—that are older, added Craig Evans, a biblical scholar at Acadia University in Nova Scotia. They are the Codex Vaticanus, which is held at the Vatican, and the Codex Sinaiticus, most of which is held at the British Library in London.

"They're both fourth century," said Evans. "Somewhere between 330 and 340." The Codex Washingtonianus is in rarefied company, he added.
In 1906, Detroit business man Charles Freer, the museum's founder, purchased the book from an antique shop in Egypt. When the Codex was first translated and published in the U.S. in 1912, it caused a controversy because it contained an extra passage in the Gospel of Mark. NatGeo elaborates:
The part that caught the attention of the public in the early 1900s reads in translation: "And Christ replied to them, 'The term of years of Satan's power has been fulfilled, but other terrible things draw near.'"

That passage seemed to address the question of whether God or Satan was in charge, said Bethel University's [Michael] Holmes.
Historians especially value the book for the window it provides on early Christianity. When it was written, Christianity was just transitioning into a legal religion. Before then, Bible burnings were commonplace, perhaps explaining another of the Codex's quirks: the fact that it contains several distinct writing styles. As Holmes told NatGeo, "The two scribes who transcribed the Washingtonianus likely copied from fragments of several Bibles—remnants perhaps from an attack on a Christian church." 
More from Smithsonian.com:
Thomas Jefferson's Bible Is Sent to the Conservation Lab 
One of the World's Oldest Bibles Is Now Online