Behind the Bleak, Beautiful Stories of Cormac McCarthy
The writer, who died this week at age 89, was an unflinching chronicler of humanity's brutality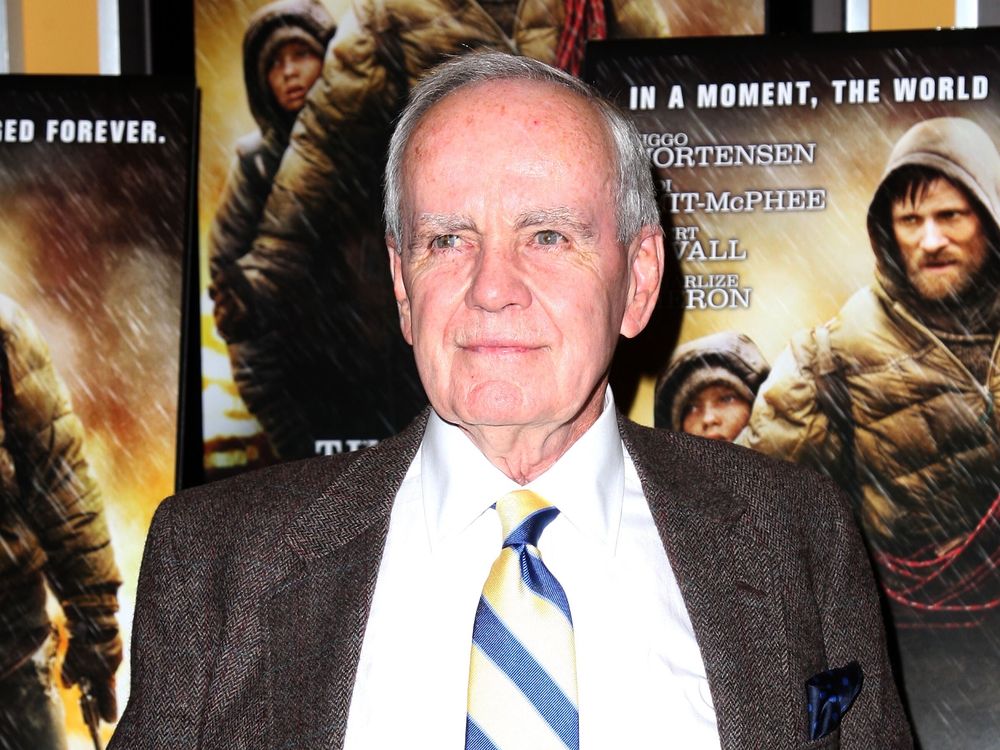 Cormac McCarthy rose to fame remarkably late in life. Until the publication of his novel All the Pretty Horses in 1992, just short of his 60th birthday, few outside the literary world knew his name. But the writer, who died on June 13 at age 89, is now recognized as one of the giants of American fiction. 
"McCarthy was, if not our greatest novelist, certainly our greatest stylist," as J.T. Barbarese, a literary scholar at Rutgers University, tells Wade Goodwyn of NPR.
A masterful chronicler of humanity at its darkest, McCarthy won some of the highest awards in literature, including the National Book Award in 1992 and the Pulitzer Prize in fiction in 2007. To mark his passing, here's a brief rundown of his most influential works.
Blood Meridian (1985)
Published prior to McCarthy's rise to fame, this novel has been called both a Western and an anti-Western; that is, readers seem undecided about whether it glorifies or subverts tropes about the West. Either way, Blood Meridian earned a designation in 1985 as the "bloodiest novel ever written," per Jonathan Yardley of the Washington Post.
The sprawling work follows a boy who runs from home in Tennessee and joins a gang of soldiers who terrorize the American Southwest. Gritty and graphic, Blood Meridian matched (or perhaps surpassed) McCarthy's other novels in its unflinching brutalism. 
While some critics initially thought the violence featured in the book was gratuitous, with time the novel cemented itself as being among McCarthy's best. Literary titan Harold Bloom lauded Blood Meridian, comparing it to the likes of Moby-Dick and Faulkner.
"While Cormac McCarthy's fifth novel is hard to get through, it is harder to ignore. Any page of his work reveals his originality, a passionate voice given equally to ugliness and lyricism," wrote Caryn James for the New York Times in 1985. She added, "Blood Meridian makes it clear that all along McCarthy has asked us to witness evil not in order to understand it but to affirm its inexplicable reality."
All the Pretty Horses (1992)
This novel, which won the National Book Award, showed McCarthy "at his most accessible and his most classicizing," writes Sophia Nguyen of the Washington Post. Another Western, it follows a boy who faces eviction from the Texas ranch of his childhood and heads for Mexico with a friend. 
Compared to some of McCarthy's other works, All the Pretty Horses features a relatively straightforward plot and a lesser degree of violence. It became a commercial success, the first of his novels to sell more than 5,000 copies. 
The novel is a meditation on the dying frontier of the American Southwest—a theme that spans most of McCarthy's oeuvre.
"Although its subject and approach are superficially more palatable, the essence of his unusual vision also persists," wrote the Times' Madison Smartt Bell following the novel's release.
No Country for Old Men (2005)
No Country for Old Men started as a screenplay and ended up as the Best Picture winner at the 2008 Oscars, and only somewhere in the middle did McCarthy publish it as a novel. 
It follows the repercussions of a drug deal gone wrong, specifically a game of cat-and-mouse between two men over a satchel of money, and the aging sheriff caught in the middle.
As Walter Kirn wrote in the Times in 2005, this book hails from the tried-and-true crime novel tradition and "has no desire to break new ground, only to burn rubber on hard-packed old ground, thereby packing it down harder."
The cinematic adaptation in 2007 by the Coen brothers is now widely considered to be among the best films of the 21st century.
The Road (2006)
"The Road would be pure misery if not for its stunning, savage beauty," wrote the Times' Janet Maslin in 2006.
This is the book perhaps most closely associated with McCarthy's name. His tale of a father and son wandering through a post-apocalyptic United States haunted readers even as it provided an ending that was, for McCarthy, unusually hopeful. 
The Road wasn't the first of McCarthy's novels to be turned into a film—an adaptation of All the Pretty Horses starring Matt Damon and Penélope Cruz came out in 2000—but when the film version of The Road hit theaters in 2009, McCarthy's renown increased even more.  
Among the novel's fans was Oprah Winfrey, whose enthusiasm prompted McCarthy to give an extremely rare interview in 2007. In it, she asked him, "Where did this apocalyptic dream come from?" 
"Usually," he replied, "you don't know where a book comes from. It's just there—some kind of an itch that you can't quite scratch." But The Road, he explained, was different. The idea came when he traveled to El Paso with his young son. When the boy was asleep in the hotel, McCarthy looked out at the surrounding landscape. 
"I just had this image of what this town might look like in 50 or 100 years," he said. "I just had this image of these fires up on the hill and everything being laid waste, and I thought a lot about my little boy."
A Note to our Readers
Smithsonian magazine participates in affiliate link advertising programs. If you purchase an item through these links, we receive a commission.