The Met's Free Children's Studio Is Finally Here
Called 81st Street Studio, the sprawling play space encourages interactive engagement with art and science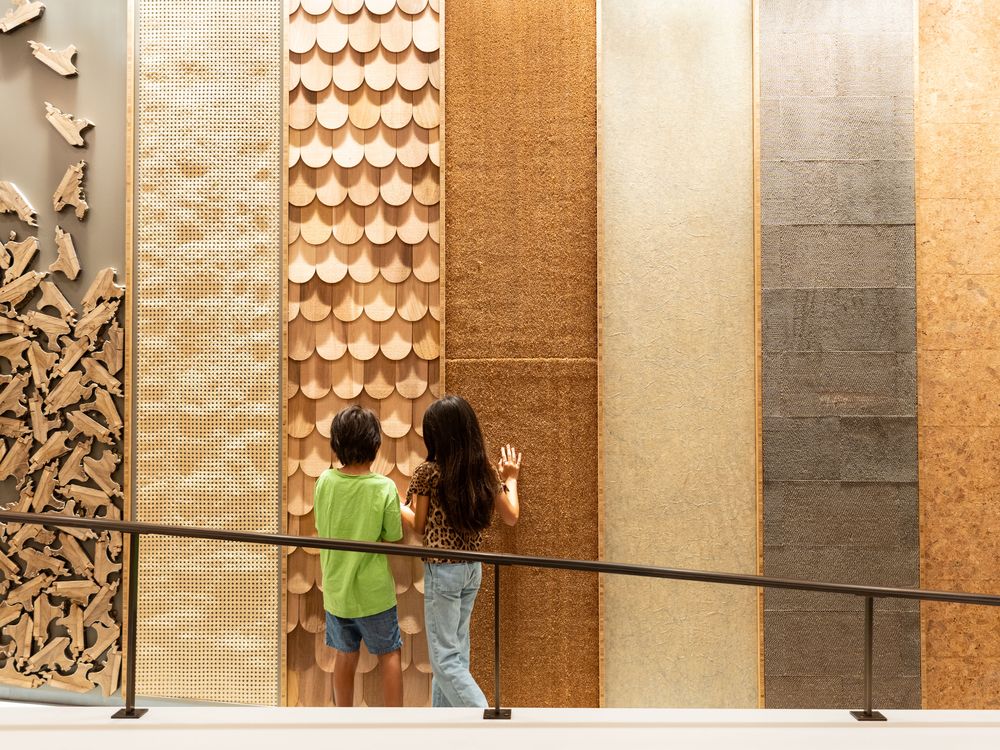 An eight-foot-long guitar. An interactive light table. A thermo-chromatic wall that changes color based on temperature. These are just some of the sights that greet visitors to the 81st Street Studio, the new free children's space at the Metropolitan Museum of Art in New York.
The studio, which celebrated its grand opening last weekend, offers kids ages 3 to 11 the opportunity to learn, create and build through various interactive activities.
"We are dedicated … to nurturing a lifelong experience of fun, of learning and of engaging with art," said Max Hollein, the museum's director, during a preview event, per Time Out's Rossilynne Skena Culgan. "It is an immersive, interactive area that reimagines in that way how the Met can inspire this exploration of its collection, but also really enhance the museum's ideas of what learning means as a resource for our communities."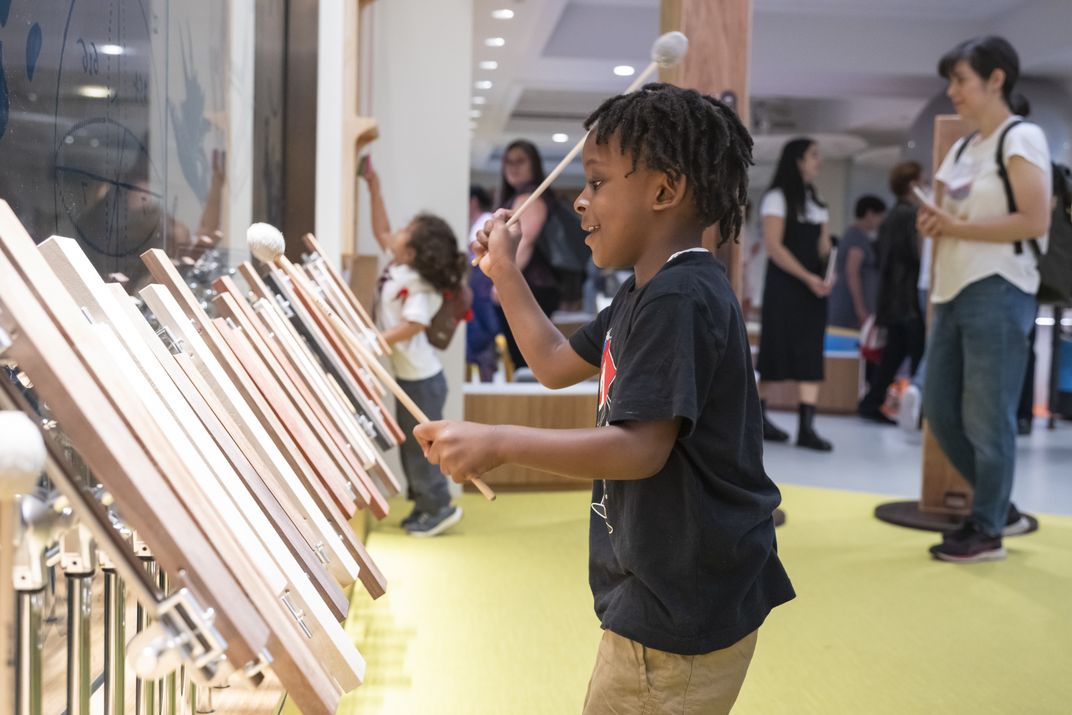 The 3,500-square-foot space offers a variety of different activities targeted at different ages. One station shows children how artists use clay, metal and wood by displaying images of objects from the museum's collection, such as a cuneiform tablet and an 18th-century British teapot decorated with images of fossils, as Hyperallergic's Elaine Velie reports.
Adam Weintraub, a principal of the firm KOKO Architecture + Design, which designed the studio, says the space functions as an introduction to the Met for younger audiences.
"We're not trying to make a kids' museum here," he tells the New York Times' Laurel Graeber. "We are really trying to always tie it back to what's upstairs."
Other tie-ins include a replica of an Egyptian turned-wood screen called a mashrabiyya—the real deal is housed in the museum upstairs—that children are allowed to touch. When visitors approach screens with animated, blinking eyes, images of objects from the Met's collections are shown.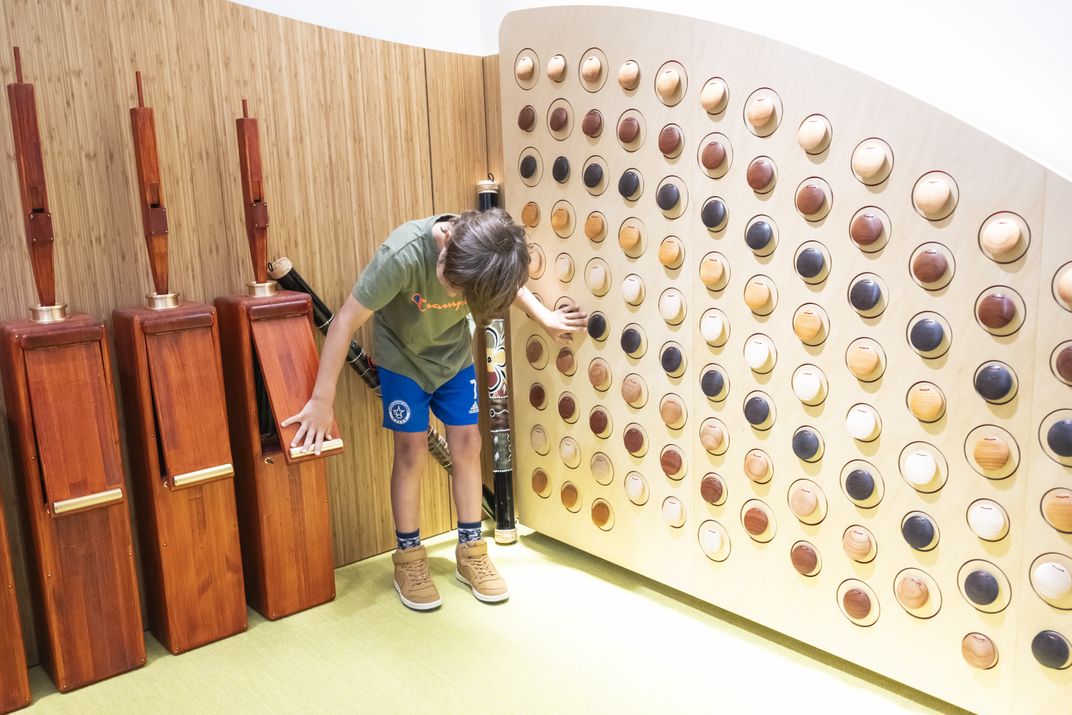 Many of the studio's inaugural activities explore wood as an artistic material, per a statement from the museum. Touchable walls made with different kinds of wood allow children to examine the material's many textures and smells. Meanwhile, activities—like a digital imitation of woodblock carving—show how it can be used to make art. Eventually, the studio will move on from wood and focus on other materials.
Another interactive space is an area built in collaboration with the musical instrument manufacturer Yamaha. Kids can play the eight-foot guitar, a wall of castanets, an air organ and a marimba; they can also make their own musical instruments. Elsewhere, two upward-facing cameras project a livestream feed onto the falls, and children can manipulate the colors of the images.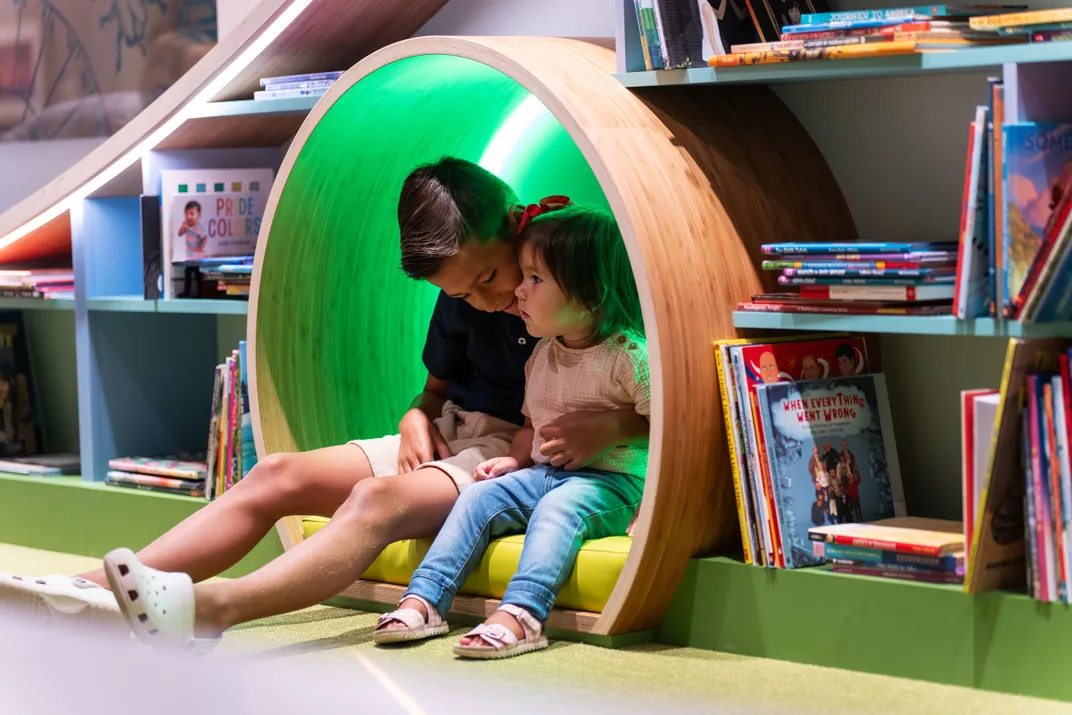 The space previously functioned as a children's library at the Met. Paying homage to its origins, a reading area in the studio houses books in six languages, as well as Braille, per the Times. Pillows scented with sandalwood, cedar and pine offer comfortable spots for visitors to read and recline. Guests can also nestle into reading nooks with lights that change color whenever someone enters. In the future, Met staffers will lead storytelling events in the studio.
"This space is for New York City," Heidi Holder, the Met's chair of education, tells Hyperallergic. "It is an open space where you can create your own path. You can learn at your own pace. You can take risks, be curious, have fun and discover things."