The Last Time the Red Sox Won a World Series in Boston Was 1918. What Was That Like?
Red Sox fans are partying like it's 1918.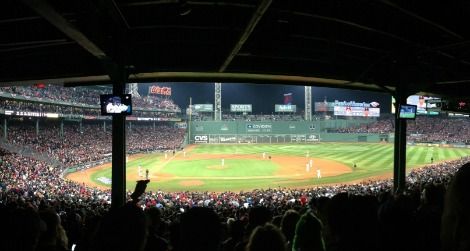 Before last night, the last time the Boston Red Sox clinched a World Series title in Boston was 1918. While winning a World Series is great, winning a World Series at home is better, and fans in Boston were keen to make up for lost time. Last night, revelers flipped cars and climbed traffic lights on the streets of Beantown, and some fans held up signs that read "Party like it's 1918." So, what would it have been like for Red Sox Fans in 1918?
Back in 1918, WWI was still raging in Europe. That meant that the baseball season was cut short, ending on Labor Day, and the World Series was played in September 5 through 11, so that baseball players who enlisted could go to the front.
Last night, the Dropkick Murphys sang the "most Boston national anthem ever." The 1918 World Series was the first World Series where the "Star Spangled Banner" was played; the song wouldn't become the national anthem until 1931.
The 1918 flu pandemic was just getting started. It had already appeared in the U.S., but a more virulent strain— what would eventually be named the Spanish flu—was just starting to emerge. On September 5, 1918, a Boston doctor named John Hitchcock, who was caring for sick sailors, wrote, "Unless precautions are taken the disease in all probability will spread to the civilian population of the city." Being in a crowded ballpark may not have been the best choice: by the end of September, 1,000 Bostonians were dead of the flu.
In 1918, there would still have been alcohol available to celebrate the win, but drinking would have been frowned upon. The prohibition movement was coming into its own, and the 18th amendment, banning alcohol, would come into effect in 1920. 
Car ownership didn't really take off until the 1920s, either: in 1919, Ford made almost double the amount of cars it had in 1918, and by 1923, had doubled its 1918 production numbers. With less booze and fewer cars around, there probably would have been fewer opportunities for car-flipping. There are probably some car owners who are wishing this morning that fans had taken the "Party like it's 1918″ idea a little more literally.
More from Smithsonian.com:
The Little League World Series' Only Perfect Game
Picturing the World Series of the Future