The LBD Gets an Update With the Debut of the First Dress Made with Graphene
Partially made from the world's thinnest, strongest material, lights on the dress change color based on the wearer's breathing rate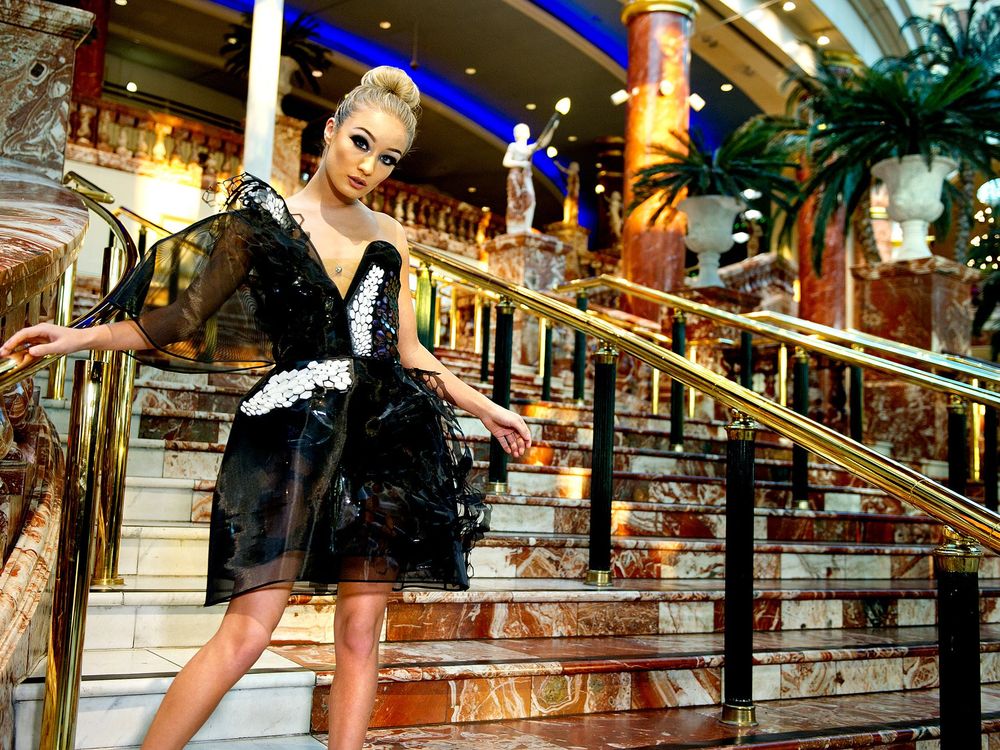 Graphene, which was isolated by scientists in 2004, is a wonder material. Made from a crystal lattice of carbon one-atom thick, it has incredible properties: it's the world's thinnest material, harder than diamond, bendable and conductive. Needless to say, it has almost endless potential uses (it's being used to create tiny computer circuits, create ultralight watches, make atomic scale pipes and aircraft skin, among other things). But one of its most fashion-forward uses was just unveiled: graphene as applied to the little black dress.
Sarah Walters at the Manchester Evening News reports that designer Francesca Rosella of the company CuteCircuit, which mashes up electronics and clothing, teamed up with the University of Manchester's National Graphene Institute and the intu Trafford Centre, a shopping mall, to create a dress that integrates graphene into its design.
"Graphene is still very much in its infancy for real world applications and showcasing its amazing properties through the forum of fashion is very exciting," Paul Wiper, research associate at the Graphene Institute tells Walters. "The dress is truly one of a kind and shows what creativity, imagination and a desire to innovate can create using graphene and related two-dimensional materials."
The dress was displayed yesterday at the Trafford Centre by former Britain's Next Top Model contestant Bethan Sowerby. This particular dress responds to its wearer with tiny LED lights changing color based on their breathing rate. Josh Halliday at The Guardian reports that graphene was used to power the LEDs and act a sensor. Lightweight nylon was used on the rest of the dress. The team that made the dress sees this as just the first step for fashion and graphene and that in the future it could lead to dresses that can be programmed to show designs or change color.
"Graphene has never been used in the fashion industry before," Rosella tells Halliday. "Being the first to use it was a real honor, allowing us to have a lot of fun creating the stunning little black graphene dress and showcasing graphene's amazing properties."
The material may be able to do more than just power LEDs on clothing. Research released in November from the University of Cambridge showed that a graphene-based ink could be deposited on cotton fabric, turning it into a conductive material that may lead to smart textiles that could monitor things like heart and breathing rate and one day maybe even help charge cells phones or other devices. The dress of the future is sure to prove one thing: practical fashion never goes out of style.