Text an Emoji and the SFMOMA Will Respond with a Picture of Art
A new text messaging service lets users explore the museum's vast collection
It would take the average person approximately three days to view every work on display at the San Francisco Museum of Modern Art—and that's not counting the thousands of pieces that are stored in the museum's collections. But now, thanks to a nifty new feature, art lovers can peruse SFMOMA's vast offerings without going on a multiple-day viewing blitz. As Claire Voon reports for Hyperallergic, the museum is now texting art to your phone.
Send Me SFMOMA is an easy-to-use, but endlessly entertaining application. Just text the number 572-51 with the phrase "send me" and the subject of the art you'd like to see, and the messaging service will respond with images of the museum's artworks. You can request a range of different topics: artists, artistic movements, colors, cities, emotions. The service will even fields emoji requests. Text the cherry blossom emoji
, for instance, and you will be treated to a 2007 photograph by the Japanese artist Hiroyo Kaneko, which shows a group of people lounging under a cherry blossom tree.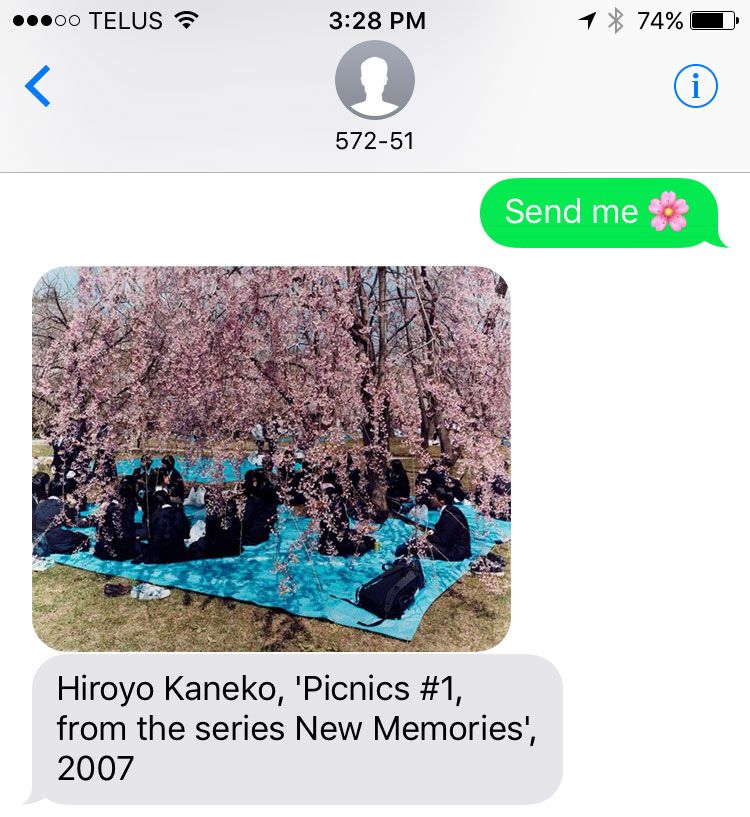 The project began as a way to engage the public with SFMOMA's collections, which currently consists of 34,678 works. That number is so large, creative technologist Jay Mollica writes on SFMOMA's website, that the museum "can only show about 5 percent of it in the galleries at any given time." Send Me SFMOMA gives users a chance to view works that are currently kept in storage, away from the public eye.
"We don't expect any single Send Me SFMOMA user to ever get through all 34,678 artworks in the collection," Mollica adds. "But what we have seen, and hope to continue to see, are thousands of people connecting with artwork in fun, new, and very personal ways." 
When the program had its beta launch in March, it ran with a 10-digit number, which quickly proved problematic. So many people texted Send Me SFMOMA that mobile carriers thought the service was spamming their customers and blacklisted the number. Last month, Send Me SFMOMA relaunched with a pre-approved five-digit code, which is now on the radar of mobile service providers.
Perhaps aided in part by a plug from Neil Patrick Harris, Send Me SFMOMA has recently experienced a surge in users. According to Jen Carlson of Gothamist, the service has received more than 2 million texts since July 7.
"The most requested terms are: love, happy/happiness, flowers, dog and dogs, cat and cats, ocean, San Francisco, food and music," an unnamed SFMOMA representative tells Carlson. Among the most popular emojis are the red heart
, the cat
, the dog
, the cactus
and—of course—the smiling poop
.
Send Me SFMOMA's responses are sometimes on-the-nose, but they are often surprising, funny and weird. A request for "New York," for instance, garnered a 1999 photograph by Zoe Leonard, which depicts a New York store advertising both income tax and "rapid divorce" services.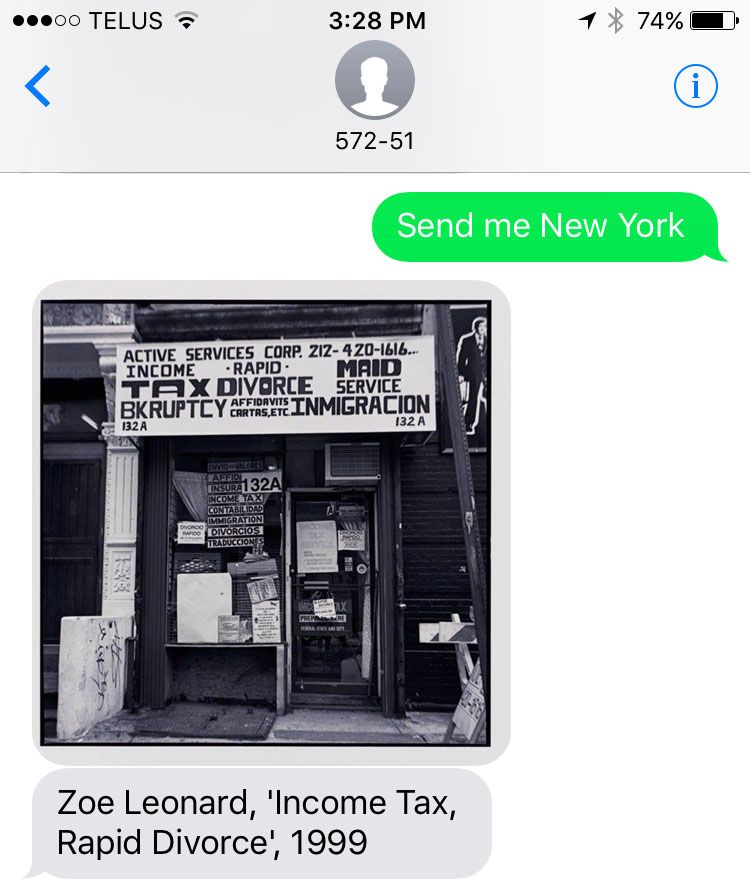 And in case you were wondering: texting the 
will get you an image of David Hammons' "Untitled (dung)."