Who Wants to Buy the Creepy Dolls and Bowling Balls That Wash Up on Texas Beaches?
Hundreds of eclectic items were auctioned off to help fund the rehabilitation of sea turtles and birds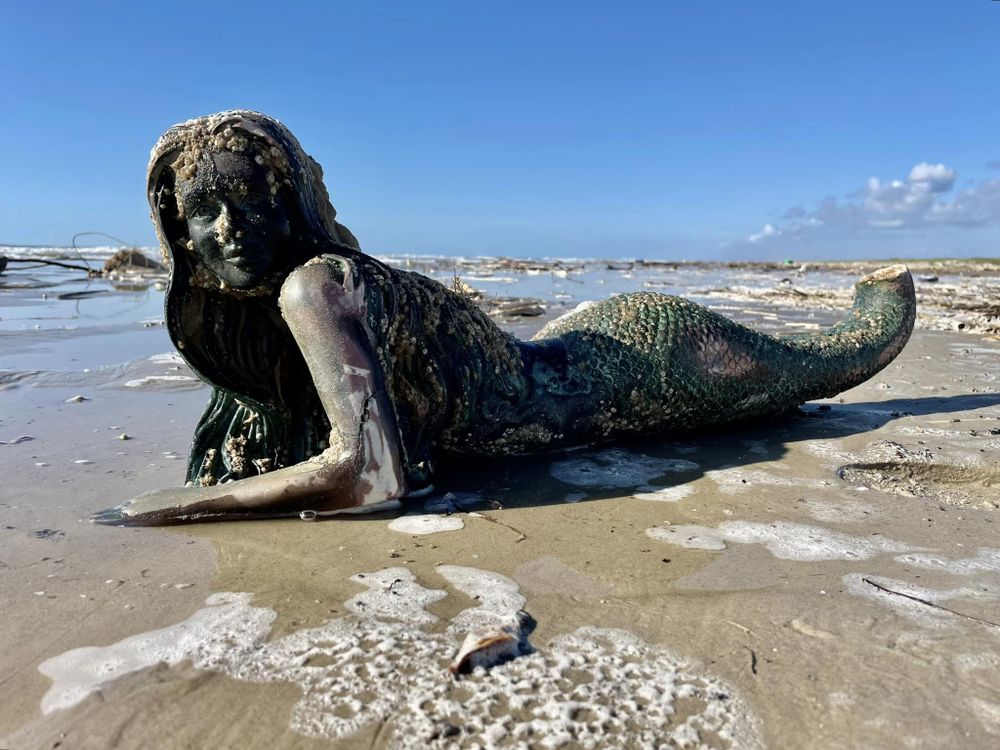 A three-foot-long fiberglass mermaid. Disfigured toy dolls. Cracked bowling balls. A prosthetic leg.
These are just a few of the discarded items that have washed up on the beaches of southeastern Texas in recent years. At a charity auction over the weekend, many of them found new homes.
"This looks like the creepiest yard sale table," one Facebook user commented on a photo of the outdoor auction, organized by the Mission-Aransas National Estuarine Research Reserve.
Starting about 15 years ago, the reserve has sold off some of the best beach finds to raise funds for the Amos Rehabilitation Keep (ARK), which rehabilitates sea turtles and birds. 
The auction, called the "Tony's Trash to Treasure" benefit, is named for the rehabilitation facility's founder, Tony Amos, who died in 2017. After launching ARK within the University of Texas' Marine Science Institute in 1982, he surveyed the beach every other day, reports the Houston Chronicle's Ariana Garcia. 
Last year, the auction brought in around $3,000. And while the reserve hasn't yet shared this year's total, it did reveal on Facebook that the mermaid went for $300. The facility, which helps rehabilitate some 1,500 animals per year, runs largely on donations, so "every penny counts," says Jace Tunnell, the reserve's director, to the Houston Chronicle.
This year's finds also included a message in a bottle from Jamaica, boating equipment, an old Bible, a Chinese beer and 19th-century steamship coal. And then there are the dolls, which are "usually covered in barnacles or missing their limbs, hair and eyes," writes the Houston Chronicle.
The reserve's researchers and volunteers come across such objects while conducting regular survey walks along a 40-mile stretch of sand between Padre Island and Matagorda Island on Texas' coast.
As they stroll, they keep an eye out for marine mammals, sea turtles and birds as part of broader efforts to understand the region's coastal environment. But because of the so-called loop current that flows into the gulf, they also find plenty of trash: By one estimate, Texas gets ten times more washed-up garbage on its beaches than other states bordering the gulf.
Seeing trash littering the beach is disheartening. Most of it is made of plastic, which can injure or kill marine wildlife and will eventually break down into harmful microplastics, Tunnell tells the New York Times' Remy Tumin. Still, the beachcombers try to stay upbeat. Reserve staffers regularly post photos to social media showing some of their weirdest finds.
Last July, the fundraising efforts got a big boost when John Oliver filmed a web segment about the creepy dolls that wash ashore on his show, Last Week Tonight. He ended up buying the dolls for $10,000.
"Burn them," Oliver said during the segment. "Burn them now. I hate those dolls. I hate them so much."
The reserve, for its part, will continue doing "crazy things," like auctioning off oddball items, to help inspire members of the public to help protect the ocean, as Tunnell tells the Times.
"Ultimately," he adds, "we want people to know about what's in the ocean and care about it."