How You Can See Tens of Thousands of Fireflies Flash in Unison
The lottery for viewing these bioluminescent bugs at Great Smoky Mountains National Park opens Friday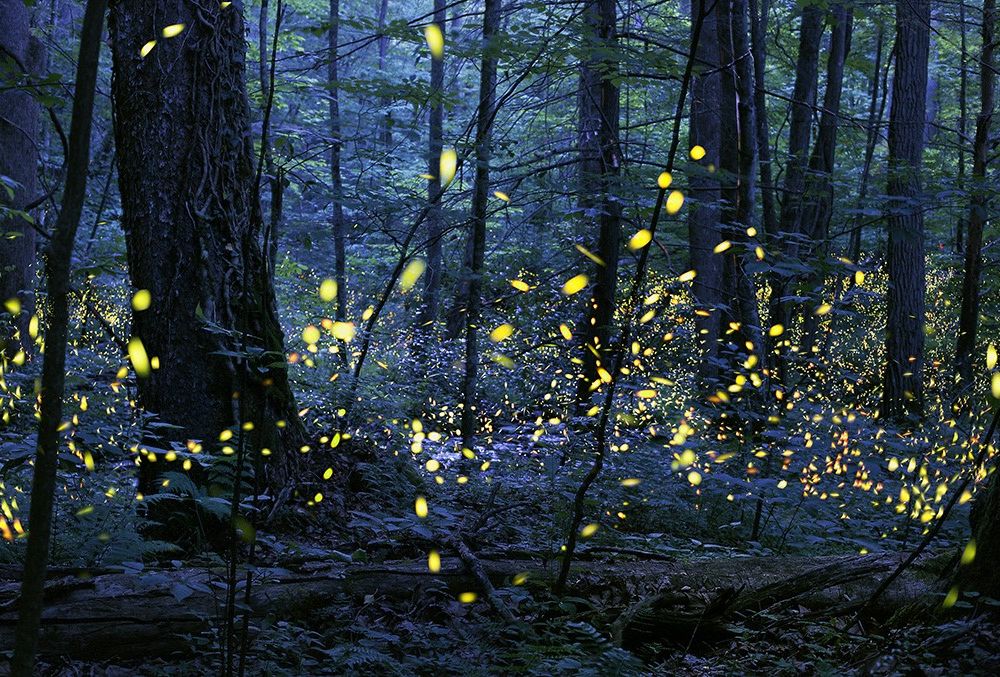 In their quest for mates each spring, tens of thousands of synchronous fireflies flash their lanterns in unison, creating a magical natural spectacle for lucky onlookers to behold. Watching this beautiful phenomenon has become so popular in South Carolina, North Carolina and Tennessee that public land managers have resorted to implementing lottery systems to help manage crowds.
Soon, travelers will be able to apply to watch the glowing Photinus carolinus inside Great Smoky Mountains National Park, which straddles the border between Tennessee and North Carolina, from June 4 through June 11.
The park's synchronous firefly lottery is scheduled to open on Friday. Interested parties then have until Monday, May 1, to submit their application for a vehicle pass, and the park will notify applicants of whether they'll be able to attend or not by May 11. Park officials plan to award 800 total vehicle passes for the firefly show, with only 100 vehicles permitted to enter the viewing area each evening, according to the lottery website.
Elsewhere, Congaree National Park's lottery for viewing the synchronic fireflies in South Carolina is already closed. However, the nonprofit Grandfather Mountain in North Carolina will make tickets to its firefly show available starting May 23.
Also known as lightning bugs, these small insects are actually beetles that spend the majority of their short lives as larvae, according to Great Smoky Mountains National Park. For the first one to two years, they crawl around the forest floor in search of bugs, worms and snails to eat. Then, once they reach maturity, it's showtime.
In late spring, a handful of male adult fireflies begin flashing their lanterns in a way that's specifically designed to identify potential mates. That flash pattern, as entomologists call it, consists of five to eight pulses, followed by an eight-second pause.
Females, meanwhile, keep their eyes peeled for this specific flash pattern so they can be sure they're mating with their same species. Then, they flash back. This call-and-response format plays out while the males fly around and females stay put, per the park.
As the mating season continues, more and more fireflies join in the chorus until the trees are aglow with synchronized flashing.
"I see my neighbor is flashing, so I flash as well," as Raphael Sarfati, a physicist at the University of Colorado Boulder who published a 2021 paper on fireflies, told the New York Times' Sabrina Imbler.
After two to three weeks of synchronized flashing, the number of participating fireflies begins to dwindle until the flashing stops altogether. Once they reach adulthood, fireflies only have three to four weeks to find a mate before they die.
The timing of this awe-inspiring demonstration varies from year to year, depending on soil moisture and air temperatures; these scrupulous creatures also won't flash during a heavy rain downpour, nor when temperatures dip below 50 degrees Fahrenheit. Since Great Smoky Mountains National Park biologists began keeping track in 1993, the peak synchronous firefly dates have ranged from the third week of May to the third week of June—and nearly every date in between, according to the national park.
Fireflies emit almost no heat when they flash their lanterns. That's largely because their bioluminescence process involves a chemical reaction: In their abdomens, the insects combine oxygen, the chemical luciferin and the enzyme luciferase to produce the glow.
"We like to call it a Christmas light show because there are literally thousands of fireflies twinkling in the trees," says Clyde Sorenson, an entomologist at North Carolina State University, to the Charlotte Observer's Kimberly Cataudella.